TikTok Is Shook After Learning Starbucks Employees Watch You In The Drive-Thru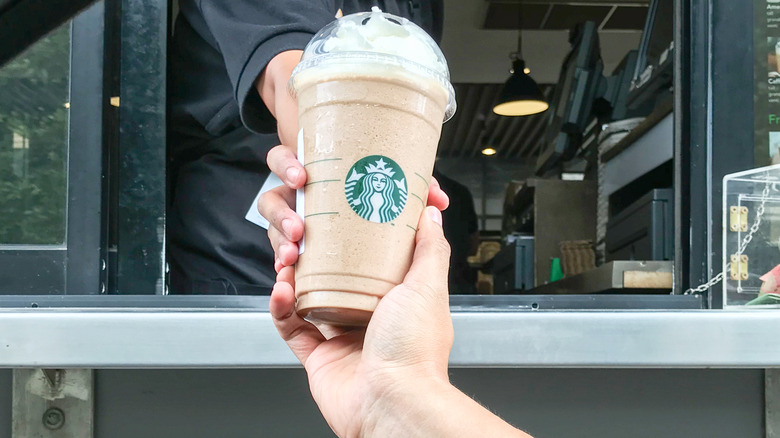 NATA FUANGKAEW/Shutterstock
Three days ago, one Starbucks barista shared information on TikTok that spooked viewers. "I hope y'all realize we can see u in the drive-thru when you make faces at us," text added above the video read. "LOL." The video itself showed the barista shaking their head sardonically as they revealed that the drive-thru at Starbucks has a camera that can be seen within the store. Since the posting, this revelation has been viewed just shy of 1 million times.
Most just learned of this and spiraled into worry: "Omg as if I thought my social anxiety could get any worse." "So," another asked, "you've definitely seen me crying in the drive-thru too then? Huh?" The creator responded with "Yeppp." A third horrified person wrote, "You saw me pick my nose."
Some of the comments, however, were from Starbucks workers recounting things they have witnessed at the drive-thru. "The [number] of girls who sit in their bf's lap to order bc a man can't say pink drink or white mocha," one exclaimed. Others commented over how weird it is when they watch couples fight at the drive-thru, not knowing their domestic squabble is being watched.
Perhaps the news will become common knowledge
One worker who commented on the TikTok was particularly surprised by everyone else's surprise: "The [number] of people who don't know a good percent of drive-thrus have cameras like this AND that we can hear you the second you pull up!"
The thing is, this is not the first such revelation in recent months. In November 2021, another viral TikTok showed how Starbucks workers could watch drive-thru customers via a camera. In that case, many people were shocked at the destruction of their perceived privacy. On a more positive note, there was an earlier viral video in 2020 that showed a Starbucks barista using the drive-thru to sign with a deaf customer via ASL (via Today). The drive-thru menu display transformed into a video of the worker so that they could communicate with the deaf customer — essentially revealing that the customer is watched.
What is worth keeping an eye on, though, is how Starbucks responds to this latest TikTok. In the case of the one uploaded in November 2021, they fired the barista on the grounds that they had violated the chain's social media guidelines, specifically by engaging in activity to "distribute or share future promotional activities, trade secrets, internal reports, policies, procedures or other private and confidential info." By this point, the company may accept that the cat is out of the bag. Apparently, not everyone knows they are being watched at the drive-thru, but in light of this latest TikTok incident, this information may be soon become common knowledge.