Aldi Shoppers Can't Wait To Grab This Everything-Seasoned Sourdough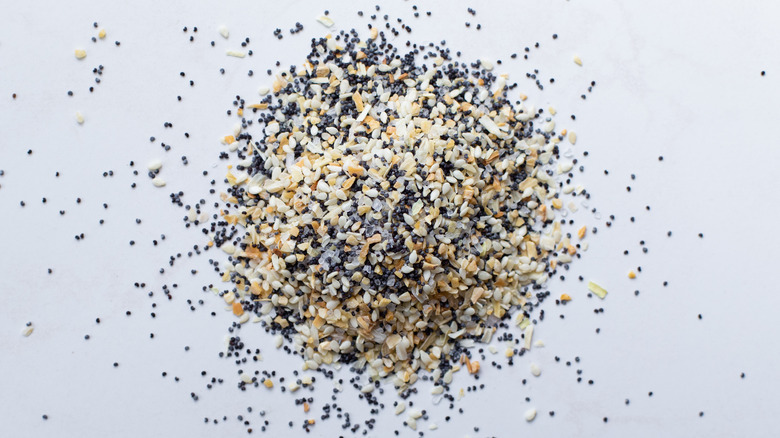 Sara Schober/Shutterstock
Nothing tastes quite like an everything bagel, and in recent years, its signature flavor has popped up in more and more products. According to A Sweet Pea Chef, this combination of flavor stems from a mix of salt, onion flakes, black and white sesame seeds, poppy seeds, and minced garlic. Trader Joe's found success by bottling a similar spice blend, and fans loved pouring it over all kinds of meals, per Influenster. 
Instagrammer @aldi.mademedoit discovered a new take on everything seasoning during a grocery run. They stumbled upon a loaf of Aldi's Everything Sourdough and had to show it off online. They posted the photo to Instagram alongside the caption: "This smelled so good! Just standing next to it I could smell the seasoning. I love when @aldiusa adds everything seasoning on all the things. Now what the heck can I use this bread for? I need all the ideas!" Followers quickly jumped in with their exciting takes and couldn't wait to share their thoughts.
A new take on everything seasoning
Followers couldn't get enough of the Instagram post. Excited takes like "Toast it and add butter, it's so delish. I'm going back to buy another loaf. Hopefully they still have it," and "I just used it for avocado toast!" poured in. Another user loved the plain bread, saying, "It was so good by itself!!!" Another chimed in with, "I bet it would taste incredible with spinach and artichoke dip." One Instagrammer even suggested pulling out all the stops, replying with, "Grilled cheese, croutons, crostini, egg sandwiches, paninis, French toast with chicken so it's savory."
While followers suggested making what felt like every sandwich out there with the new bread, others have enjoyed everything bagel seasoning in a myriad of ways. Taste of Home recommends pairing this type of seasoning with fried eggs, snack mixes, roasted meat, butter, and even mixed in with olive oil. With so many flavor combinations available, it just makes sense that this latest take on everything seasoning could stir up so much excitement.