Fans Are Trying To Figure Out What Makes Costco's Store-Brand Bacon Unique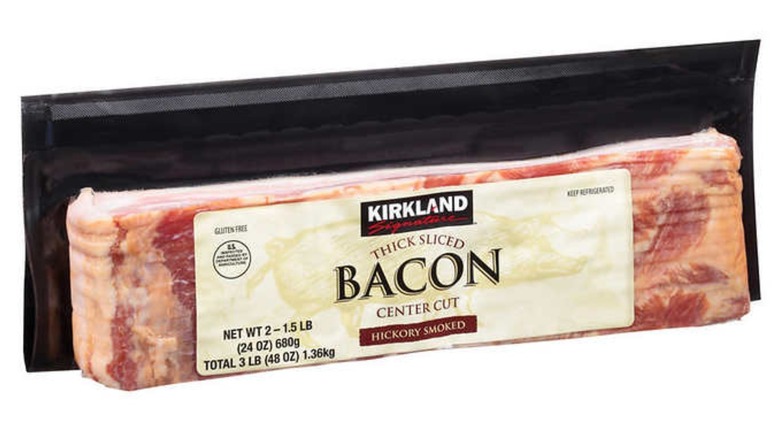 Costco
There may be a lot of things that keep Costco's customers coming back to the store again and again, from the extensive selection of pastries in their baked goods department to their wide selection of great deals on premium liquor. But for fans of smoked meat, there is one item that makes the trip worth it on its own: Costco's store-brand bacon.
Some less-than-stellar brands of bacon can be disappointing, delivering an unpleasant, occasionally "plasticky" texture, and an overly salty or just plain bland flavor, via the Daily Press. However, many Costco customers have been raving about the quality of the chain's Kirkland Signature bacon, which many shoppers found to be a tasty, high-quality product, despite being around 20% cheaper than comparable bacon brands, according to the Wall Street Journal. 
One Costco shopper was so delighted and surprised by the bacon's quality that they recently took to the social media site Reddit to try to get to the bottom of exactly why Costco's bacon was so superior to other brands. "Why is Costco bacon so much better than the average store bought?" u/squares3D asked their fellow Costco fans.
Many Costco shoppers felt the Kirkland Signature bacon was a great value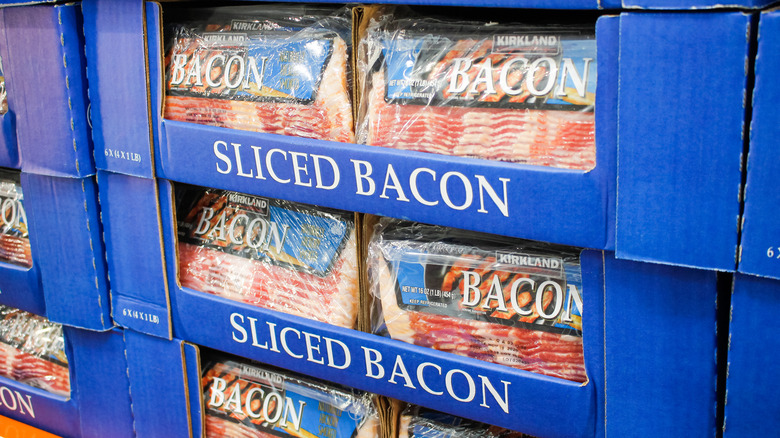 TonelsonProductions/Shutterstock
The post was met with many commenters agreeing that Costco's store-brand bacon was better than most. "I'll only buy the Kirkland bacon because the quality and price is unmatched," u/lubbin604 wrote. Others responded with their own ideas as to what makes Costco's bacon so satisfying. "It's actually smoked versus injected with liquid smoked," u/smokedshortribs replied. Another user suggested it is simply because "everything's better when the value is better." "The bacon rule (More = Better) and Costco sells in bulk," agreed u/Dionysos911.
However, some shoppers felt that not all of Costco's bacon was created equal. "The regular is SUPER salty. Thick cut or bust," u/Numerous-Meringue-16 posted. But it is not just Reddit users who have an affinity for Costco's thick-cut bacon. Lara Walsh of Insider decided to review the chain's popular bacon to see what the hype was all about, and she came to a similar conclusion, saying the regular cut was nothing exceptional but calling their "thick-sliced strips...some of the best I've tasted." 
So while there are plenty of fancy and expensive brands of bacon on the market, many fans seem to agree that Costco's Kirkland Signature bacon delivers the perfect blend of great taste, quality, and value for the price.