Aldi Shoppers Are Buzzing About This Spicy New Popcorn Flavor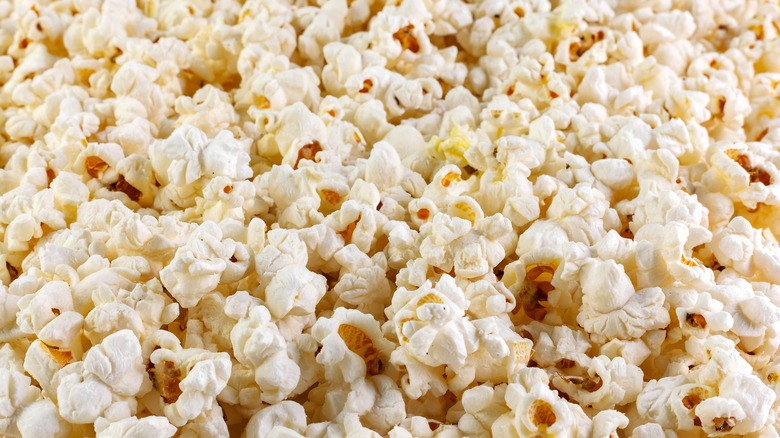 Mykhailo Baidala/Shutterstock
Popcorn fans love flavors that stray from traditional butter. According to Taste of Home, snack fans have imbued their popcorn with chocolate mint, Buffalo ranch, and even a Cajun butter topping. While these taste mashups can inspire anyone to grab a handful of popcorn, that hasn't stopped food makers from coming up with even more unique popcorn coatings over the years. Popcorn fans have found a solid mix of sweet and savory flavors, but the possibility of spicy popcorn can seem elusive. Aldi has now entered the fray with their latest take on a heat-filled popcorn that promises to stir up social media.
Aldi's official Instagram account posted a picture of the chain's new Wasabi & Soy Popcorn alongside the caption, "Would you give wasabi & soy popcorn a try?! Raise your hand if you'll be adding it to your #ALDIHaul this week!" The post inspired a flurry of activity from Aldi's followers and fans couldn't wait to jump in and share their takes on this new snack.
A ton of love for the wasabi popcorn
Followers couldn't wait to try the wasabi popcorn for themselves and flooded the post with excited comments. Hot takes included, "The wasabi popcorn is amazing!" and, "it's so good!" Others chimed in with, "I love wasabi! Can't wait to try this!" and, "That popcorn is delicious!" while another shot back with the gem, "Totally missed the chance to name is WaSOYbi. Disappointed."
On the other end of social media, Instagrammer @aldifavoritefinds stumbled upon the same product and showed it off. Their followers equally enjoyed learning about the wasabi popcorn, and jumped in with comments like, "I bought the wasabi popcorn to try," and simply, "omg." Wasabi popcorn may not have risen to the levels of Buffalo ranch or chocolate mint, but it looks like Aldi has pulled out all the stops when it comes to winning snack fans over with this soy-wasabi flavor combo.