Fans Want Padma Lakshmi To Make A Top Chef-Ru Paul's Drag Race Crossover Show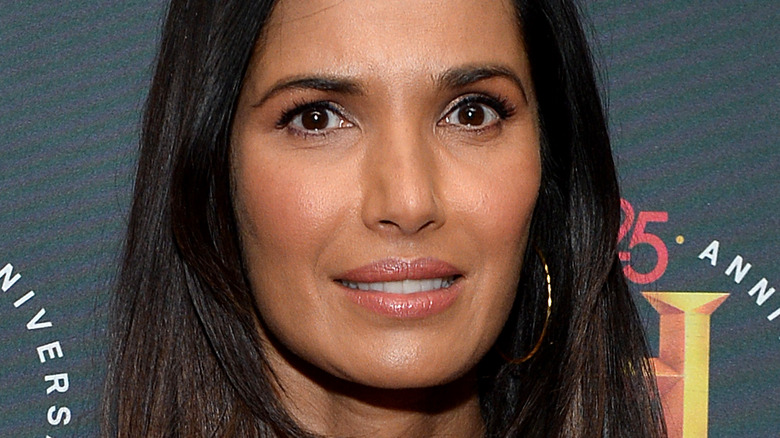 Noam Galai/Getty Images
In the world of reality competition shows, "RuPaul's Drag Race" and "Top Chef" stand out in their own ways. When the Auguste Escoffier School of Culinary Arts asked some of its professional chefs to name the best cooking shows, an instructor named "Top Chef" as the top competition show. And in a 2018 piece for Gold Derby, Susan Wloszczyna declared it "the creme de la creme of U.S. food shows." "RuPaul's Drag Race" has amassed a cult-like following during the course of its run, serving as inspiration for some members of the LGBTQ+ community while contestants joyously compete to take the title of Queen of the Drag Queens (via Vox).
At first glance, one might not see how the two shows could relate based on content. Yet while RuPaul's love of indulging in burnt toast and black coffee might not make him sound like "Top Chef" material, fans are clamoring to get some kind of crossover and for Padma Lakshmi to lead the charge. It would not be the most far-fetched idea, given the history of celebrity appearances and crossovers "Top Chef" has already had with other shows, like the time the chefs cooked for Glee star Lea Michelle. Plus, based on a recent Instagram post, it looks like Lakshmi's not against the idea!
Can Padma Lakshmi get this party started?
In a recent post on Instagram, Padma Lakshmi added a screenshot of a Twitter conversation she had with a fan in which the fan asked how close they are to getting a drag queen challenge on Top Chef. Lakshmi responded with a question of her own, "A @BravoTopChef and @RuPaulsDragRace crossover episode??" She captioned the Instagram post, "They'd be serving that's for sure! Think this idea has legs?" followed by a winky face, leaving fans to speculate and build up excitement. In a second photo, she screenshotted a Twitter post from violinist Vijay Gupta. The musician posted, "When someone gets dismissed, Pack your heels and go," a play on Top Chefs famous dismissal asking losing chefs to pack their knives and go.
Some notable names jumped on the bandwagon in the Instagram comments as well. Chef Melissa King shared that she'd been wanting something like that for years and the "RuPaul's Drag Race" account chimed in to say that "the children would eat this UP!" Other fans replied with resounding support of the idea, with some throwing out ideas like "Restaurant Wars, but with Drag Race front of the house" and others making jokes like "I can smell the burning lashes now!" Seems the fans are in support, so it is up to Lakshmi to lock it in!