The Darius 'Cooks' Williams Skillet Controversy, Explained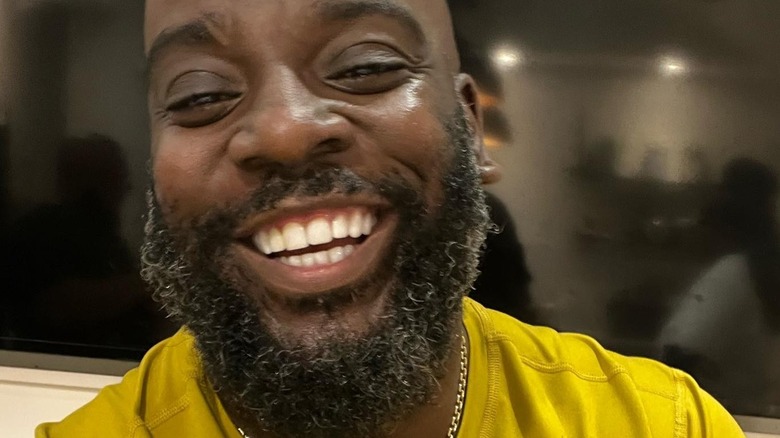 Phongphan/Shutterstock
Darius Williams skyrocketed to fame after TV chef Sunny Anderson invited him on her Food Network show "The Kitchen" in 2011 (via The Daily Beast). But if you bought a skillet or another product from DariusCooks, the company set up around the influencer chef, and it has not yet arrived, don't hold your breath. 
Better Business Bureau lists 13 complaints against the company's Jersey City center and 19 against its Atlanta-based one in the last year alone. Complaint upon complaint describes situations in which products were never shipped or sent to the wrong address without a refund, and events canceled due to COVID-19 that Darius Williams also refused to reimburse customers for. DariusCooks in Atlanta has an "F" rating for failing to respond to complaints, while the Jersey City business has no rating while its "file information is being reviewed and/or updated."
These activities are just part of the reason why Williams is controversial, and the hashtag #dariuscrooks has continued to be viral. The whole set of causes, however, is a laundry list of alleged scams, scandals, lawsuits, and bankruptcies. On August 21, 2021, Angela Davis, a private chef who goes by The Kitchenista, posted on Twitter a then-current record of allegations that plagued Darius Williams' ventures, although her Twitter account no longer exists. In September, The Kitchenista also shared public records of lawsuits against Darius Williams and DariusCooks on Facebook. They cover multiple allegations including the unshipped products and various unpaid bills.
Darius Williams' skillets are only part of the controversy
The controversy around Darius Williams has been hanging around for more than two years. For example, an early appearance of #dariuscrooks on Instagram occurs on a post from February 2020. In it, Williams is accused of not giving his workers time to recover after a robbery, framing them for overcharging the credit cards of his followers, and having managers pay for food supplies themselves with recompense.
Then, in June 2021, the controversy reached a new level when one Instagram user brought up the records of the Better Business Bureau and alleged that Williams plagiarized The Kitchenista. This brought the two into contact, prompting her to post on Instagram accusations that Williams assaulted a female server in 2019 after she says he refused to pay her. "I will not let this go... The allegations are piling up of scams, outstanding refunds, and now physical assault against a Black woman," The Kitchenista wrote.
All these incidents were picked up by Southern Grit Magazine in late June 2021. Williams did not respond to their request for comment. However, judging by both the continued existence of #dariuscrooks and the steady stream of new content and engagement on his Facebook page and Instagram account, he still has a fanbase despite the series of scandals and skillet controversies that are now tied to his name.