Martha Stewart Adds 3 New Tropical Flavors To CBD Line
September 2020 marked the launch of Martha Stewart's line of CBD products (via Delish). The original line included three products: gummies, soft gels, and oils. Of the three CBD edible products, only the gummies and oils were flavored. The first three oil options to hit the market included Meyer lemon, blood orange, and an unflavored variety. The brand has since added a peppermint option. Originally, the gummies came in two fruit medley choices. The first is full of citrus flavor profiles, made up of Meyer lemon, kumquat, and blood orange. Berry lovers weren't left out — the second gummy option featured red raspberry, huckleberry, and black raspberry flavors.
According to Prepared Foods, Martha Stewart CBD is the fastest-growing CBD brand and has outpaced quarter-over-quarter growth by 20%. Given the brand's success, in November of 2021, right on the tail of its one-year anniversary, Stewart launched a 'harvest medley' flavor of gummies featuring pomegranate, concord grape, and green apple. Now, fans of the line won't have to wait another year for another gummy flavor. Stewart recently announced that the brand is rolling out another option, and this time it's getting tropical.
The new gummy flavor will feature pineapple, coconut, and mango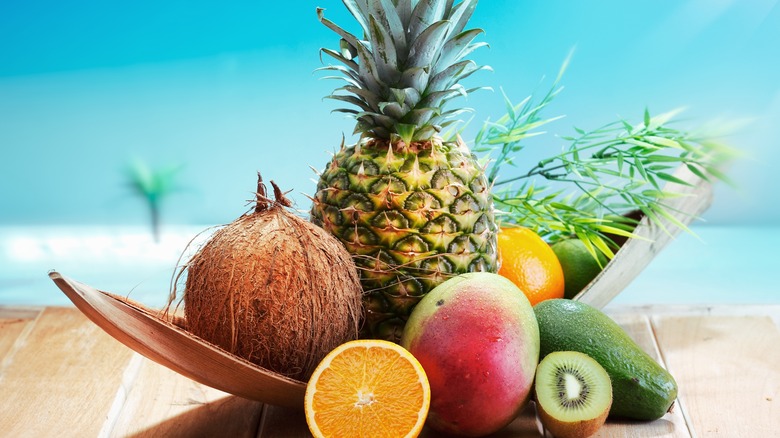 stockcreations/Shutterstock
Martha Stewart shared in an Instagram post that the new gummies will be pineapple, coconut, and mango flavored. The image showed Stewart the day after the launch party for the flavor surrounded by staff from the Colony Palm Beach, who hosted the event. Stewart called the party "lovely and very successful." Though Stewart did not specify, it's possible the three tropical fruits will be blended into a medley flavor, similar to all the other CBD gummies the brand sells. Stewart will continue to partner with the global cannabinoid company Canopy Growth to craft the product.
Customers have given the gummies consistently high reviews, with most earning about 4.5 stars out of a possible 5, according to reviews on the Shop Canopy website. "These not only taste delicious with no after taste, they also help me sleep and calm me down in stressful situations. Highly recommend," one happy customer wrote about the berry medley. The brand has yet to put the new product on the website, but given Stewart's post, the launch is imminent. If the new flavors follow previous products, each gummy will include 10 mg of CBD isolate per gummy. A 30 count jar of gummys typically costs $34.99, and a 10 count goes for $12.99.