Gilmore Girls Fans Will Love This New Cookbook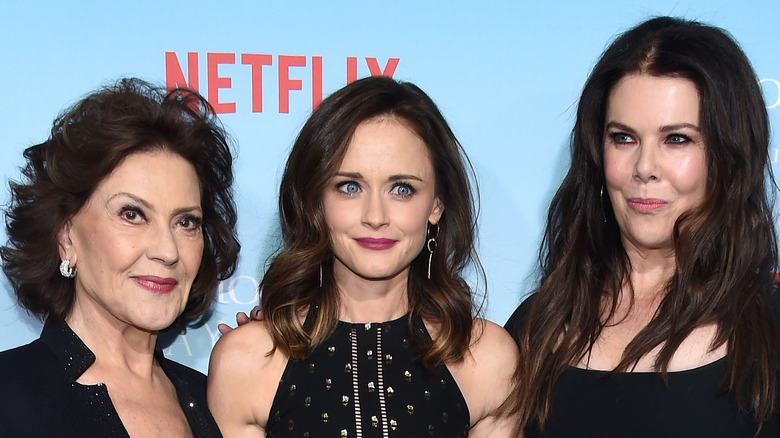 DFree/Shutterstock
If you've watched every episode of "Gilmore Girls," maybe even more than once, then chances are you've found yourself craving a cup of Luke's coffee, some of Sookie's gourmet specialties (her risotto sounded amazing), or a slice of the countless takeout pizzas Lorelai and Rory Gilmore consume on the show. Sadly, their hometown of Stars Hollow is just a fantasy, but now, thanks to a new cookbook, you can make the food from "Gilmore Girls" a reality.
The book is called "Gilmore Girls: The Official Cookbook," and it's written by Elena P. Craig and Kristen Mulrooney. It doesn't come out until April 26, 2022, but it's available for pre-order now, and will cost $32.99 (via Delish). Once fans get their hands on a copy of the new cookbook, they'll be able to take a deeper look at the culinary landscape of the show. Even the most die-hard fans might have missed some of the food-related Easter eggs included in the cookbook. 
The book has recipes and more
Fans of "Gilmore Girls" who also like to cook will be able to make iconic recipes from the show including Luke's Diner Cheeseburgers, his seasonal Santa Burgers, recipes for a formal Friday night dinner like Rory and Lorelai might have shared with Richard and Emily, healthy recipes from Mrs. Kim (the mom of Rory's best friend Lane), and several recipes from Sookie, Lorelai's best friend and the chef at her inn.
But for fans who are more like Rory and Lorelai when it comes to cooking — as in, they don't cook, they eat — there's other helpful advice. The book gives tips on ordering take out and saving leftovers, advice on how to cook frozen foods, and there are tips written from the perspective of characters form the show, like table manners and etiquette advice from Emily (via Southern Living). There's a little something for every fan, no matter what their cooking skills may be.