How Aldi UK Is Making Its Easter Eggs More Eco-Friendly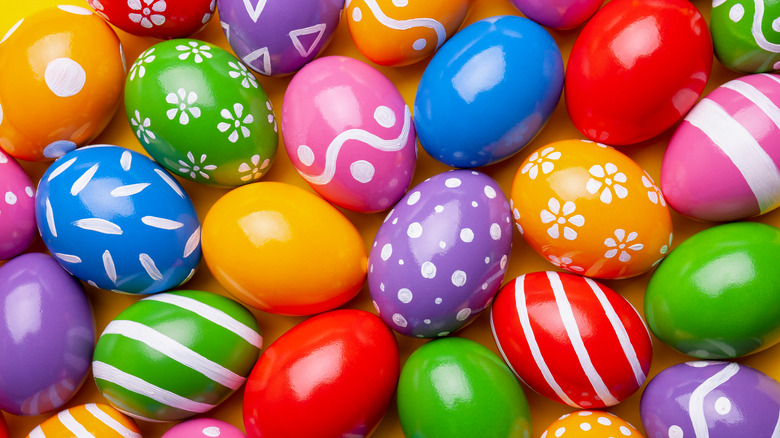 Random435/Shutterstock
If you're trying to make a more conscious effort to shop green when Easter rolls around this year, Aldi may be able to help with that, but only if you're based in the UK. The German discount supermarket brand recently announced that all of its UK store-brand Easter eggs will be plastic-free come Easter, according to Packaging Gateway. Aldi vowed to remove plastic from a significant part of its "seasonal confectionery range for this year," which also includes Aldi products like the Popcorn Egg and Ice Cream Egg.
Instead of sitting in a plastic egg carton, Aldi's Easter eggs will be supported by cellulose film and card boxes. (In the past, Aldi has used "plastic windows" and "plastic blister packs" for egg packaging.) By sourcing plastic-free packaging, Aldi is estimated to save 24 tons of plastic. In addition to reducing the use of plastic, Aldi's line of 2022 Easter-themed products is also 100% recyclable.
How Aldi is becoming more sustainable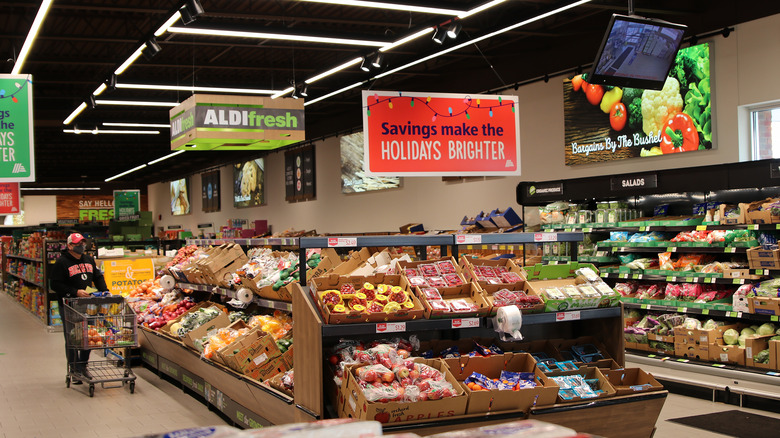 Eric Glenn/Shutterstock
This eco-friendly Easter egg packaging initiative is just one snippet of Aldi's larger sustainability plan, which aims for all packaging to be "recyclable, reusable or compostable by the end of 2025," according to Packaging Gateway. Aldi customers may also remember when the retailer stopped offering plastic straws with UK store-brand drinks in April 2021.
Aldi's sustainability plan, which is set to go through 2030, aims to "lower emission of greenhouse gases, cut food and operational waste, [and] improve packaging and source responsibly" (via Supermarket News). Dubbed a "green" power leader by the Environmental Protection Agency, Aldi has succeeded in its sustainability efforts thus far by utilizing natural refrigerants and solar energy panels; partnering with food banks like Feeding America; adopting composting, recycling, and food recovery programs; and by encouraging shoppers to use reusable cloth bags over single-use bags. The store is also turning towards green options like compostable packaging and cardboard sleeves that can be repurposed. Aldi UK's newly-green Easter packaging is another step in this sustainable direction, which feels appropriate, since spring is a season of growth and new beginnings.