Rihanna Loves This Barbados-Based Fast Food Chain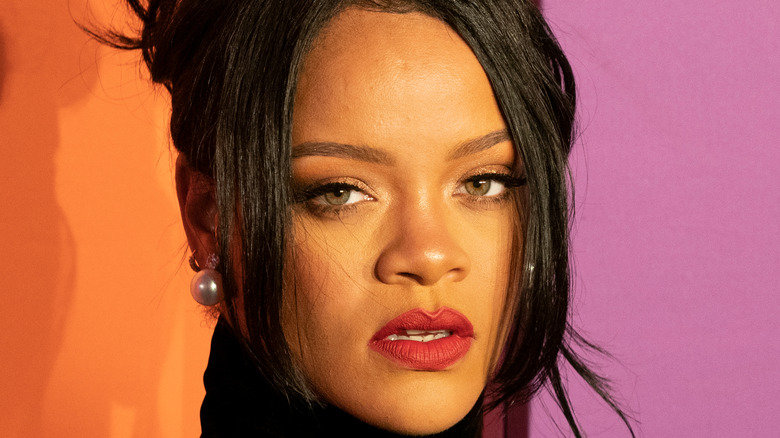 lev radin/Shutterstock
Celebrities: They're just like us! And some can be vocal about their favorite fast food chains and brands. From Selena Gomez's apparent love of Texas Roadhouse to John Mayer being a big fan of Costco's Kirkland Signature brand, celebrities often reveal that they are more similar to regular people than fans might think. Plus, despite being famous, many of them haven't forgotten where they came from.
Rihanna, a singer and entrepreneur who is best known for hits like "Shut Up and Drive" and "Umbrella," was born and raised on the island of Barbados. And though the superstar spends much of her time living in California, she also reportedly owns a luxury home in the Caribbean country, per The Hollywood Reporter.
It's unclear how often Rihanna returns to the island, but when she does, she has a slew of places she makes sure to stop — one of which is a popular Barbadian fast food chain, exclusive to the region.
Rihanna still appreciates a taste of home
The "Don't Stop the Music" singer hasn't forgotten her roots. In 2013, several years after rising to fame with her hit "Pon de Replay," Rihanna posted a photo on Instagram of food from Chefette, a Barbados-based restaurant chain with 15 locations throughout the island. Rihanna's snapshot appeared to be of some kind of fried nugget, and she captioned the image, "A taste of Heauxm [home]."
On the company's website, Chefette describes itself as an indigenous, family-owned restaurant chain. The menu features typical fast food items, such as burgers and chicken, as well as options like barbecue and roti, a flatbread native to India. Vogue reports that Chefette's roti is one of its best menu items. The chain offers a variety of options, all made with either chicken, beef, potato, or both. It functions similarly to a tortilla, where ingredients are rolled inside. It's clear that despite Rihanna's fame, she still loves to be reminded of the simple things she grew up with — like Chefette's comfort foods.