Dunkin' Just Brought Back Its Iced Coffee-Flavored Jelly Beans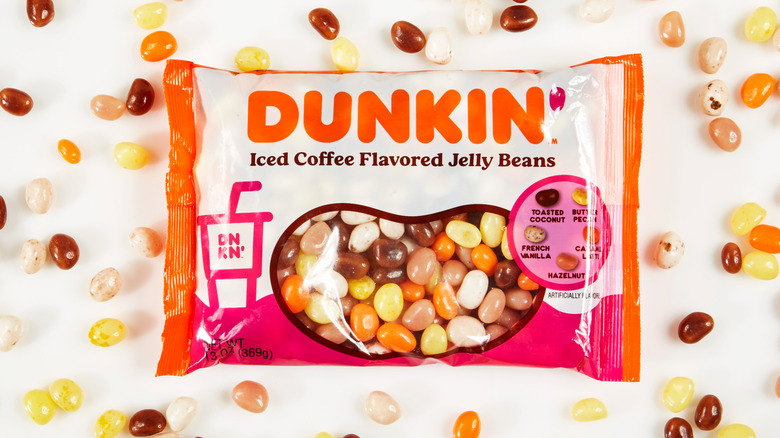 Dunkin'
Easter is fast approaching, and that can only mean one thing: the arrival of delectable Easter candy on store shelves nationwide. Chocolate bunnies, Peeps, Cadbury eggs, and more traditional Easter sweets are hitting retailers in anticipation of the upcoming holiday, and this year, Dunkin' is collaborating with the Philadelphia-based confectionery company Frankford Candy to add one more special seasonal treat to your Easter basket.
The popular donut and coffee chain has just announced it will be bringing back its Iced Coffee-Flavored Jelly Beans for the second year in a row. While most typical Easter candy is geared more for children, these iced coffee-flavored jelly beans have plenty of adults fans, with five delectable, Dunkin-inspired flavors: French Vanilla, Caramel Latte, Butter Pecan, Toasted Coconut, and Hazelnut (via Dunkin' Newsroom). Shoppers will soon be able to grab a 13-ounce bag of these one-of-a-kind candies for just $3.99 at many of the same stores where they stock up on other Easter favorites, such as Walmart, Walgreens, CVS, Five Below, Rite Aid, and Big Lots. They will also be available for purchase online at Amazon and FrankfordCandy.com.
These jelly beans sold out quickly in 2021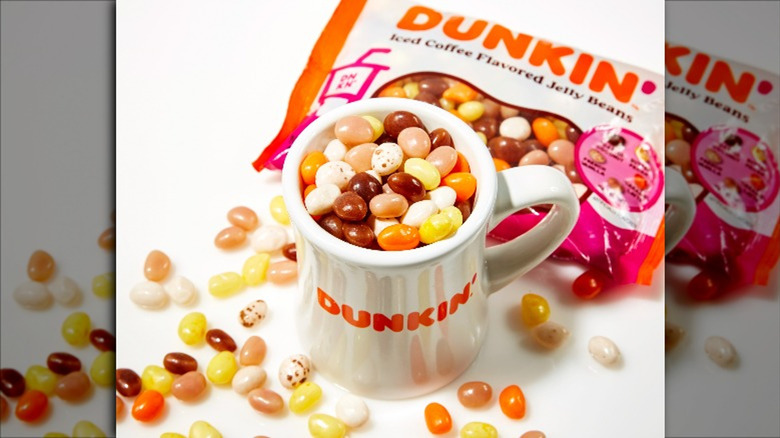 These sweet Iced Coffee-Flavored Jelly Beans were first launched in 2021 as a limited-edition item, and they were only sold exclusively at Walgreens and RiteAid, according to Taste of Home. However, they were such a hit that they were sold out in a very short amount of time, meaning many Dunkin' fans who were intrigued by this new type of candy coffee bean likely didn't get a chance to try the sweet before they were gone for good. So this year, Dunkin' and Frankford Candy want to make sure that doesn't happen.
As a result of last year's high demand, Molly Jacobson, director of business development at Frankford Candy, assured fans that there will be a greater avaiability of these jelly beans on the market this year. "After selling out quickly, we knew we not only had to bring them back but expand their retail availability this year," Jacobson explained in a press release, adding "These jelly beans are a Dunkin' lover's dream and a sweet addition to any Easter basket or spread," (via Dunkin' Newsroom). So with more coffee-inspired jelly beans hitting the shelves at more retailers than ever this year, hopefully, every Dunkin' fan who wants to give these creative candies a try will find one in their basket on Easter morning.