The Futuristic Way Plantish Makes Plant-Based Salmon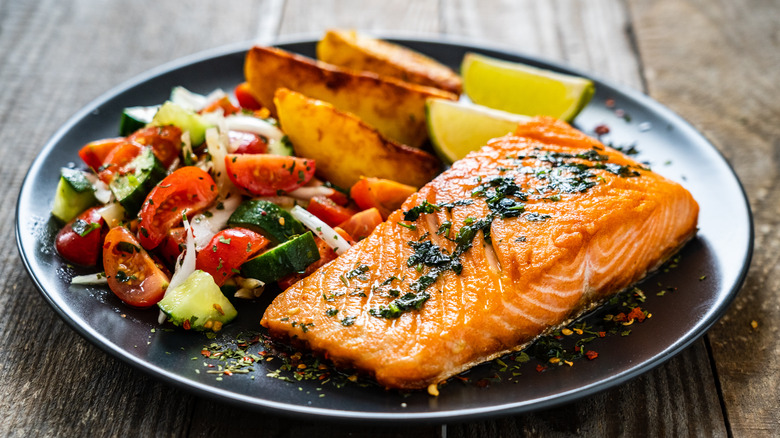 Jacek Chabraszewski/Shutterstock
With each passing year, more businesses are getting creative with sustainability and plant-based products. So far, we've seen a nationwide increase in enthusiasm for plant-based (but meat-like) hamburgers, especially, which use ingredients like pea protein to mimic the taste and texture of beef, says Eater. While the consumption of these products may help lessen the environmental impact of the beef industry, the seafood industry is also growing rapidly — at the rate of 170 billion pounds of wildlife harvested annually. Unless pushes for sustainability are made, scientists say, the world's oceans will continue to be depleted (via National Geographic). That's where Plantish comes in. 
According to its website, Plantish was created by "foodie scientists on a mission to create boneless fish whole-cuts made entirely out of plants." The Israel-based startup is working to create a seafood replacement that will help feed fish fans amid low supply and high demand for ocean-sourced proteins.
A new wave of sustainable cooking
If you love salmon but want to help with the sustainability effort, you're in luck. Plantish is working on a plant-based boneless salmon fillet, to hit markets in 2024, a press release announced. The company says the fillets will have the same rich taste and flaky texture of real salmon, as well as "the same nutritional value" with protein, omega-3 and 6 fatty acids, and vitamin B. Many processed plant-based products lack the nutrients found in real meat or whole foods, says Today.
As for the futuristic way this faux salmon is made, it's all thanks to 3D printing technology, reports Food Dive. The recipe includes legume proteins and algae extracts. And because this product is manufactured, it's free of mercury, which is a danger associated with consuming some types of fish. The fillets are promised to be just as easy to use as real salmon. Plantish recommends grilling, roasting, poaching, baking, and charring, but you can cook it any way you'd normally cook your fish. Maybe you could even try a fancy new method, like a pistachio-crusted salmon recipe.