Aldi Shoppers Highly Recommend These Mini Quiches
If you don't feel like whipping up a homemade quiche recipe, you have a handful of grocery store options at your disposal. According to voters on PokPokSom, Whole Foods and Nancy's make the very best frozen quiches out there. This popular party food, Food Reference explains, has origins in the medieval German kingdom of Lothringen, but it only became a commonly enjoyed dish more recently. The item took off in popularity in England after the end of World War Two, though many considered quiches to be unmasculine due to the small amount of meat in the dish. Nowadays, these savory egg-based pies make appearances everywhere — including Aldi, which has a miniature version for sale that customers are highly recommending.
Over on r/Aldi, a Redditor spotted the frozen finger foods and took a picture to show off the package. They titled their post, "These are amazing! In freezer section. 7-8 min in air fryer!! YUM!!!" and fellow users quickly flooded the comments to share their take on this frozen food find.
Reddit gives these quiches the thumbs up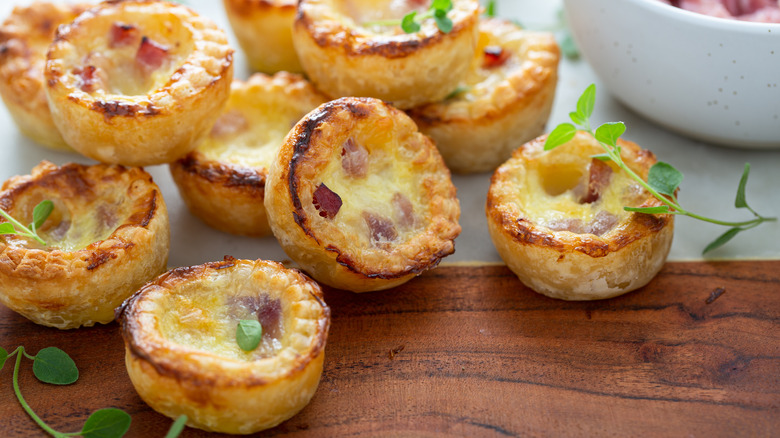 Elena Veselova/Shutterstock
Reddit has spoken, and it says it generally enjoys these tiny quiches from Aldi, which come from the Appetitos brand. The box comes with an assortment of 15 quiches in three flavors: spinach florentine, three cheese and onion, and Lorraine. Replies like, "YES!!! LOVE these!" and "Ate 3/4s of a box once," poured in. One called them "really good for a quick snack," and yet another recommended popping them in the air fryer. A couple of shoppers had one critique: "These are quite good. The only thing I wished they'd do was label the onion and ham quiches differently," u/lyn73 said. Another agreed, adding that they're a vegetarian and have to ask their sibling to "test" the quiches for meat every time they eat them.
While these quiches won over most fans on Reddit, the product stirred up memories for another customer, who lamented, "I miss the big size quiches. I haven't been able to find them in months- maybe they're seasonal?" One user pointed out that the same miniature quiches are available at Costco, which also seems to carry full-size quiches, based on an online review.