Aldi Shoppers Are Comparing These Cookies To Girl Scout Thin Mints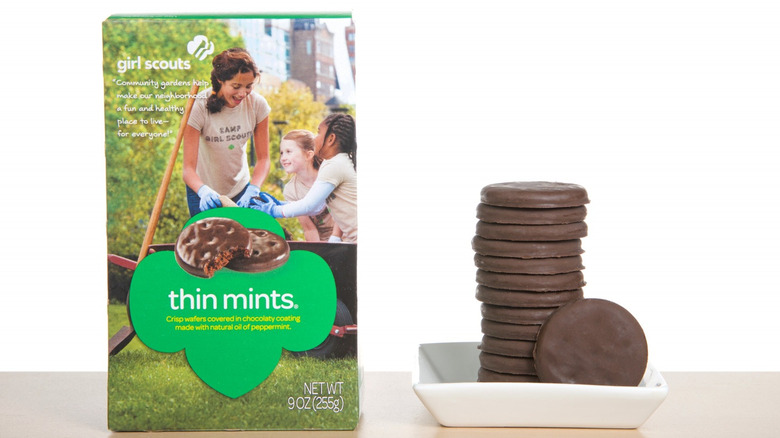 Sheila Fitzgerald/Shutterstock
Girl Scout Cookies are perhaps some of the most beloved cookies in the nation, but they are only available during a very short window of time each year. While Girl Scout Cookie season varies a little depending on the local council's calendar, they are typically only sold for just six to eight weeks each year, usually between the months of January and April, according to the organization's website. But what happens if you've got a hankering for these delectable cookies some time outside of this brief period?
Well, if the Girl Scouts aren't selling near you, but you are still craving some sweet Thin Mints, then you just might be in luck. While no one but the Scouts can sell official Girl Scout Cookies, Aldi has been known to stock some pretty similar dupes. One such item is the grocery chain's Benton's-brand mint striped fudge cookies, which has some shoppers raving on social media about how closely they resemble the name-brand version. "The Benton's Mint Striped Fudge cookies taste a LOT like the Girl Scout Thin Mints," u/decorama declared on the r/aldi subreddit.
Aldi sells several Girl Scout Cookie dupes
Other Aldi shoppers agreed that the Benton's mint striped fudge cookies are a great buy. "These are so good and I think the texture is better than thin mints, imo," u/3lmtree replied. "Went into Aldi for one thing yesterday and saw these. Did not leave with only one item," joked another user. But the news doesn't stop there, as Thin Mints aren't the only type of grocery store Girl Scout Cookie copycats you can find at Aldi.
If Samoas are more your thing, you might want to check out Benton's caramel coconut fudge cookies, which are sold at Aldi for $1.39, according to the Hip2Save blog. They appear to have the same ingredients and toasty, striped appearance as the Girl Scout version. Additionally, Benton's peanut butter filled cookies seem to be the brand's answer to Girl Scout Tagalongs, priced lower at $0.95 for a 9.5-ounce box.