How Much Do Einstein Bros. Bakers Typically Make?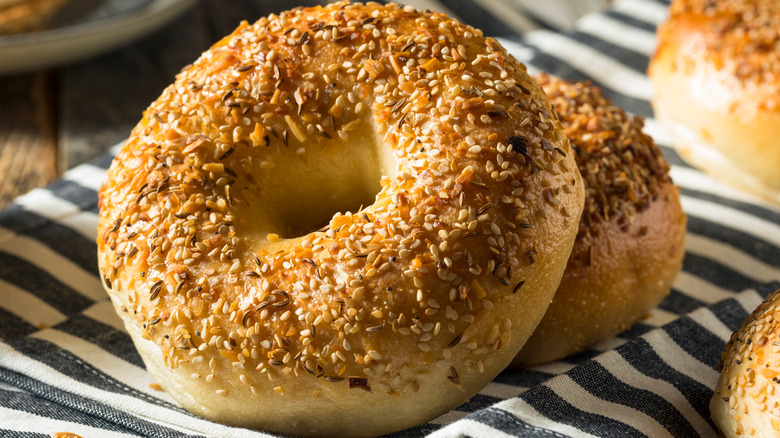 Brent Hofacker/Shutterstock
Where would the world be without the breakfast staple of the humble bagel? For such a small and soft creation, the bagel carries an immense amount of responsibility – after all, it could be the difference between your morning being the start of the best day ever or the commencement of hours of horrors. And you thought it was just bread.
Bagels have always been a popular food, with the hole-centered snack being a particular historical favorite of Jewish communities, according to Mental Floss. Fox Business reports that hungry Americans consume over 800 million bagels every year, resulting in annual sales of $1 billion, according to Snack Food and Wholesale Bakery.
With yearly sales of approximately $426 million (via Restaurant Business), Einstein Bros. Bagels is without doubt a serious contender in the lucrative bagel market. From the first Einstein Bros. store opening in Utah in 1995 (per FundingUniverse), the company now boasts 694 stores across America, according to its website. Employed to craft the bagels at Einstein Bros. are the business's bakers — but how much do they actually earn for fulfilling this sizeable responsibility?
Einstein Bros. bakers are paid more than the national average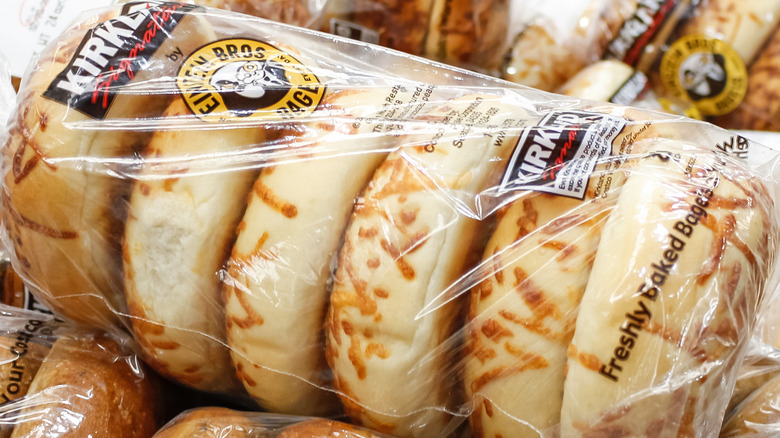 TonelsonProductions/Shutterstock
According to Einstein Bros., its bakers arrive before dawn to begin creating their bagel masterpieces, and carry out the process all day long. The company's website states that its employees receive training in order to bake bagels to an expected standard, and workers can expect early starts (with early finishing times) and some physical demands. For this, bakers are paid between $14.77 and $19.52 an hour — with tips as potential extras.
Zippia reports the average pay for bakers in the U.S. is $13.21 an hour ($27,000 a year), which would put Einstein Bros. pay above the national estimate. Data gathered by Indeed supports this information, reporting an expected wage for Einstein Bros. bakers of $14.77 an hour. According to Glassdoor, the yearly salary of the company's bakers is approximately $30,486. Indeed reports that Einstein Bros. employees also receive benefits such as health, vision, and dental insurance, a retirement plan, and discounts.
However, the average pay for bakers at Einstein Bros. may be slightly less than some other bagel firms. Indeed notes that Bruegger's Bagels rewards its bakers with $15.13 an hour, while Indeed's research indicates that Noah's New York Bagels pays $15.30 an hour.