The Truth About Robert Hernandez From Top Chef Season 19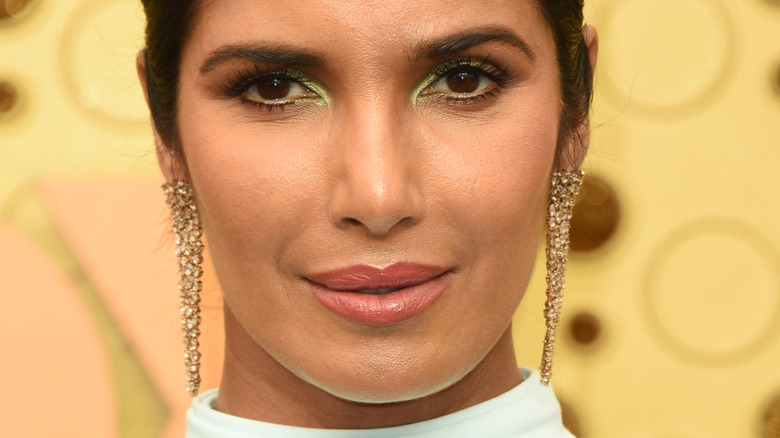 Kathy Hutchins/Shutterstock
"Top Chef" has returned for Season 19 with a bunch of talented contestants who will be competing fiercely against each other and tackling several difficult culinary challenges in Houston, Texas. Host Padma Lakshmi told Entertainment Tonight that the show has given her a chance to bond with several talented chefs over the years, explaining, "We have a lot of memories. I'm with them at such a pivotal, emotional time in their lives." She added that Season 19 is embracing diversity in food and will include Tex-Mex food, BBQ dishes, food challenges at Asian markets, and more.
One of the participants on the show is Robert Hernandez, an experienced chef from Downey, San Francisco. Per Bravo TV, the chef loved food as a kid and got a chance to explore his passion thanks to large "family gatherings and his mother's cooking." The chef recalls spending time with his loved ones and eating some of his favorite dishes on special occasions such as tamales, ceviche, and much more. (Of course, it helped that he got to learn the art of cooking from his Mexican mom, who would often make traditional dishes at home, per Star Chefs.)
He has solid experience
Per Bravo TV, chef Robert Hernandez has previously been a part of several restaurants in San Francisco, California, including the Michelin-starred eatery, Octavia where he was promoted to Chef de Cuisine and worked on combining "seasonal ingredients with his inherited flavor profiles." He is now a private chef — per his LinkedIn profile, Hernandez studied the culinary arts at the California Culinary Academy before working at several restaurants in the Bay Area such as The Square and Aveline. 
Also, Hernandez earned the title of Rising Star Chef in 2019 but didn't quite know whether he would pursue a career as a chef. Per his Star Chef profile, his parents weren't too thrilled about his decision to pursue the culinary arts and he ended up studying international relations in San Francisco before finally deciding to enroll at the California Culinary Academy. 
According to a "Top Chef" video posted on his Instagram profile, the chef hopes that the show will change the course of his career. He said, "For a long time, I've kind of been in the shadow of other chefs and I feel like this is going to take me great places."