Tequila Lovers Will Want To Try These New Canned Cocktails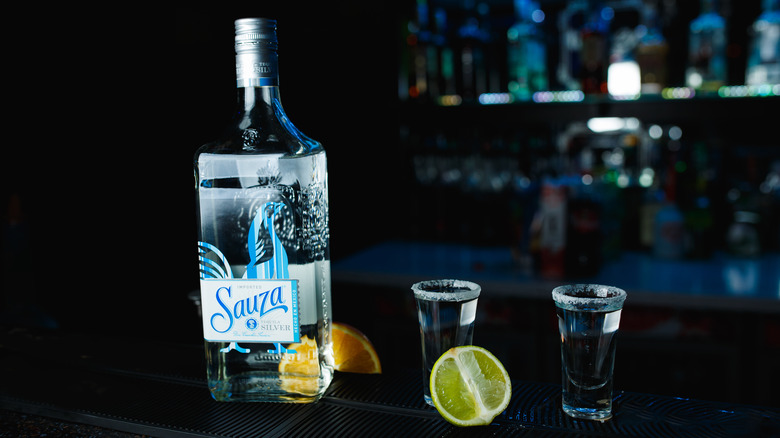 Vladimir Pisarenko/Shutterstock
If you're meeting friends for happy hour, it's easy to order a drink of your choice. However, if you're having a few friends over or hosting a party in your home, and your bartending skills aren't up to par, it can be difficult to provide the cocktails your guests prefer. Thankfully, canned cocktails have grown in popularity, making it easy to open the refrigerator and choose a ready-to-drink canned beverage of your choice — without the messy prep. Now, tequila company Sauza is hopping on the canned cocktail bandwagon with its own version of tequila-inspired canned malt beverages.
Sauza tequila was established back in 1873, when founder Don Cenobio Sauza took over one of the oldest distilleries in Tequila, Mexico, per Sauza's website. Years later, the company is shifting focus from its traditional tequila products to also include a new line of sweetened alcoholic drinks, according to a press release sent to Mashed.
Sauza is launching new canned tequila cocktails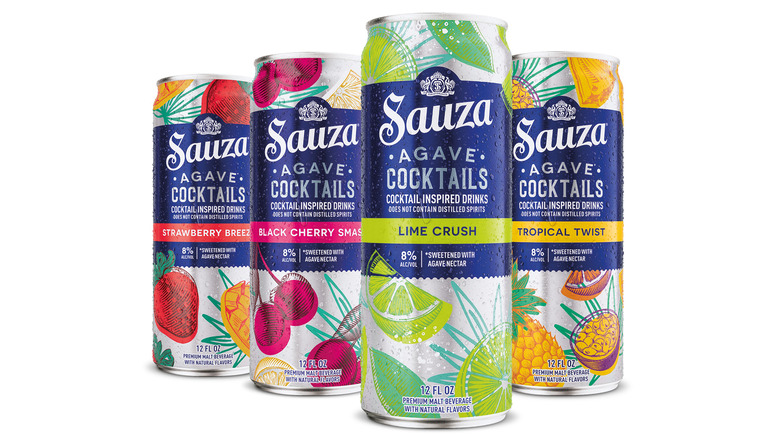 Sauza
Sauza has just unveiled its newest endeavor: ready-to-drink, tequila-inspired cocktails. Made with real fruit flavors and agave nectar, per Sauza's press release, these 8% ABV cocktails are a happy hour option for those who are running a little low on bartending skills. While the drinks are made with malt liquor instead of tequila, the recipe's agave nectar helps give off the tequila vibe, since these two products are made from the same plant.
The drinks come in four flavors: lime crush, tropical twist, strawberry breeze, and black cherry smash. If you're looking for something with a dry finish, Sauza says, try the lime flavor. The tropical twist offers the sweet flavor of pineapple mixed with a slight tartness, the strawberry breeze contains "subtle hints" of mango and kiwi, and the black cherry smash has vanilla notes. The drinks are currently available where other canned alcoholic beverages are sold. According to CNBC, canned cocktails were the fastest-growing alcohol category in 2021, having grown by 50% between 2019 and 2020. That growth is projected to continue — in part with these Sauza drinks.