Aldi Shoppers Adore These St. Patrick's Day-Themed Candles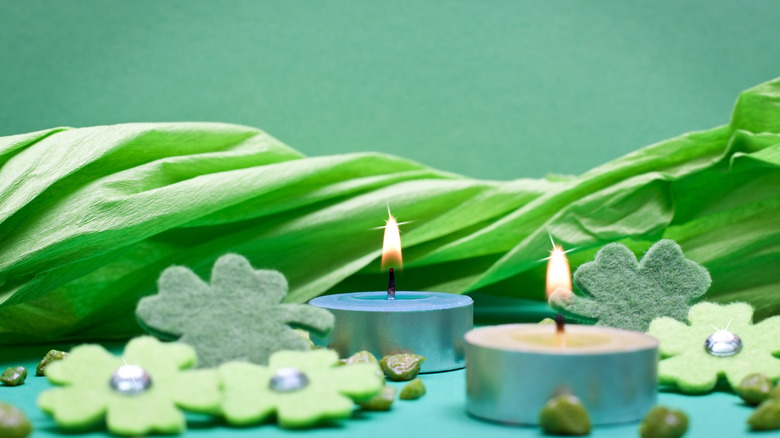 Miriam Doerr Martin Frommherz/Shutterstock
While we might think of St. Patrick's Day as a day to eat corned beef and cabbage, wear green clothing, and drink overpriced green beer, its origins actually date all the way back to Ireland in the ninth century. The holiday is traditionally a feast day in the Roman Catholic Church that marks the anniversary of the death of St. Patrick, according to History. As Irish people immigrated to America in the 19th century, St. Patrick's Day parades and celebrations came along with them, and now it is common for many people in America to take part in the festivities.
But if going to parades or drinking green beer isn't your thing, Aldi is now offering a great way to celebrate the holiday from the comfort of your own home. The grocery chain just released a line of St. Patrick's Day-themed candles. Each of these soy-blended, three-wick candles feature a different festive print, including four-leaf clovers, green stripes, green plaid, and adorable dancing gnomes.
Aldi's festive candles received positive reviews online
One Aldi shopper couldn't help but share the news of the arrival of these festive candles with their social media followers. "Lucky candles $4.29," @aldifavoritefinds posted on Instagram. And while many of their followers were excited by the news, some shoppers might be a little surprised by the price. According to Aldi Reviewer, the price of Aldi Huntington Home 3-Wick Candles increased by 30 cents in some locations this year. While they are now selling for $4.29, Aldi Reviewer reported this brand of candles used to be priced at only $3.99 at stores in the midwest until relatively recently.
However, the price didn't seem to deter many Aldi shoppers, who were quick to post rave reviews about these "lucky" candles. "Such a great collection, love Lucky Clover the most!" @aldi.candle.love replied, while another satisfied user wrote, "I bought the top right candle yesterday – 'Not Lucky But Blessed!' I loved the scent not overpowering!" "Lovin' them all folks!!" @panochegirl raved. Based on these reviews, shoppers who want to get into the St. Patrick's Day spirit and add a touch of green to their home decor might want to grab one or two of these candles the next time they head to their local Aldi.