Walmart Just Recalled Great Value Tortilla Chips Over Metal Concern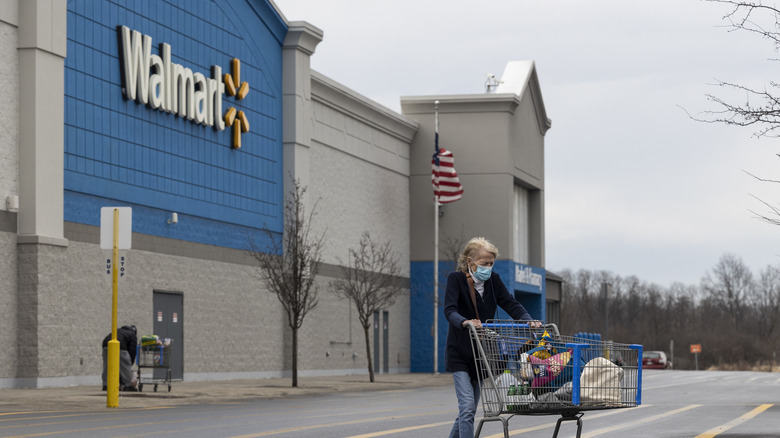 Bloomberg/Getty Images
Walmart has voluntarily initiated a recall of its house-brand tortilla chips due to potential metal contamination according to the FDA. The chips in question are the Great Value Restaurant Style White Corn Tortilla Chips. 2555 cases of the product, each containing ten 13-ounce bags have been affected. The recall is area specific to the Midwest United States and affects stores in Illinois, Missouri, Nebraska, Wisconsin, and Wyoming, according to Eat This Not That.
While a smaller area, this is still a significant recall for the region as Walmart is a prominent grocery provider in the Midwest. The Institute for Self Reliance reports that in many of these areas Walmart accounts for 50% to 70% of the available grocery market, making this the primary affordable and store-brand option for these locations.
Here's how to tell if you chips at home are one of the affected packages — if you have a package of them in your cabinet, you should dispose of them.
Toss or return these recalled chips
The FDA reports that the affected bags are part of a recall initiated on February 22, 2022. The bags feature lot codes 122051## and 123051##  with a "Best By" date of May 23, 2022. The bags included in the recall were distributed from an Arkansas warehouse. For consumers, the chips can be recognized as the 13-ounce Great Value store brand bags currently shown on the corporate Walmart website with a wooden background and pictures of chips on the front.
Metal contamination is a common occurrence, and is more frequently found with processed foods: According to Flexxray, foreign object contamination was the leading cause of food product recalls in 2019. Metal contamination is typically caused by cutting or processing equipment and whether you can see the metal in the product or not, you probably don't want to risk eating a bit of tortilla chip cutting tools.
If you have a bag of these in your pantry, you are advised to dispose of them or return the product to Walmart. If you need something else to snack on, you could pick up the most popular brand of chips in the U.S. to satisfy your hunger.