Alex Guarnaschelli's 'Saturday Night Cake' Is A Glorious Sight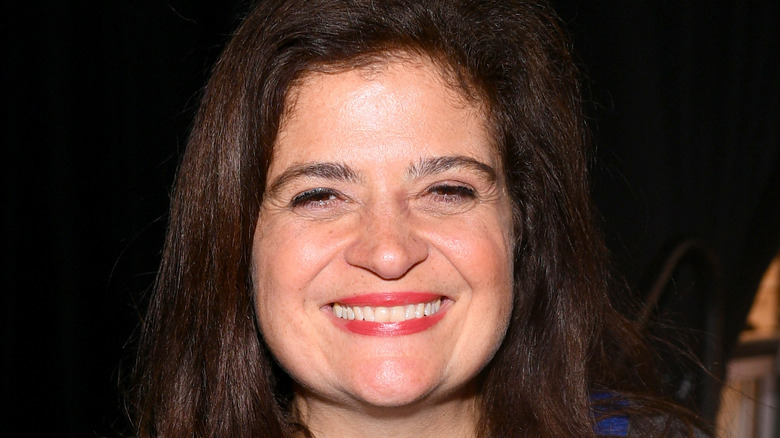 Dave Kotinsky/Getty Images
Being a chef can have some serious perks. However, there's no denying that working in a kitchen can also be a stressful experience — especially if that kitchen happens to be on the set of a Food Network competition show. Alex Guarnaschelli knows this extremely well, and not just because of her lengthy stint as a judge on the network's hit series "Chopped."
Guarnaschelli has been on the other side of the judging table a number of times, competing on programs like "The Next Iron Chef: Redemption" (which, by the way, she won), as well as her most recent high-stakes Food Network endeavor, "Alex vs. America." Oh, and did we mention that the "Iron Chef" has also been serving as the executive chef at Butter Midtown in Manhattan for nearly 20 years?
Needless to say, Guarnaschelli probably has plenty of first-hand knowledge of how taxing working in the restaurant industry can be, so when Saturday night rolls around, you'd think that spending time in the kitchen might be one of the last things she wants to do. Well, that may be true for most of Guarnaschelli's weekends, but this past Saturday night wasn't one of them.
After catching what she called a "little chef mood," the cookbook author headed into her kitchen to whip up a yummy treat, which she proudly displayed in an Instagram over the weekend that has many of her followers drooling.
Fans are wishing they could get a slice of Alex Guarnaschelli's weekend treat
For many people, pouring a glass of wine or a cup of tea might sound like the perfect way to relax on a Saturday night. For Alex Guarnaschelli, however, the occasion calls for something a bit more decadent –- at least it did this past Saturday. Taking to her Instagram page, the "Iron Chef" revealed she enjoyed some weekend R&R in the kitchen, where she whipped up a "Basic Saturday night cake."
The two-layered dessert appeared to consist of homemade yellow cake and chocolate frosting, both of which she shared recipes for in the caption of the upload. Additionally, Guaranschelli posted a photo of the partially eaten finished product that, despite not exactly being on par with the works of Buddy Valastro or Duff Goldman, still had fans wishing they could dig into a piece of it for themselves.
"I. Need. This," wrote one follower in the post's comments section. "Yummy I want a piece," quipped another fan. Many praised Guarnaschelli for her choice of cake and frosting flavors, while others thanked the chef for both the recipes and the mouthwatering snap. "Major serotonin boost just by looking at this masterpiece!" a third follower wrote.
Meanwhile, another Instagram user commented something that was probably on many peoples' minds. "Who else wants to be invited to ICAG's house on a Saturday," they asked. If this cake is on the menu, we'd definitely be there.