Guinness Float Recipe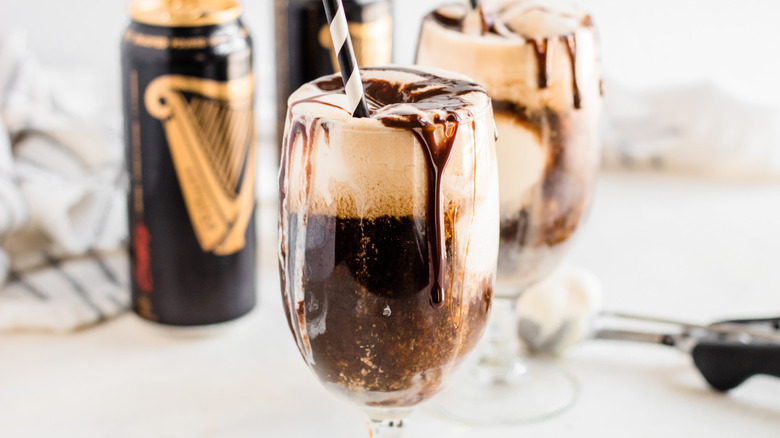 Jaime Shelbert/Mashed
Think back to your childhood — did you ever enjoy a refreshing root beer float, or just an ice cream float in general? The combination of vanilla ice cream and root beer is incredibly satisfying, thanks to the smoothness of the ice cream and the carbonation from the soda. Doesn't it make your mouth water just thinking about it? As adults, it's still fun to indulge in the occasional root beer float, but what if we told you that there's an adult version that is just as good and involves real beer instead of root beer?
Recipe developer Jaime Shelbert of Wholly Nourished came up with this Guinness float recipe that is sure to be a hit at your next get-together. Shelbert explains how she came up with this fun recipe. "This is a riff off a traditional root beer float but with Guinness to give it a festive spin for St. Patrick's Day," she shares. How fun is that? If you love Guinness and want to take things up a notch, give this Guinness float a try!
Gather the ingredients for Guinness floats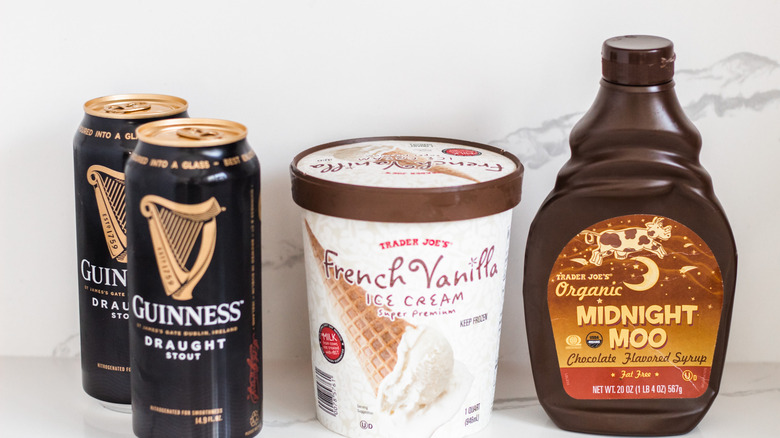 Jaime Shelbert/Mashed
For this decadent Guinness float, you will only need three ingredients. Simply grab some vanilla ice cream, Guinness stout, and some chocolate syrup — that's it!
Divide the ice cream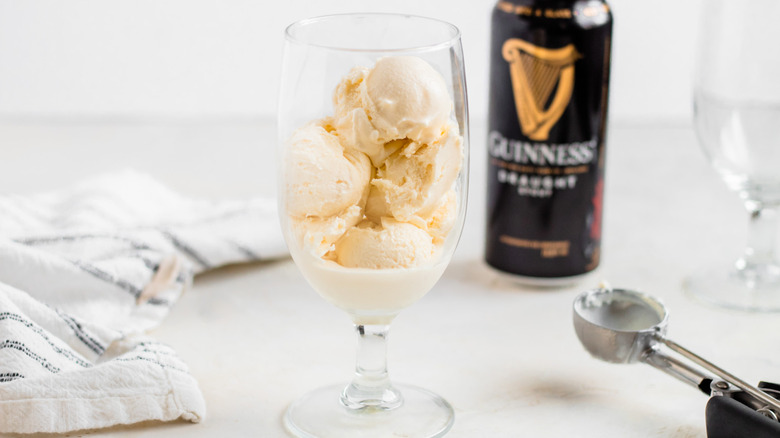 Jaime Shelbert/Mashed
Now that you have all the ingredients, it's time to start the quick and easy prep, which takes just 5 minutes. Grab two glasses that you would like to use for serving. Divide the 2 cups of vanilla ice cream between each glass. "You could sub coffee ice cream for the vanilla and add Bailey's Irish Cream," Shelbert suggests. 
Pour beer over the ice cream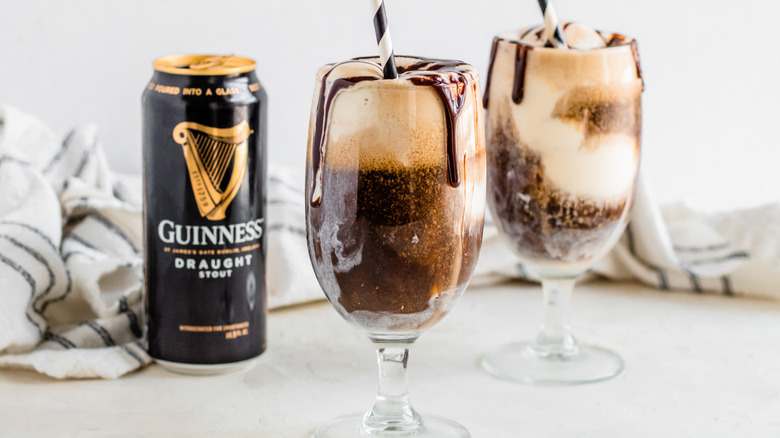 Jaime Shelbert/Mashed
When you finish divvying out the ice cream, it's time to give the frozen treat a beer bath. Simply pour about 10 ounces of Guinness over each glass. Most Guinness cans are only 14.9 ounces, so you will need to use one whole can and a little more of a second. "Definitely chill the beer," Shelbert says. 
The combo of Guinness and ice cream is divine. "Guinness contains notes of chocolate and coffee so it pairs surprisingly well with ice cream. The vanilla cuts any bitterness the stout has," Shelbert shares. 
Top the float with chocolate and serve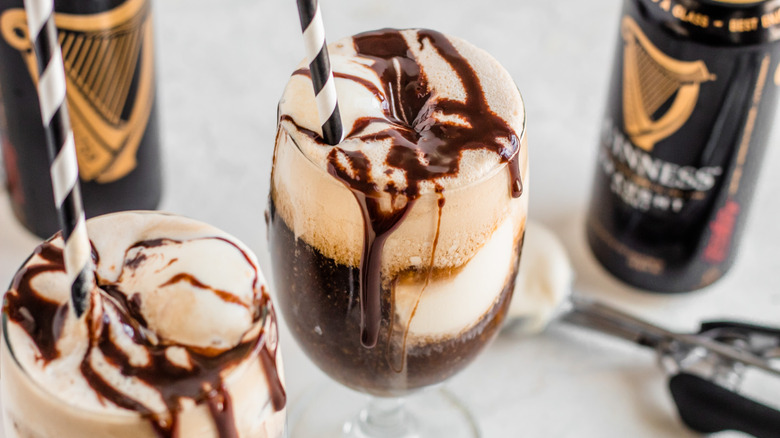 Jaime Shelbert/Mashed
The only thing left to do is add the chocolate. Simply drizzle the 2 tablespoons of chocolate over the top of each glass. "Caramel sauce would be a nice substitute for the chocolate syrup," Shelbert shares.
Just like that, you're ready to serve and enjoy this boozy float. "Serve on a hot day as a midday treat or as a St. Patrick's Day after dinner dessert drink," Shelbert suggests. Root beer floats for the kids and Guinness floats for the adults — it doesn't get much better than that!
Guinness Float Recipe
Move over, root beer floats — this Guinness float will soon become your go-to treat, just in time for St. Patrick's Day!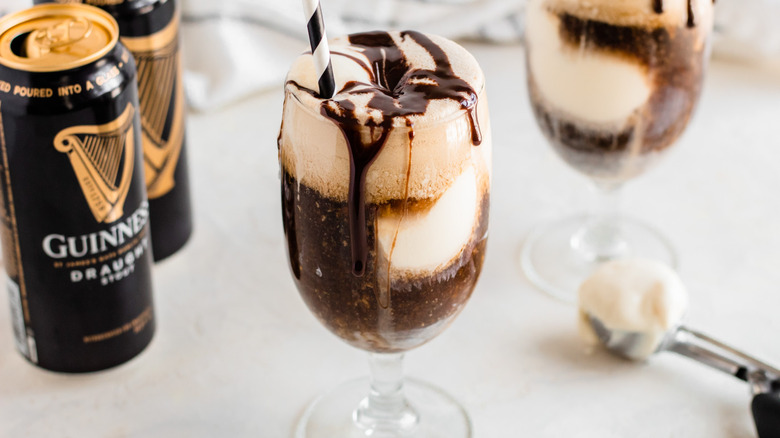 Ingredients
2 cups vanilla ice cream
20 ounces Guinness stout
2 tablespoons chocolate syrup
Directions
Divide the vanilla ice cream between two glasses.
Pour 10 ounces of Guinness over each of the two glasses of ice cream.
Top each float with chocolate syrup.
Nutrition
| | |
| --- | --- |
| Calories per Serving | 447 |
| Total Fat | 14.7 g |
| Saturated Fat | 9.1 g |
| Trans Fat | 0.0 |
| Cholesterol | 58.1 mg |
| | |
| --- | --- |
| Total Carbohydrates | 53.4 g |
| Dietary Fiber | 1.4 g |
| Total Sugars | 37.3 g |
| Sodium | 130.4 mg |
| Protein | 6.3 g |