Instagram Is Raining Hearts On Gal Gadot's Hamantaschen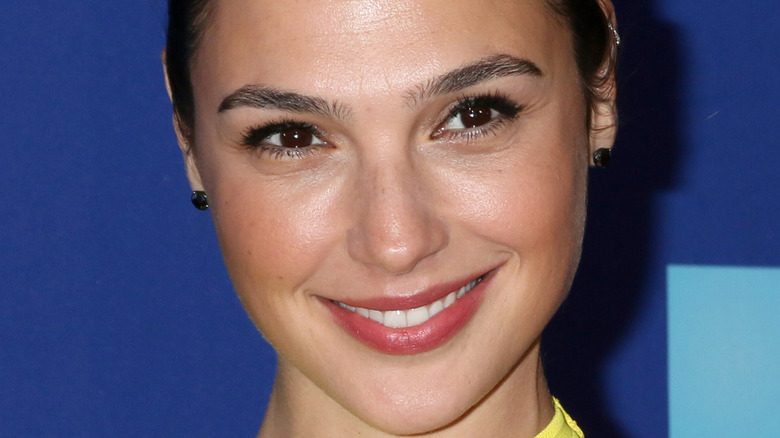 Kathy Hutchins/Shutterstock
When you hear Gal Gadot's name, you might think of her starring role in "Wonder Woman," or perhaps her "healthier" macaroni and cheese brand, Goodles, which is filled with veggies and protein. But Godot isn't just an actor and entrepreneur — she's also a parent to three children (Alma, Maya, and Daniella) with husband Yaron Varsano (via Pop Sugar).
In a recent Instagram post, the "Wonder Woman" star shared a picture of herself with two of her children, both of whom were wearing dark sunglasses in the kitchen. In the first photo, Gadot and her kids can be seen rolling out dough and posing in front of a parchment-lined baking sheet, and in the second, you get an up-close look at what the trio was making: hamantaschen. "Purim is one of my favorites holidays and making Hamantash with my girls is definitely one of my favorite things about it," the actor shared in her caption.
What are hamantaschen?
Fans seemed to love Gal Gadot's latest Instagram photos, which so far have gotten more than 1.4 million likes. The comment section on Gadot's post was filled with heart emojis and compliments. But if you've never tasted (or even heard of) hamantaschen, you might be confused about what she was making.
Hamantaschen are a type of cookie that are traditionally made to celebrate the Jewish holiday of Purim. They have a shortbread-like base, which sometimes includes cream cheese, and are stuffed with fillings. Poppyseed is traditional, but you can find hamantaschen filled with all kinds of jams and preserves, nuts, and even chocolate. The cookies are pinched into a triangular shape and baked until lightly golden brown. From the photo, it looks like Gadot and her daughters filled their hamantaschen with a variety of different fillings, giving them plenty of tasty bites to enjoy during their Purim celebration.