Yes, An Inflatable Irish Pub Exists - And You Can Rent One
Are you looking to celebrate St. Patrick's Day like the Irish do, but with nary an authentic Irish pub in sight? Check into the PaddyWagon Inflatable Pub for an Irish experience that's completely whimsical.
The pub is exactly what it sounds like, a blow-up structure that can hold up to 80 people and is 30 feet by 30 feet in size. Based stateside out of the Boston area, the concept is available to be licensed anywhere else in the U.S. (per Fox News). Currently, the PaddyWagon Pub is available for rent in New York, New Jersey, and Philadelphia as well.
PaddyWagon Pub is far more than the average bounce house, though. Although the structure itself is inflatable, it is outfitted with a wooden bar on the inside, perfect for nursing a pint or two, and an inflatable fireplace that adds to the ambiance.
Indeed, an authentic experience is something the founders, both Irishmen with extensive pub experience themselves, strive for. They even want you to eat like the Irish do on St. Patrick's Day.
Everything the PaddyWagon Pub has to offer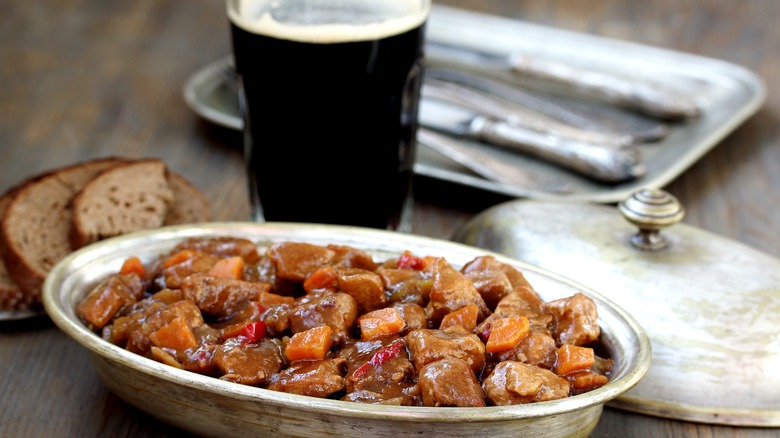 Lyudmila Mikhailovskaya/Shutterstock
Although the structure itself is inflatable, the PaddyWagon team adds legitimate extras to the setup, like wooden barrels, the previously mentioned wood bar, and plenty of seating. In fact, the team works closely with clients to customize the experience to suit the event in question, from personal celebrations to corporate events and, of course, St. Patrick's Day parties.
The service doesn't just provide the space and seating. There are packages available at multiple price points to include a curated menu of traditional Irish drinks, food, and entertainment. For example, guests can nosh on authentic beef stew, sip a pint of Irish Stout, and enjoy live music in the form of a fiddle player, or even a four-piece band. They'll even bring along some Irish Wolfhound pups for those party-goers who enjoy a furry friend or two. As a bonus, staffers handle all of the dirty work so that the host can tend to the guests, not to mention that pint of Guinness.
For those who are bored of the standard party event spaces, the PaddyWagon Pub could breathe new life into the celebratory experience. If you happen to be invited to such an event, well, that's quite the lucky day!