Here's What Makes Taggiasca Olives So Unique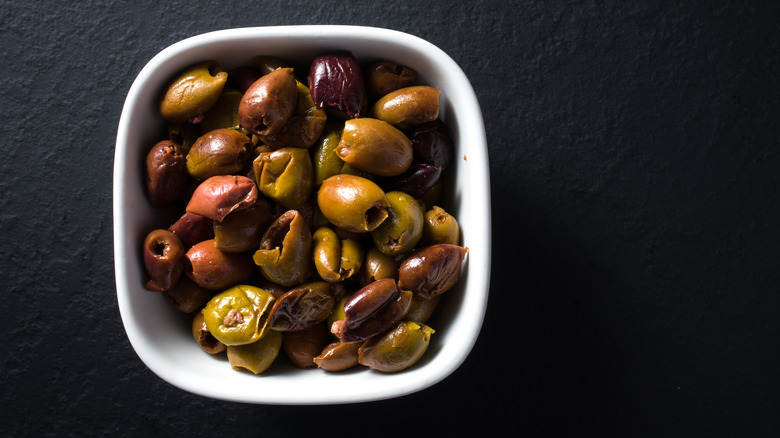 PHLD Luca/Shutterstock
Multipurpose, immensely flavorful, and somewhat under-appreciated, olives are a true powerhouse food. While all types of olives are delicious, if you've never eaten a Taggiasca olive, you're in for a real treat. Named after the city of Taggia, per Italy Magazine, they're "practically synonymous with the region of Liguria," Gustiamo says, noting that the coastal, northwestern Italian area in which they're grown contributes to their unique aspects. While many of Italy's olives are produced in the southern and central parts of the country, Liguria's different climate and terroir helps shape their robust flavor. Plus, they're laboriously harvested, picked by hand on steep hills rather than with machines.
Vinegar Shed notes the importance of the Ligurian altitude and climate that results in such high-quality produce. Marco Ferrari, who oversees Taggiasca olive production for a company called La Baita & Galleano, credits the high altitude, "purity of the air and the spring water" for his successful crops. Many Ligurian Taggiasca olives and olive oils are labeled with Slow Food or Protected Designation of Origin certifications to ensure customers that they are produced according to the regional specialties' traditions.
What do Taggiasca olives taste like?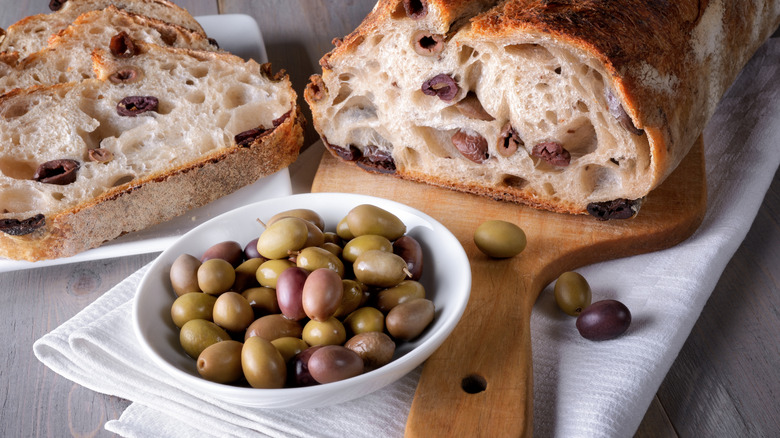 picturepixx/Shutterstock
Also unique about Taggiasca olives, besides their origins, is the way they taste. According to Italy Magazine, the prized olives can range in color from green to brown and purple to even black. They have a "meaty texture and a sweet fruity and mild flavor." DeLallo says there's a detectable hint of nuttiness, too. This flavor extends to olive oil. While some types of olive oil are peppery and bitter, Ligurian olive oil made from Taggiasca olives is light enough for things like salad and fish dishes, as noted by Gourmet Sleuth. 
After harvesting, Taggiasca olives are traditionally brined in salt and herbs prior to consumption. This fermentation period lasts anywhere from a few weeks to five months. Jarred Taggiasca olives can be found with the pit removed, though Artisan Foods From Italy interestingly notes that the pit "actually enhances the flavor of these delicious tiny olives." If you buy some, know that they can pair well with practically any charcuterie or antipasti platter, pizza, salad, focaccia, and so much more. Another stellar option would be a pasta dish — such as puttanesca — or an olive tapenade spread onto crostini. They're also delicious when pitted and incorporated into cooked dishes, like poached fish. Regardless of how they're used, Taggiasca olives are a worthy addition to your pantry.