Trader Joe's Shoppers Are Freaking Out Over Its Latest Banana Bread Treat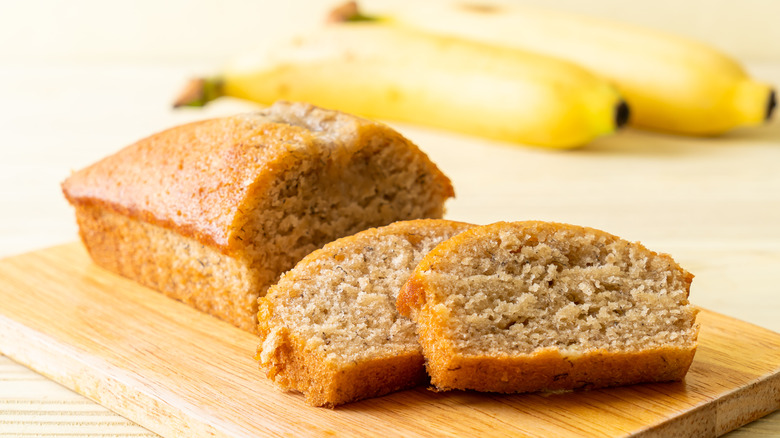 gowithstock/Shutterstock
There may be no sweet more classic for dipping into your coffee than crispy biscotti. These popular cookies are an Italian confection with an extra hard, crunchy texture that softens when dipped into a warm beverage. Their name derives from the Latin term for "twice baked," per NPR. While these cookies can be flavored with a variety of ingredients, from chocolate to almonds, Trader Joe's just launched a new biscotti flavor that even dutiful cookie eaters may not have seen before.
The grocery chain recently released mini banana bread biscotti with walnuts, on sale now for $4.49 per 8-ounce container, per the Trader Joe's website. These limited-time sweets are already a hit among many shoppers, some of whom have taken to Instagram to sing the praises of the crunchy cookies. On fan account @traderjoeslist's post about the find, shopper @darbypumphrey raved, "THESE ARE AMAZING!!!!!" and @cadewillbrett agreed, "These are sooooooo good!" Others jokingly warned that "the whole box was one serving" and that they would "be one of those gone-in-a-day snacks."
Not everyone loves the banana flavor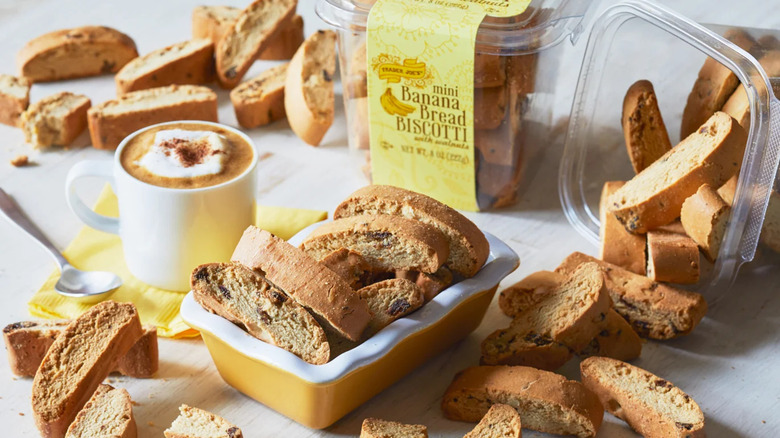 Trader Joe's
While some shoppers are buzzed about Trader Joes' new biscotti, others just can't get excited about the item for one simple reason: They don't like bananas. Instagram user (and apparent banana hater) @traderjoeslist joked that the biscotti are an "unfortunate item," advising banana bread fans that their "odd tastebuds will be pleased" by the snack. They finished their post, "Love bananas? Please share why." They're not alone in their distaste for the fruit. "Happy to see someone else doesn't like bananas," @x20girl agreed, while another user replied, "Omg I thought I was the only one who hated banana bread."
These biscotti don't appear to have a subtle banana flavoring, as TJ's says they're baked with real banana purée and dehydrated banana. Despite the addition of crushed walnuts, the extra ingredients and crunchy texture don't seem to be enough of a distraction for banana haters. However, banana-averse biscotti lovers are not out of luck at Trader Joe's. The chain also carries almond and chocolate hazelnut biscotti, as well as seasonal cranberry pistachio, pumpkin, maple walnut, and Meyer lemon flavors.