Instagram Is Raining Hearts On Buddy Valastro's Family Hockey Night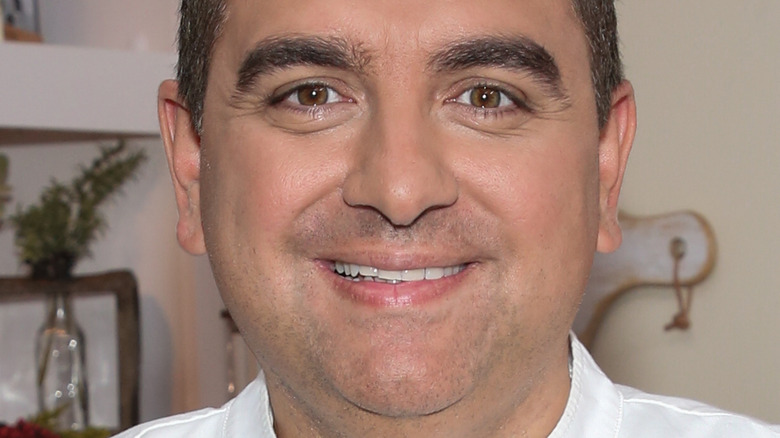 Paul Archuleta/Getty Images
Renowned baker, Buddy Valastro is well-known for his elaborate cakes and, more recently, his family photo posts to Instagram. Just a quick scroll and you'll see why he's been winning the hearts of his followers with his silly and sometimes sentimental photos. Now, the "Cake Boss" even has hockey fans swooning.
Valastro is himself, a huge hockey fan who has baked impressive hockey cakes in the past. According to NHL, Valastro worked on a "life-sized" cake in 2013 before the NHL Draft and said, "We're doing a really cool cake for the draft and I think they're going to love it." While shooting for the show, Valastro even put on ice skates and joined some of the players, praising the athletes for their grit and determination. 
Much to the delight of his fans, Valastro has taken to Instagram once again, posting a photo of his family, in matching jerseys, at a hockey game. 
Buddy Valastro is a family man
Buddy Valastro posed for a hockey-themed photo with his family and wrote, "Good times at the #vegasgoldenknights game today! Staying Golden #CakeBoss how about a win! #vegasknights." With a quick swipe left on the multi-photo post, you'll see the back of Valastro's jersey, donning "CAKE BOSS" and the number 22.
The celebrity baker's fans are excited with this hockey post and there are already a whopping 52,300 likes. Comments like, "Cake Boss is the best beautiful family" and "Go Vegas Knights!!!" abound.
Part of Valastro's charm, made obvious by the comments that fill his Instagram posts, is that he is a family man through and through. He once said in an interview "As busy as I am, I still have a strong bond and relationship with my kids. I will take them when I travel," (via Life of Dad). As much as we love to see his Carlo's Bakery creations, the family photos are priceless.