The Real Reason Prince's Estate Is Disputing A Wine Brand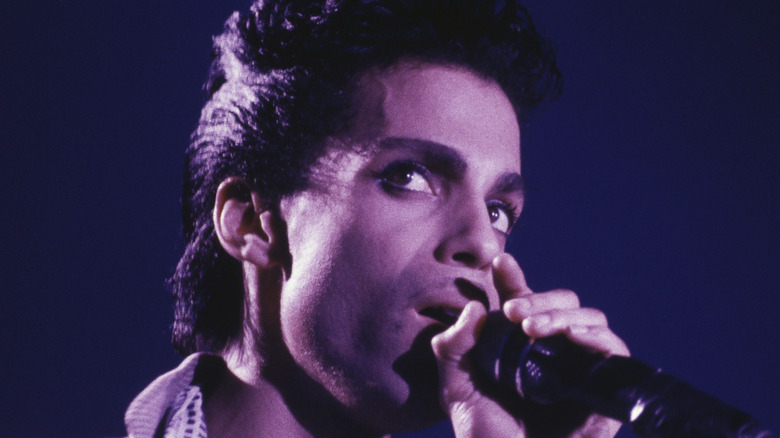 Michael Putland/Getty Images
Some artists are so iconic that they actually introduce certain words or phrases into the collective vernacular. For example, before Snoop Dogg coined "fo shizzle" and Destiny's Child sang about being "bootylicious," Prince inspired millions with "Purple Rain." The phrase, which refers both to a movie starring the actor as well as an individual song featured on the soundtrack, had arguably never been uttered before in pop culture, and is widely attributed to the musical genius. Now, there's a whole controversy between his estate and an Ohio-based winery that produces Purple Rain Wine, per Food & Wine.
According to Smooth Radio, the late singer once said that "purple rain" alludes to those times "when there's blood in the sky," saying that red and blue equal purple. He also said, "purple rain pertains to the end of the world and being with the one you love and letting your faith/god guide you through the purple rain." Anyone who's ever heard the tune or seen the film is likely not surprised by Prince's explanation. The phrase is now at the center of a lawsuit.
Prince's estate sued the wine brand
Prince tragically passed away in 2016, and L'uva Bella Winery started producing Purple Rain Wine that same year. Described as a "sweet Concord grape wine," the product was trademarked in 2019, per Food & Wine. However, Prince's estate took issue with the winery's use of the name and started a legal battle with the brand in the summer of 2021.
The estate claims that the trademark should be invalidated because the wine's name suggests a relationship or connection between the brand and the late artist, and results in a "likelihood of confusion." For their part, the winery says that Prince's well-known "disdain of alcohol" means that no one would confuse the wine with his legacy, reports Rolling Stone.
The Prince estate strongly disagrees with this defense, however, saying that "Purple Rain" is unequivocally associated with him, and asked the U.S. Trademark Trial and Appeal Board to fully cancel the $7.99 per bottle product without trial. To date, no decision has been made. So for the moment, "dearly beloved, we are gathered here today to get through this thing called" legal proceedings.