Easter Cheese Ball Recipe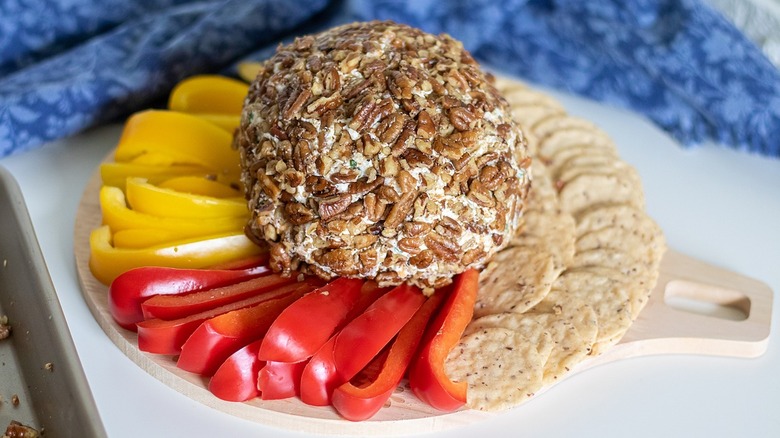 Autumn LeAnn/Mashed
Easter is a holiday where the menu could stand for a little tweaking. Not everyone likes ham, after all, and lamb is so expensive. And don't even get us started on jellybeans, AKA Easter's candy corn. Still, the fact that Easter really doesn't have a traditionally-beloved menu like Thanksgiving's turkey means that you can ditch the ham and instead serve a brunch or buffet meal with all of your favorites. For a savory appetizer, may we suggest an Easter cheese ball?
Recipe developer Autumn LeAnn admits that "this is a pretty classic cheeseball," so it's not really Easter-specific, but that's okay, It just makes it more versatile since you can serve it at get-togethers any time of year. LeAnn does note that "the light amount of garlic powder, green onion, and parsley pull in some subtle flavors of Spring," so Easter Sunday really is a great occasion to enjoy a Spring-themed cheese ball.
Gather the ingredients for an Easter cheese ball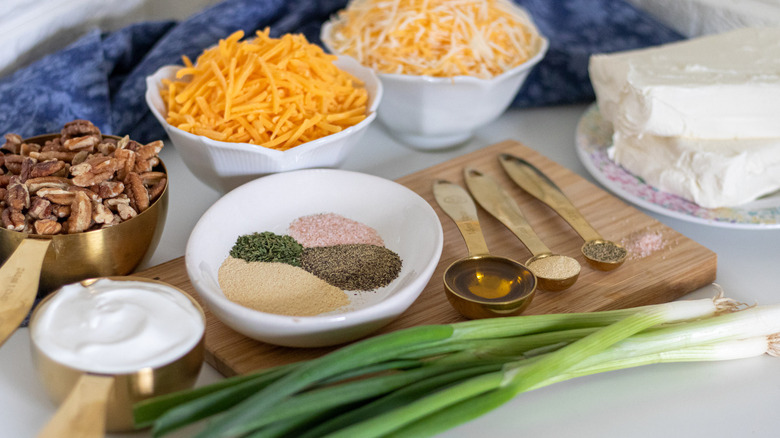 Autumn LeAnn/Mashed
To make the base of this cheese ball, you'll be using cream cheese and sour cream. LeAnn herself uses the full-fat versions, but says "it will work just as well if you use a low fat alternative." You'll also need a few semi-soft cheeses, with LeAnn telling us that "you can swap the colby jack and cheddar cheeses for any other shredded cheese you might enjoy." To season the cheese ball, you'll use parsley flakes, garlic powder, and green onion.
For a coating that helps keep the cheese ball together and provides a little texture, LeAnn uses pecans toasted with a sprinkling of olive oil and some additional garlic powder, salt, and pepper. "If you're not a fan of nuts, you can skip them altogether and coat the cheese ball in more shredded cheese or even bacon bits," LeAnn notes.
Make the cheese mixture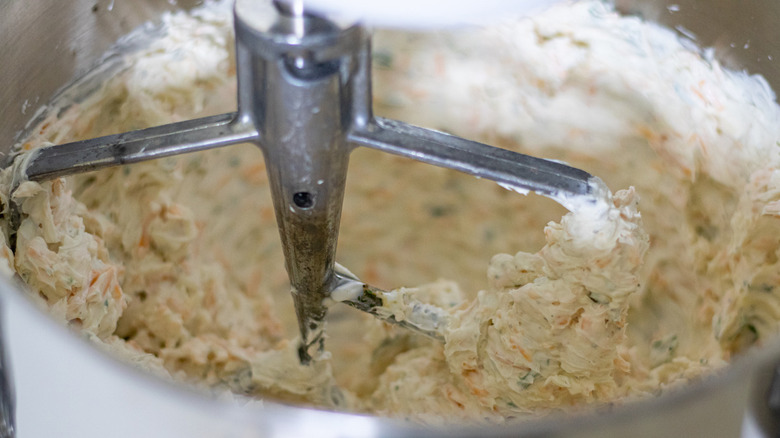 Autumn LeAnn/Mashed
Mix the cream cheese and the sour cream until they are well-blended, then season the mixture with garlic powder along with ½ teaspoon of black pepper and ¼ teaspoon of salt. Stir in the green onions and the shredded cheeses. Scrape down the sides of the bowl to get every last bit of the cheesy stuff, then cover the bowl with plastic wrap and stick it in the fridge for at least an hour.
Toast the pecans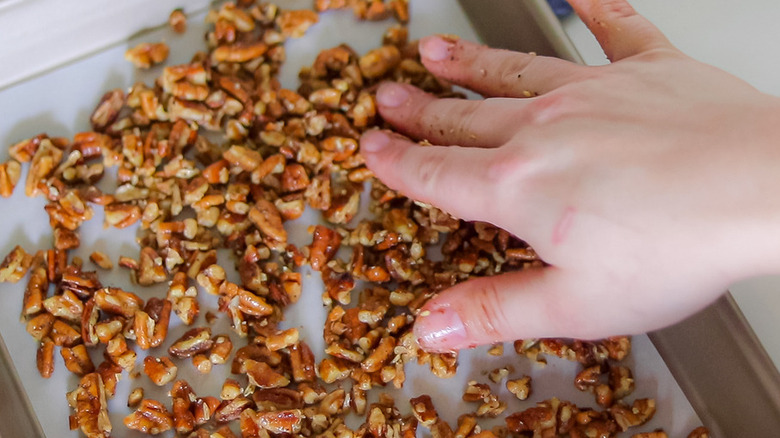 Autumn LeAnn/Mashed
While the cheese is chilling, preheat the oven to 350 F. Chop the pecan pieces if needed, then mix them with the olive oil, the remaining garlic powder, ¼ teaspoon of pepper, and a pinch of salt. Spread the nuts over a baking sheet, then bake them for 5 minutes. Take the nuts out of the oven and let them cool completely.
Put the cheese ball together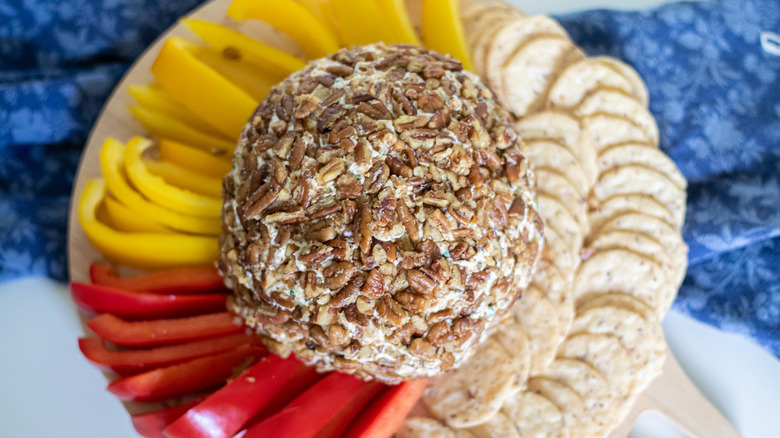 Autumn LeAnn/Mashed
Once the cheese has chilled, take the bowl out of the fridge and shape the mixture into a ball. You'll do this using your hands, so make sure they're clean. "It is helpful to coat your hands in a tiny bit of olive oil or nonstick spray for this step," LeAnn advises. Roll the ball in the cooled nuts to coat.
Cheese balls are typically served with crackers or tortilla chips, although sliced fresh vegetables can also work. "This cheeseball would be delicious spread on some nice crusty french bread," LeAnn adds. Whatever you pair it with, this cheese ball is sure to be a hit for your Easter Sunday spread!
Easter Cheese Ball Recipe
This Easter cheese ball is loaded with cheesy goodness and flavors that will remind you of Spring.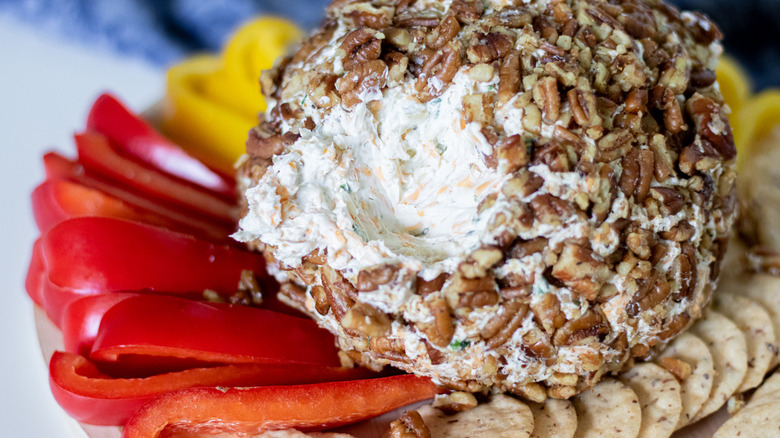 Ingredients
16 ounces cream cheese, softened
½ cup sour cream
¼ teaspoon parsley flakes
1 teaspoon garlic powder, divided
4 ounces shredded cheddar cheese
4 ounces shredded Colby Jack cheese
¼ cup green onion, finely chopped
1 cup pecans, chopped
1 tablespoon olive oil
Directions
Beat the softened cream cheese and sour cream together, along with parsley, ½ teaspoon of garlic powder, ½ teaspoon of black pepper, and ¼ teaspoon of salt.
Mix the green onions into the cream cheese mixture along with all of the shredded cheese. Scrape down the sides of the mixing bowl, then cover the cheese with plastic wrap and refrigerate for 1 hour.
Preheat the oven to 350 F.
Mix the pecan pieces, olive oil, and remaining garlic powder with ¼ teaspoon of black pepper and a pinch of salt.
Spread the pecans over a sheet pan and bake them for 5 minutes, then allow the toasted pecans to cool completely.
Remove the chilled cheese mixture from the bowl and form it into a ball with your hands.
Roll the cheese ball in the toasted pecans until completely coated.
Serve the cheese ball with crackers, chips, or sliced vegetables.
Nutrition
| | |
| --- | --- |
| Calories per Serving | 357 |
| Total Fat | 34.5 g |
| Saturated Fat | 15.4 g |
| Trans Fat | 0.1 g |
| Cholesterol | 78.2 mg |
| | |
| --- | --- |
| Total Carbohydrates | 4.5 g |
| Dietary Fiber | 1.1 g |
| Total Sugars | 2.4 g |
| Sodium | 313.1 mg |
| Protein | 9.4 g |