Why A Bottle Of Wine Just Sold For $12,300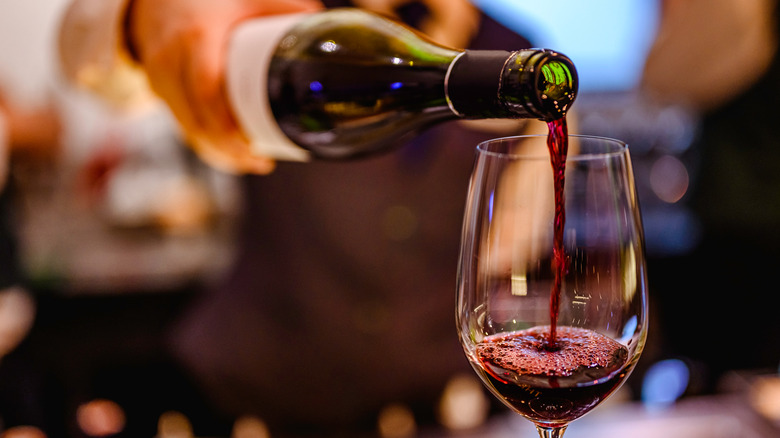 Day Of Victory Studio/Shutterstock
The average cost of a bottle of wine in the United States in 2020 was between $10.97 and $15.51 (via House Method), but some people are willing to spend a lot more for the right bottle. According to Vivino, while a bottle of average-quality red wine usually goes for about $15.66, and a "very good" bottle usually costs $32.48, the best-rated red wines can cost upwards of $500 a bottle.
Some super wealthy people even invest in wine, as though it were a stock. In 2021, per Decanter, one wine investment exchange company said that people were interested in collecting celebrated vintages, referring to French wines from Bordeaux. However, there's one California wine that has similar esteem. A bottle of 1973 Stag's Leap Cabernet from Napa Valley just sold at an auction for $12,300, and for a good reason: It's the same vintage that changed the reputation of the U.S. wine industry forever (via Food & Wine).
It was the wine that put Napa Valley on the map
Fans of cinema may already be familiar with Stag's Leap Vineyards, as it was the centerpiece of the 2008 film, "Bottle Shock," starring Alan Rickman, Chris Pine, and Bill Pullman (via IMDb). The film follows the winery's participation in the 1976 "Judgement of Paris" wine tasting, where a bottle of Stag's Leap Wine Cellars 1973 S.L.V. Cabernet Sauvignon bested all of the French wines in the competition during a blind tasting. It was a turning point for how the wine world viewed New World, Californian wines.
Earlier this month, Food & Wine reports, a bottle of the same Stag's Leap 1973 Cabernet Sauvignon that won the Judgement of Paris tasting sold at a Beverly Hills wine auction for $12,300. It seems that the value of this history-making wine is only growing; the bottle sold for three times as much as the previous record-holding price. Apparently, Stag's Leap only has a few bottles of the vintage remaining, so wine collectors who want to taste it for themselves had best keep their ears to the ground — and get ready to drop a pretty penny.