The Decadent Cakes RHOC's Vicki Gunvalson Celebrated Her 60th Birthday With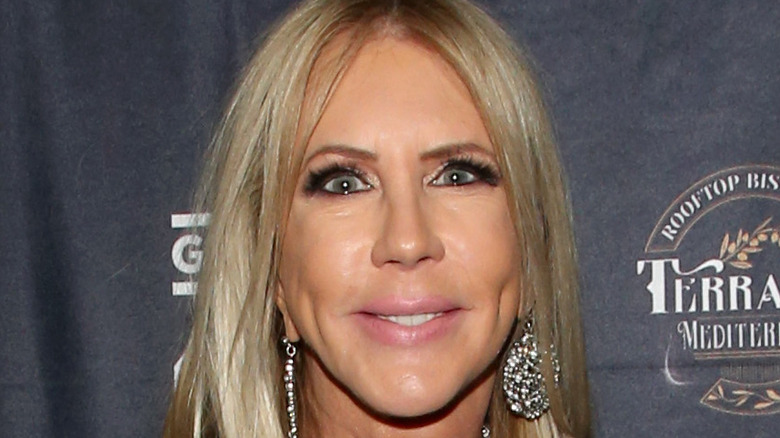 Gabe Ginsberg/Getty Images
"Real Housewives of Orange County" star Vicki Gunvalson announced a public celebration of her 60th birthday to her Instagram followers on February 21, 2022. She will celebrate the milestone in the popular resort town of Puerto Vallarta, Mexico, in not one, but two restaurants: "My Bar & Grill" and Andale's Restaurant & Bar. In the caption of her Instagram post, the television personality wrote, "I'm so excited to be having my 60th birthday party in 2 of my favorite places which happen to be right next to [each other]. Please come [and] 'whoop it up' with me as I leave my 50's and head into my 60's."
The birthday bash takes place on March 25 and will commence at 9 p.m. As detonated in Gunvalson's post, it will feature a mariachi band and other cocktails for attendees to enjoy. This "Real Housewives" alum knows how to throw a party, as seen by a "break-up" party she threw earlier this year, so surely, this birthday bash will be no different (via Daily Mail).
Vicki Gunvalson's cakes are just the pre-celebration
Though the reality TV star's birthday isn't until March 27, she's done a substantial amount of celebrating in the days leading up to it. According to Bravo, the star posted a picture of multiple delicious cakes to her Instagram Story on March 19. The shot was labeled, "Birthday celebrations started." In front of the camera, the viewer could spot a big slice of chocolate cake, a pecan cake, and a popcorn cake on the serving tray.
This picture preceded lots of other birthday content. The star created a highlight on her Instagram story, which was labeled, "Vicki's 60th bd." So far, she's posted videos of her preparing for the bash, including orange wristbands and balloons.
The star has also announced on this highlight that she is now a resident of Mexico, referencing her newly-purchased condo (via People). "Real Housewives" fans can expect to see lots more content of this Southern California native living her best life in Puerto Vallarta on her birthday and beyond.