The Time Martha Stewart Shared A New York Bagel With Her Driver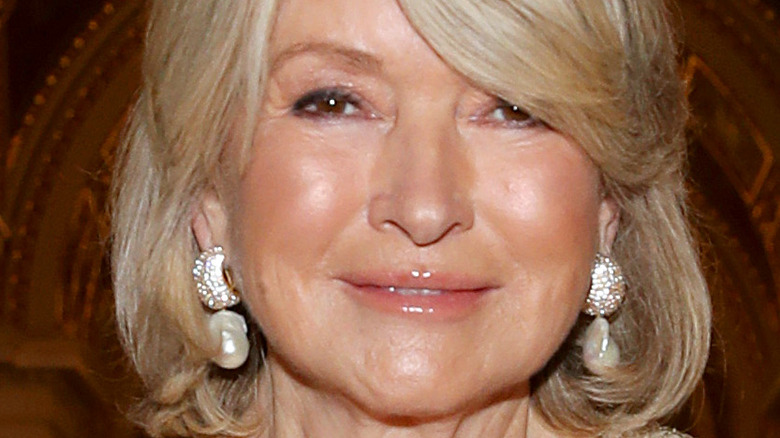 Tasos Katopodis/Getty Images
After nearly two years of working from home at her farm in the Bedford, New York countryside, author and TV host Martha Stewart recently started slowly returning to her office in midtown Manhattan to take part in in-person meetings and visit with colleagues (per the Martha Stewart Blog). It probably wouldn't surprise her fans to learn that the food-and-lifestyle mogul brings her own lunch in an insulated bag, or whips something up in the test kitchens at her NYC headquarters. 
Out of the office, Stewart has said that her go-to lunches include a classic hot dog smothered in mustard and sauerkraut at Papaya King, washed down with fresh-squeezed orange juice. Her other favorite daytime meals are a healthy pureed vegetable soup from Via Quadronno, paninis from Sant Ambroeus, and bagels with whitefish, salmon, and other fixings from the landmark Russ & Daughters (per Martha Stewart).
"I can run the whole gamut up and down Manhattan," she noted.
Martha Stewart ate a Barney Greengrass bagel with her driver
Clearly, Martha Stewart has an appreciation for New York bagels. And who could blame her? Sometimes, though, you don't want a whole bagel. And that's okay. They're perfect for sharing with a loved one or friend — or your driver, if you have one.
According to a post on Instagram, Stewart recently asked her driver to take her to Barney Greengrass on Amsterdam Avenue, a New York City institution that New York magazine calls a "shrine" to smoked fish, bagels, blintzes, chopped liver sandwiches, and other foods of the Jewish tradition.
Stewart ordered a poppy seed bagel with cream cheese, Nova (Scotia) salmon, and a smattering of briny capers. "I shared mine with my driver Andres," Stewart said in the post. "We loved the snack!" She shared two images, and many followers think the filling of cream cheese and thinly-sliced fish look as craveable as the poppy seed-covered bagel itself.
"The first bite must have been heavenly," one Instagram user replied with double hearts. "Looks so good," another added, "but wondering if you ever have a slice of red onion as well."