The Untold Truth Of Pie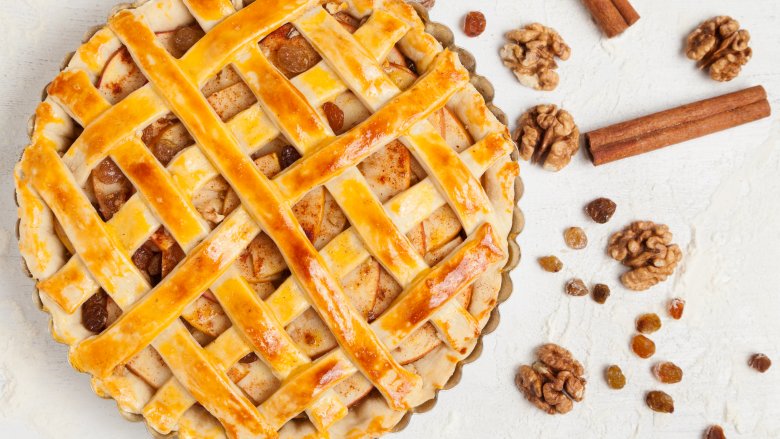 Shutterstock
It's hard not to love pie. There are so many different types and flavors that anyone can find one to enjoy. If you dig deep enough under the crusty layers, you'll also find lots of surprises you never knew about this quintessential dessert.
Shakespeare killed off two characters with pie
Of Shakespeare's 74 death scenes, two of the deaths involved characters being baked into pie. In the final scene of Titus Andronicus, Titus served pie to his guests, including Tamora, the Queen of the Goths, at a dinner banquet in his home. Halfway through the dinner, Titus shocked everyone by killing his daughter Lavinia. He told his guests it was because she had been raped by Demetrius and Chiron, the wicked sons of Tamora.
He then revealed that Tamora had just been eating her own sons, as they were baked into the pie: "Why, there they are, both baked in this pie, / Whereof their mother daintily hath fed, / Eating the flesh that she herself hath bred." Unsurprisingly, both Titus and Tamora died by stabbing shortly thereafter.
A Russian chef murdered his father in law and then served him in pies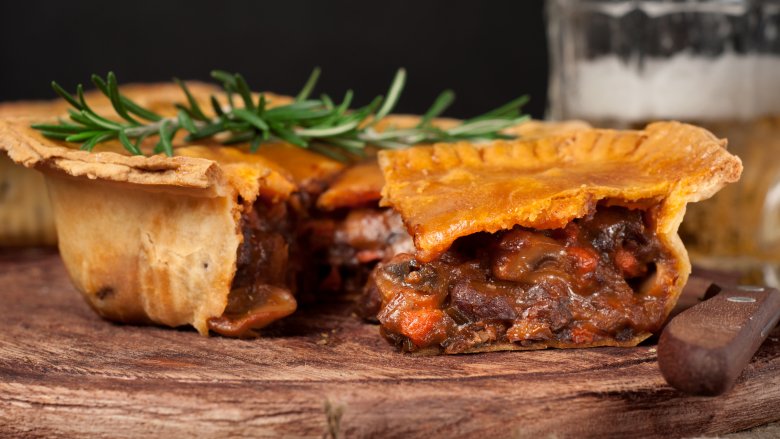 Shutterstock
If you read the last section and thought, "Well, at least that didn't happen in real life," you may not love this next story. In 2011, a Russian chef allegedly murdered his father-in-law, baked his remains into pie, and served him to customers for three days before he was caught. Apparently, cannibalism isn't that unusual in Russia, either. In St. Petersburg in 2009, two men killed and ate a 16 year old girl, and also in 2009, a man was convicted of killing and eating parts of his mother.
A soccer goalie was forced to resign for eating pie
During the second half of a 2017 FA Cup tie match between Sutton United and Arsenal, Sutton's backup goalkeeper, Wayne Shaw, was spotted devouring a meat and potato pie as he sat on the bench, watching his team. At first, the incident was thought of as another funny antic by Shaw, who was known for weighing 322 pounds and eating during games.
Unfortunately, it later came out that some of Sutton's friends had been betting on whether he would eat a pie during the game or not, and that his decision to eat the pie was related to this wager. Shaw was then investigated by the FA and the Gambling Commission, which licenses and regulates gambling in Britain. He resigned shortly thereafter, and told the BBC, "My world fell in. I was in tears. I had never been sacked in my life. It's on my mind every day; it probably will be for a long time."
The largest pumpkin pie in the world was made in Ohio
The largest pumpkin pie in the world was made in 2010 in New Bremen, Ohio, by a team of giant pumpkin growers. The pie measured 20 feet in diameter and the crust was made from 440 sheets of dough. It also contained canned pumpkin, evaporated milk, eggs, sugar, salt, and pumpkin spice. It was cut up and served to approximately 5,000 hungry community members.
They used to bake live animals into pies
You've probably tasted apple, pumpkin, and blueberry pie, but have you ever heard of a surprise pie? They were popular in the 16th century in England, and contained live animals that would be released when the pie was cut. The animals included frogs, squirrels, and even blackbirds. Food writer Steven Raichlen explained to PRI how it was cooked. "You made an enormous pie crust that had a wooden scaffolding inside, so it was in effect baked hollow," he said. "Then you cut a trapdoor in the bottom, you put live birds in the pie, cracked open the top, and the birds would come fluttering out through the dining room."
The English made pie famous and Americans made it sweet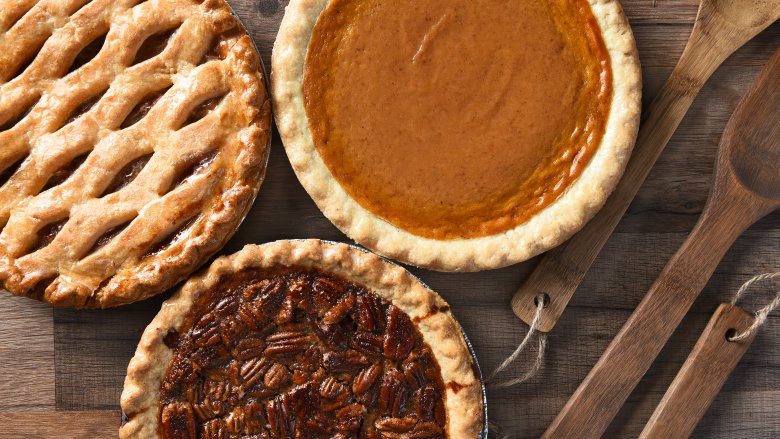 Shutterstock
While pie may not be originally American, it was chefs in the United States who made it the sweet, flaky pastry it is today. The first pies were made with tough crust that wasn't even edible — its only purpose was to hold the filling inside, which was typically some type of meat, including rabbits, chickens, and pigeons. The sweet-ish pies of the time were actually called tarts, but these didn't contain sugar either, as it was a very expensive commodity in medieval England. Even after pie made it over the ocean to America, it still lacked sweetness. Then, in the early 1800s, sugar plantations were built all over the South. Suddenly, sugar became commonplace and America changed pie forever.
The most expensive pie ever cost over $14,000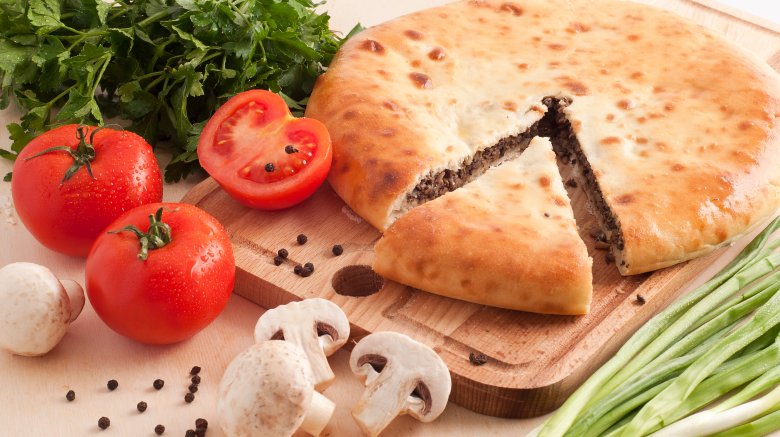 Shutterstock
In 2005, a chef in Burnley, UK made the equivalent of the Rolls-Royce of pie. He filled it with $870 worth of Japanese wagyu beef, almost $3,000 worth of Chinese matsutake mushrooms, Winter black truffles, and French Bluefoot mushrooms that cost over $100 a pound. For the gravy, he used two bottles of 1982 Chateau Mouton Rothschild that cost $1,740 each. The pie was also covered in gold leaf, costing $174 per sheet. The entire pie cost $14,260, or $1,781 for a single slice.
An airline CEO was attacked with a pie in the face
In May of 2017, Qantas Airways' CEO Alan Joyce was making a speech when an angry man walked by and smashed a pie into his face. Joyce, a gay 50-year-old man, was speaking to over 500 people when Tony Overheu walked behind him and hit him with the lemon meringue pie. 
Overheu later released a statement that he had hit Joyce with the pie in protest of gay marriage, an issue which Joyce had publicly come out to support. Overheu claimed that he had chosen lemon meringue because it was the softest pie available, but Joyce was not amused. He pressed charges, stating that bullying people for their views was unacceptable and should be punished.
They used to be called coffins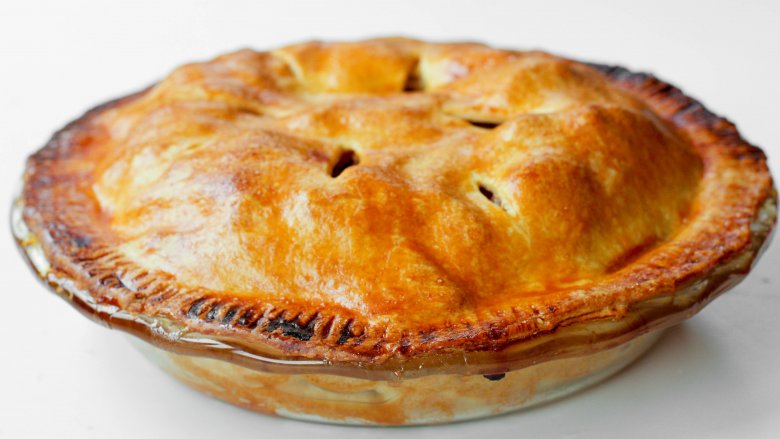 Shutterstock
Early pies weren't called pies at all, but rather, "coffins" or "coffyns" — the crusts were inedible boxes that were sealed on the top and bottom like a coffin. Open faced-crusts like you see on pumpkin or key lime pie, however, were known as "traps." Apparently, the English weren't overly concerned with naming their food after something that actually sounds good to eat.