Giada De Laurentiis Shared A Cookie Recipe For Chocolate Hazelnut Lovers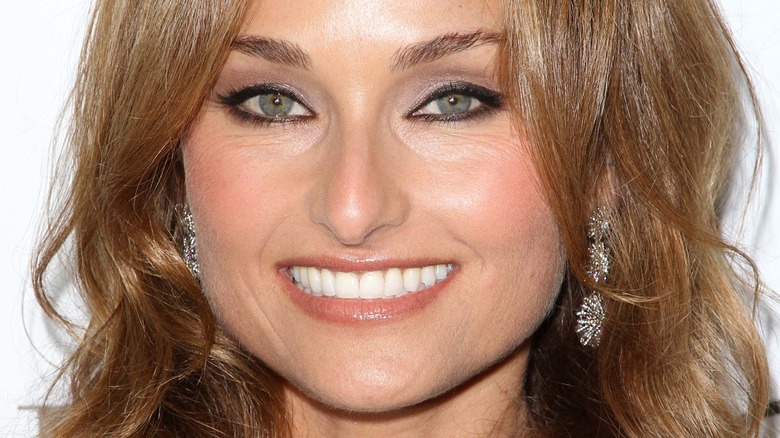 s_bukley/Shutterstock
Who can resist the delightful aroma of a cookies baking in the oven? No one, that's who. There's a reason these sweet treats constantly appear at corporate events, family celebrations, and community gatherings: Most people love them — and for so many reasons. Unlike pies or cakes, this portable snack can be tucked into a purse or backpack and eaten on the go. They can be paired with various beverages, including coffee or milk, and even foods, like a scoop of ice cream tucked between two warm cookies. Plus, the nostalgic smell of freshly baked chocolate chip cookies tends to evoke sweet memories.
When it comes to the cookie-verse, the variety is endless. Can you name every cookie flavor out there? Probably not. From oatmeal and snickerdoodle to double chocolate and shortbread, cookies are a canvas ready for just about any ingredient you can imagine. While it might be hard to pick a favorite, chef Giada De Laurentiis recently pointed out a recipe that's uniquely fit for fans of Ferrero Rocher truffles, Nutella, and other chocolate hazelnut sweets.
If you are nuts about Nutella, try this Giada De Laurentiis cookie recipe
De Laurentiis recently debuted a series of cooking demonstrations on her TikTok account. If you're wondering how to make the perfect pasta or lemony sorbet like the Italian-born celebrity chef, now you know where to look. In one of her recent tutorials, the "Everyday Italian" host shows her fanbase how to make chocolate hazelnut sandwich cookies, known as baci di dama in Italy's Piedmont region.
De Laurentiis begins her baking process by mixing butter and powdered sugar in a stand mixer, followed by egg, vanilla, salt, and two types of flour: all-purpose and almond (though she says hazelnut flour is another option). After rolling the dough into "little meatballs," the Food Network star puts the cookies in the oven for 11 minutes. While they bake, De Laurentiis moves on to the filling, a combination of melted milk chocolate with what she refers to as "the original Nutella," an artisanal chocolate hazelnut spread from another Italian brand. She spreads this mixture between two cookies to create sandwiches — but she gives another option for shortcut lovers to simply dip their cookies in the spread and enjoy. "Okay fine you've convinced me...I'm making them tomorrow," one hungry user commented.