Waffle House Fans Won't Want To Miss Out On These Adidas Shoes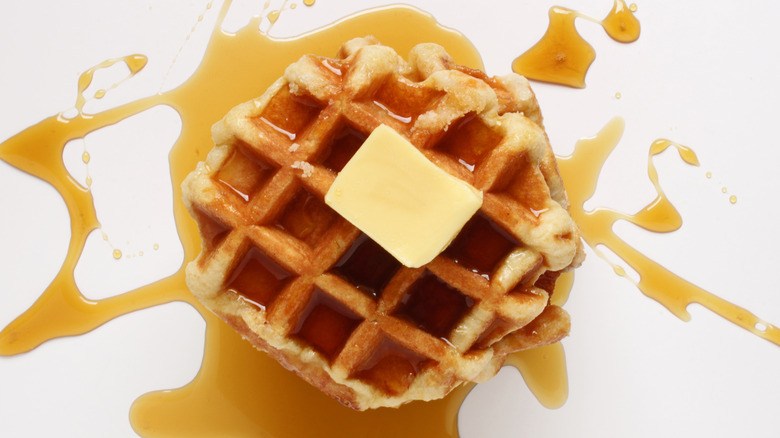 Michelle Patrick/Shutterstock
Internet users are no stranger to collaborations between restaurants and popular clothing brands. Think back to 2014, when McDonald's found itself partnered with luxury clothing brand Moschino on the Vogue runway. Or to 2016, when Coca-Cola and Adidas reintroduced their 2002 collab shoe, plus two new pairs (via Eater).
As recently as 2020, Ben & Jerry's paired up with Nike to produce shoes reminiscent of the ice cream's signature packaging, says Forbes. Talk about sweet kicks! And then Taco Bell launched an entire clothing collection with Forever 21. Perhaps even cooler, Chipotle and e.l.f. Cosmetics teamed up to create an eyeshadow palette, a lip gloss, and a sponge set.
Beginning April 7, fans of food and fashion alike can get their hands on the latest cultural collab. That's right, Waffle House and Adidas are releasing a new pair of shoes, inspired by the best breakfast item: the waffle. 
Adidas' newest shoes are inspired by Waffle House
With the 2022 Masters Tournament fast approaching, many golfers are looking for stylish new shoes to wear on the course. Naturally, Waffle House and Adidas just had to pair up to produce a golf shoe like no other.
Listed at $210 on the Adidas website, the shoes are nothing to waffle over. According to Golf Magazine, the shoes come in a "batter-like" color, and the leather is stamped to resemble the pattern of a waffle. The backs of the shoes boast the Waffle House logo, and the soles are designed to look like they're dripping maple syrup.
While the limited-edition Tour360 22s are available in four other colors (all variations of black and white, how boring), it's safe to say that the Waffle House pair is the yummiest option. However, you probably shouldn't actually put syrup on them and serve them up with a big plate of bacon.