Why Kids Baking Championship Season 3 Was So Tough For Duff Goldman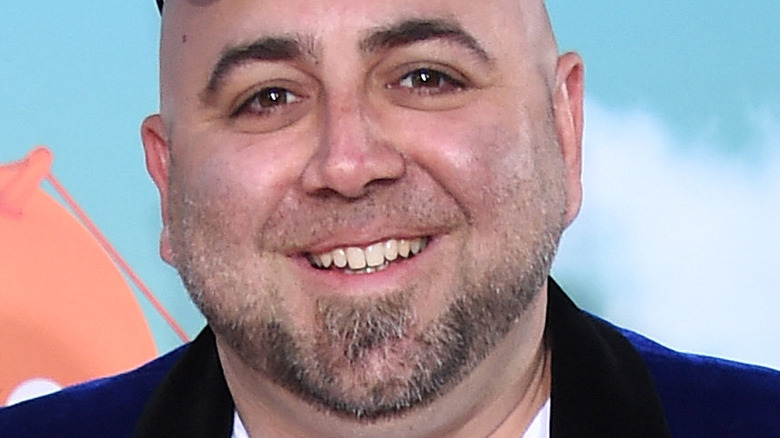 DFree/Shutterstock
Food Network's "Kids Baking Championship" is now in Season 10, and once again, Duff Goldman and Valerie Bertinelli will be sitting at the judges' table. Similar to other food competition shows, "Kids Baking Championship" sees a group of talented individuals battling it out in the kitchen — except this time around, they're very young talents. Contestants are eliminated one-by-one until the best baker is left standing. Given how long the reality series has been airing, and that Goldman and Bertinelli have been a part of it from the very beginning, fans may think the duo's jobs have gotten easier, or less personal, as seasons have gone on. But, according to Goldman, that's far from the case.
In an interview with Food Network, the pro pastry chef explained how his time on the show has actually been the opposite of easy. It's not uncommon for Goldman to shed a few tears during filming either especially in Season 3, as he relayed to the network. "They were just baking their hearts out. I couldn't help it," he said in regards to why he gets so emotional on set. In addition to judging and hosting, Goldman and Bertinelli also mentor the kids, spending upwards of six hours a day with them. "These kids have such a backbone," he continued. "If you were to critique my food the way we do theirs, I'd be like, 'You're wrong!'" While the show can be a real tearjerker for Goldman at times, he's also learned a lot from the young bakers.
Young bakers put the joy back into reality TV competitions
If given the choice, Duff Goldman would probably choose to work and judge kid bakers over adult bakers every time. "They were so enthusiastic and so excited about what they were doing, and they were very vocal about it," the "Kids Baking Championship" co-host told Food Network. He went on to explain that, with kids, there's no "faking it 'til you make it," or "mind games." But rather, pure joy and enthusiasm in everything they do — and it's a lesson all adult contestants could gain from. "We [adults are] sort of taught by the medium and the world to contain that enthusiasm sometimes because it's not seemly, it's not professional to be that excited about something," Goldman said. But, when you flip that narrative, you get a more wholesome and entertaining show. Hence why, "Kids Baking Championship" has been so successful.
However, the reality food competition series has also taught Goldman that kids are just as smart, creative, and skillful as their elders. He felt there needed to be a cookbook that represented that, so he wrote one! "The kids I work with, they're making puff pastry ... they're doing advanced stuff, stuff that I didn't learn until I was like 30. And so I [thought] maybe kids just need a book that's a little bit more challenging," he said during an appearance on "Dennis Miller Plus 1." In 2020, Goldman's "Super Good Baking For Kids" was published through Harper Collins. Catch up on episodes of Seaon 10 of "Kids Baking Championship" Monday nights on Food Network.