Buffalo Wild Wings Just Added A Spicy New Doritos-Flavored Sauce
Since sauced-up chicken wings were created, Americans have been gobbling them up. In fact, on Super Bowl Sunday alone, more than an estimated 1.4 billion chicken wings were consumed (via Marca). And if you estimate for an entire year, that number goes up to around 28 billion, according to the National Chicken Council.
While you can order Buffalo chicken wings at plenty of restaurants across the country, Buffalo Wild Wings is probably one of the best known. B-Dubs opened in 1982 with traditional wings, but today the chain serves up a wide variety of foods.
In addition to the traditional chicken wings, you can order boneless wings or even cauliflower wings. Although you can, of course, order your wings plain, B-Dubs also boasts 24 sauces and seasoning, ranging in heat levels. For example, mild flavors include Honey BBQ and Teriyaki, while hot flavors include Mango Habanero and Thai Curry. If you're feeling especially daring, you can order your wings with the wildest flavors: Desert Heat and Carolina Reaper. 
Now, Buffalo Wild Wings catalogue of sauces just got even more interesting. Enter the wing restaurant's collaboration with Doritos. 
The B-Dubs-Doritos collaboration we didn't know we needed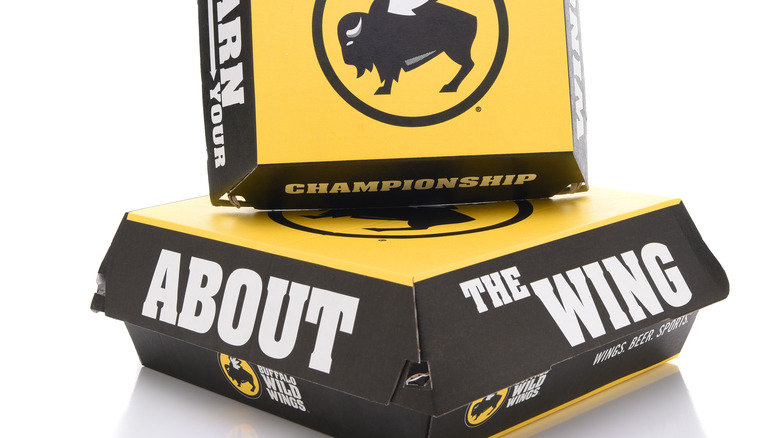 Steve Cukrov/Shutterstock
Doritos introduced its Flamin' Hot Nacho chips in 2019, to mixed reviews. Some people thought they were a great compromise between Doritos and Flamin' Hot Cheetos, while others were disappointed by the heat level. Still, the chip has a 4.6 out of 5 rating on Influenster. 
However, B-Dubs' new Flamin' Hot Doritos sauce is promised to be a spicy improvement (via Chew Boom). This sauce falls under the Hot category on the B-Dubs heat meter, packs 300 calories in one serving, and has a $1 up-charge. Wings ordered with the Doritos sauce also come topped with a confetti of Flamin' Hot Doritos crumbs for a textural experience like no other.
As with the Doritos, B-Dubs lovers have mixed initial reviews. On the chain's Facebook announcement, Timothy Briscoe commented, "Not really spicy at all." However, Key Arevalo said, "I tried the sauce and it is very good. I was disappointed they don't sell the sauce bottle." Meanwhile, Amanda Dawn LeLoup wrote, "They're hot but not make you miserable hot."