Nigella Lawson's Sweet Potato Soup Recipe Is A Vegan Delight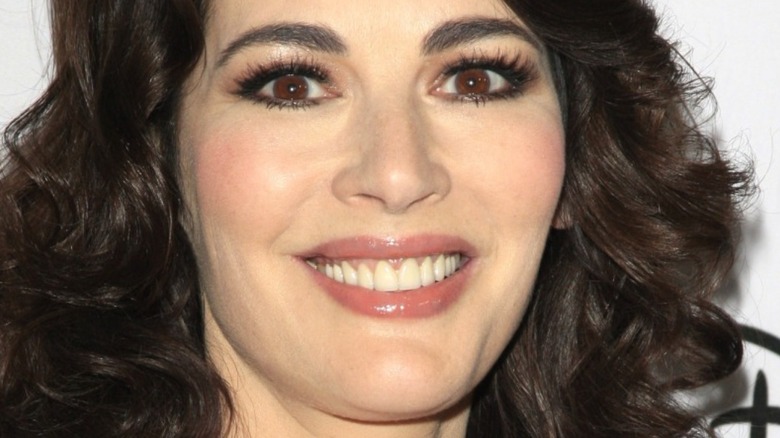 Joe Seer/Shutterstock
When things go wrong — as they can and sometimes do — there are few things as comforting as a good bowl of soup. If you're looking for a recipe that could hit the spot, domestic goddess Nigella Lawson may have just the right one. As a bonus, it's plant-based and made with just a few ingredients. In a recent Twitter post, Lawson shared a beautifully vibrant photo of bright orange soup, served in a deep blue teacup. She wrote, "#RecipeOfTheDay is a cupful of comfort: Sweet Potato, Ginger and Orange Soup – and, as it happens, #vegan. I regularly bake/roast sweet potatoes in advance so that I can make this quickly when needed."
As shared on Nigella's site, the simple soup calls for a combination of cooked sweet potatoes, ginger, orange zest, and lime juice, jazzed up with a dash of cayenne pepper and salt. Give it a try to see if you like it enough to (just like Lawson) keep a stash of baked sweet potatoes in your refrigerator for future soup-mergencies.
This may be the comfort recipe you didn't know you needed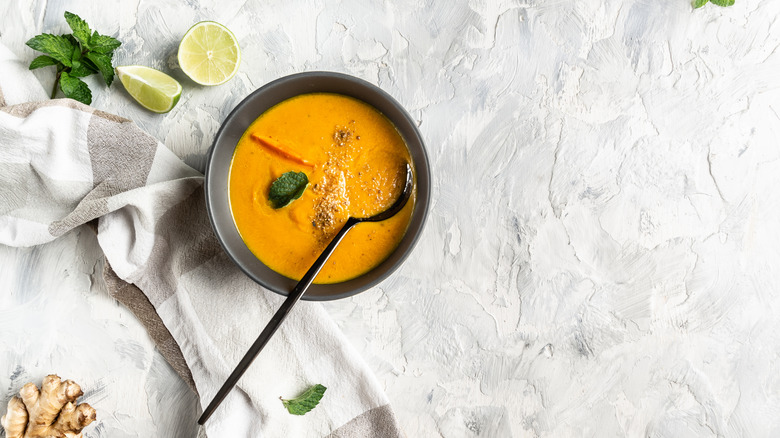 sweet marshmallow/Shutterstock
If you're intrigued by Lawson's soup recipe but don't have sweet potatoes on hand, the cookbook author took to Twitter to recommend other cooked root vegetables, such as squash or carrots, which she said "would be great" as substitutes. Whatever vegetable you use, you'll cook it with grated ginger, orange zest and juice, lime juice, cayenne, and vegetable stock before blitzing it smooth with a blender.
Some social media users have already cooked the dish and replied to Lawson's post with their thoughts. "Thank you for this... I made it today as I've got Covid and wanted something warming and healing," one grateful follower said. "This is the first thing I've tasted properly in a week. It's so restorative." Other users responded with their ideas for adaptations. One suggested cinnamon and roasted garlic, while another said the soup would "make a great sauce to put on almost anything," such as roasted meats, or could even be used as a pizza base. Finally, more than one person dreamed of enjoying the dish with a hunk of bread.