Gordon Ramsay's Bottomless Pizza Has Instagram Talking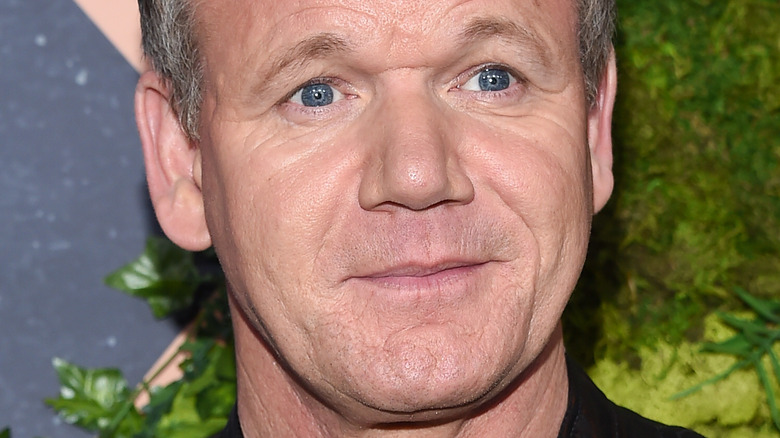 DFree/Shutterstock
Yesterday, Gordon Ramsay posted something on Instagram that very well could have been flagged for sharing suggestive material. The post in question showed a slice of pizza being slowly lifted from its place in a pie, with bits of cheese stretching to remain connected to the leftover pieces. As one person proclaimed alongside a heart-eyed emoji: "Look at that."
The biggest engagement, however, was with what the "Hell's Kitchen" star actually wrote. In typical Ramsay fashion, he had to end his post — which also served as a plug for his pizza restaurant's bottomless pizzas — with "and of course, no pineapple in sight!!" Fair enough. The pizza does indeed lack pineapples. But the chef's words certainly caused a stir, with someone saying "Pineapple would make all those flavors pop more" and another threatening to "add [their] own."
The purpose of the post was to drum up excitement for Gordon Ramsay Street Pizza's bottomless pizzas, his London-based restaurant concept that Foodservice Equipment Journal describes as endless slices of pizza for £15. Ramsay's controversial pineapple-based claims seem ultimately like an attempt to ramp up engagement and get more attention on the post, and people are certainly talking.
Learning to love pineapple pizza
Instagram commenters weren't the only ones with strong feelings about pizza toppings. Facebook, too, saw a staunch defense of the Hawaiian pizza and pineapple on pizza in general. "Maybe on thing I disagree with you on Gordon!!" one wrote. "I love my pineapple and pep! Savory and sweet at its best!" "I love you but bro ham and pineapple go great together," another agreed.
An anti-pineapple stance is nothing new for Gordon Ramsay. When writing about pineapples on pizza in 2019, Stuff quoted him as saying "You don't put ... pineapple on pizza," admitting they had removed a "colourful adjective" of disdainful emphasis before the word "pineapple."
Stuff went on to try to understand why the topping provokes such ire. Some don't like the texture; some find it too sweet. At the end, though, the writer gathered people round to try a "classic Hawaiian pie" at We the Pizza on Capitol Hill. The tomato sauce wasn't too sweet and the pineapples were sliced thin and pre-roasted to keep them from being distractingly juicy. Suddenly, everyone didn't mind it. "Too many people," they suggested, "have been burned by poor versions of the Hawaiian, in which thick chunks of syrupy pineapple are merely dumped onto a cheese pie with similarly thick-cut ham." Perhaps Gordon Ramsay should give this pie a try.