Creamy Eggplant Dip Recipe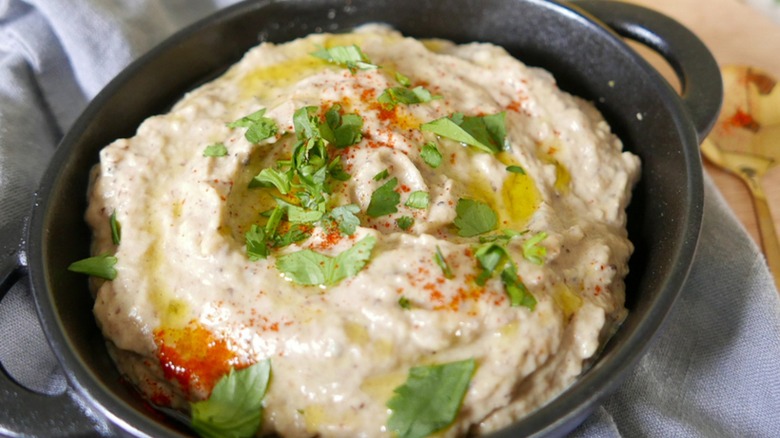 Ting Dalton/Mashed
One of the best-known — and best-loved — dishes of the Middle East is baba ganoush, a creamy dip made from roasted eggplant and typically flavored with tahini, garlic and lemon juice. (Mutabal, a similar dip, omits the lemon juice.) While no one is entirely sure where baba ganoush was first created, it may have originated in Egypt up to 1,000 years ago. The name may bear this out, as the Oxford English Dictionary says it comes from Egyptian Arabic, with "baba" meaning father and "ghannuj" possibly being someone's name.
Recipe developer Ting Dalton says of her take on baba ganoush, or eggplant dip, "This is such a tasty dip, full of punchy garlic flavor and so easy to make." She says the recipe reminds her of Morocco and Tunisia and is something she says "really brings home [the] Middle Eastern flavor." We certainly agree that this eggplant dip is delicious, and perfect to serve as an easy appetizer when you're hosting a dinner with friends.
Assemble the ingredients for creamy eggplant dip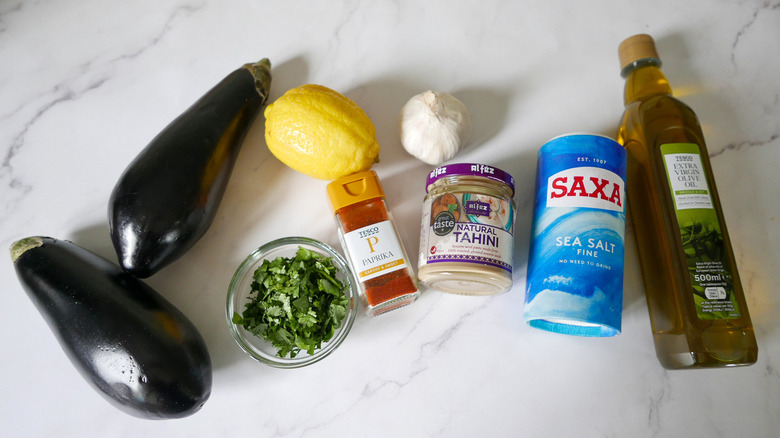 Ting Dalton/Mashed
The main ingredient of this eggplant dip is, of course, eggplants, so you'll need a few of them. (Pro tip: store the eggplants at room temperature, not in the fridge.) You'll also need some olive oil. For flavoring, you'll be using the aforementioned baba ganoush trio of garlic, lemon juice, and tahini paste, as well as some salt.
For serving the dip, you might also want some chopped fresh parsley, paprika, and additional olive oil.
Slice and cook the eggplant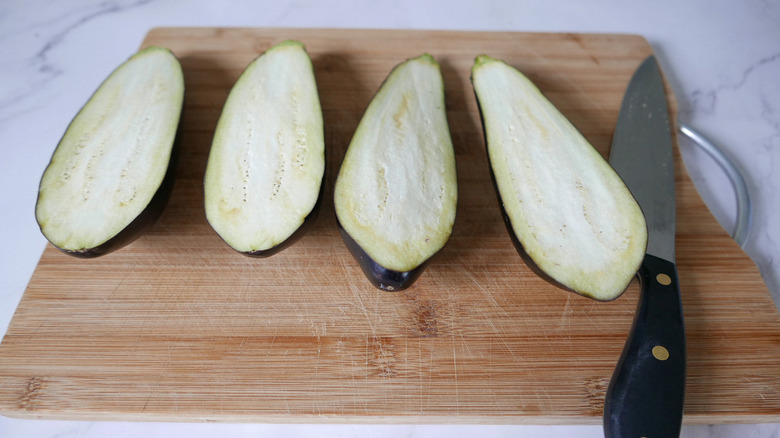 Ting Dalton/Mashed
First things first: preheat the oven to 380 F. While it heats up, cut the eggplants in half lengthwise. Put them on a baking sheet that you've coated with non-stick spray or lined with parchment paper or a silpat. Drizzle the oil over the eggplant, then sprinkle it with ½ the salt. Roast the eggplant for about 30 minutes, until it's soft.
Cool and peel the eggplant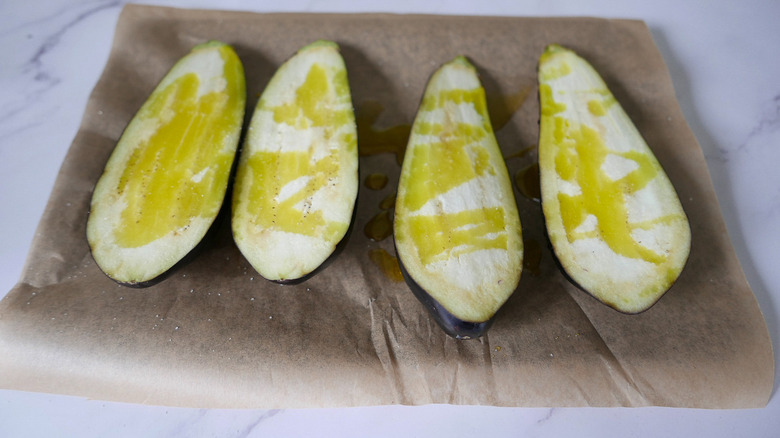 Ting Dalton/Mashed
Let the eggplant cool for at least 10 minutes, then check to see if it can be handled without causing you any undue pain. Once it's sufficiently cool, pick it up and peel it. While not all veggies need to be peeled, eggplant peel can be tough, so it's best to get rid of it. (But you should consider composting it so even the peel won't go to waste.) You may want to rough chop the eggplant into a few big chunks, too.
Blend all of the ingredients to make the dip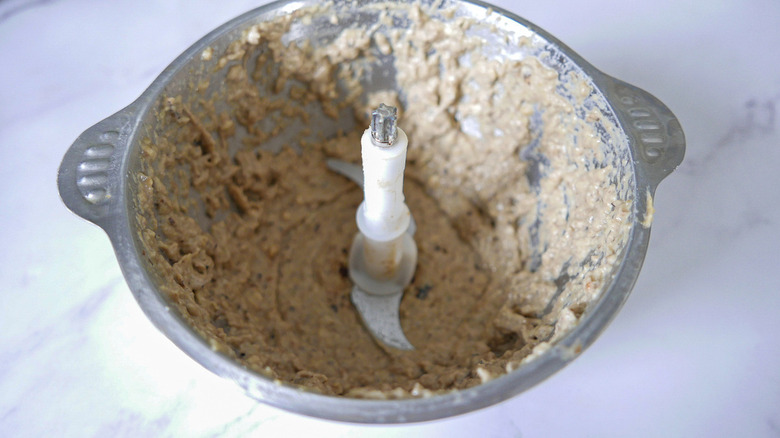 Ting Dalton/Mashed
Combine the eggplant with the garlic, tahini, lemon juice, and remaining salt, then puree in a blender or food processor until smooth. There's your dip, all done!
As previously mentioned, you can sprinkle some paprika or chopped parsley on top before serving, or perhaps you'd prefer cilantro or pine nuts or pomegranate seeds. You can also drizzle the dip with additional olive oil, if you like. As for what to dip in it, Dalton's suggestions include "bread sticks, toasted pita or flatbreads, or crudités." She also notes that the dip should stay relatively fresh in the fridge for three days.
Creamy Eggplant Dip Recipe
Embrace the flavors of the Middle East with this simple eggplant dip. It's delicious, easy to make, and is the perfect appetizer with naan or pita chips.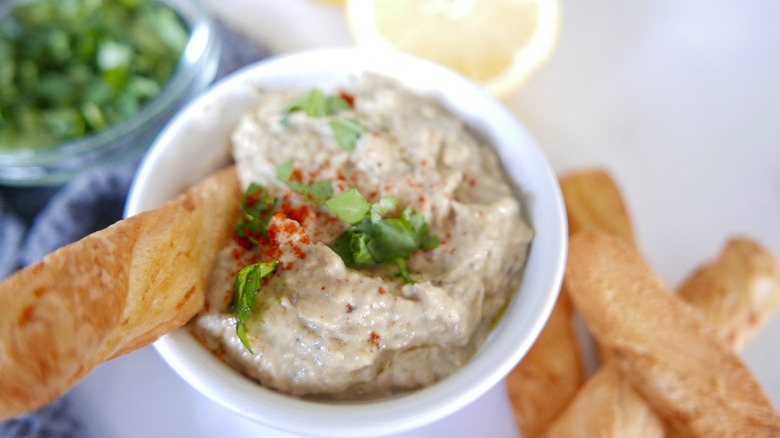 Ingredients
2 medium eggplants
2 cloves garlic
2 tablespoons tahini paste
½ lemon, juiced
3 tablespoons extra virgin olive oil, extra for serving
½ teaspoon sea salt, extra for roasting
Optional Ingredients
sprinkle of paprika
2 teaspoons freshly chopped parsley
additional olive oil
Directions
Preheat the oven to 380 F.
Slice the eggplants in half and place them on a greased or parchment-lined baking sheet.
Drizzle the eggplant with oil and sprinkle with ½ teaspoon salt.
Roast the eggplant for 30 minutes until soft.
Cool cooked eggplant for 10 minutes.
Peel the cooked eggplant.
Combine the eggplant with the lemon juice, tahini, and the remaining salt, then puree for 30-40 seconds in a blender or food processor, until smooth.
Serve the dip sprinkled with paprika, fresh parsley, and drizzled with olive oil, if desired.
Nutrition
| | |
| --- | --- |
| Calories per Serving | 207 |
| Total Fat | 14.7 g |
| Saturated Fat | 2.1 g |
| Trans Fat | 0.0 |
| Cholesterol | 0.0 mg |
| | |
| --- | --- |
| Total Carbohydrates | 18.9 g |
| Dietary Fiber | 9.2 g |
| Total Sugars | 9.9 g |
| Sodium | 249.9 mg |
| Protein | 4.1 g |