Padma Lakshmi Has Feelings About That Spokane Pizza Video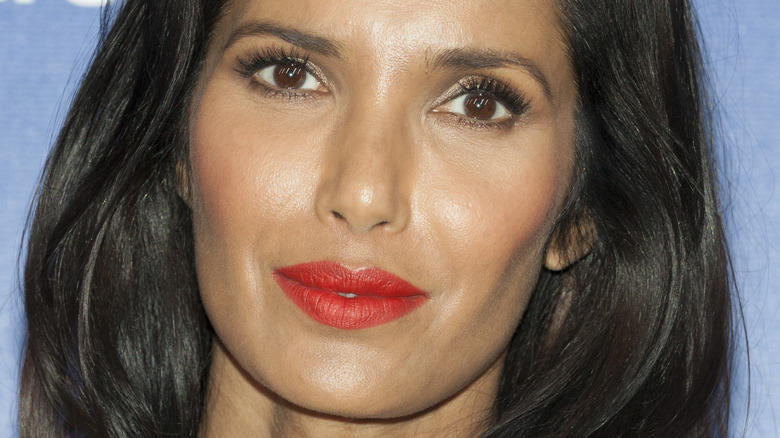 lev radin/Shutterstock
Every region is known for dishing out the best of something, be it New England clam chowder, Texas barbecue, or Los Angeles burgers. When it comes to pizza, Americans are quick to point out the difference between Chicago-style and New York-style pizza, but most people wouldn't think to single out the 'za west of the Mississippi. Sure, you can find good pizza in most U.S. cities, but the best slices will likely be imitations of the classic styles. 
While we're on this abridged food journey throughout the States, let's stop in Spokane, the eastern Washington city known as the birthplace of Father's Day. While visitors on a Pacific Northwest food tour might be more inclined to stop in Seattle, a 2021 roundup in Eater points to a slew of noteworthy dining destinations in the Lilac City, shouting out the Neapolitan-style pizza at the gastropub The Flying Goat. While some Spokane restaurants may sling decent pies, however, the city isn't necessarily known for having a famous regional specialty. 
That is, unless you ask Josh Scherer, the Spokane native and "A Hot Dog Is a Sandwich" podcast host who recently shared a video on Twitter featuring a loaded homemade "Spokane-style pizza" that he touts as "the most underrated regional pizza" around. Many people would beg to differ, including celebrity chef Padma Lakshmi. The "Top Chef" host responded to the video on Twitter with a single emoji. 
The pizza has veggies, canned tuna, fry sauce, and strawberries
Josh Scherer begins his video by stretching out a layer of pizza dough in a greased Pyrex, tacking on that "Spokane actually invented the casserole," a claim is disputed by The Seattle Times. Scherer begins adding bespoke pizza toppings by drizzling a layer of fry sauce ("a local delicacy") before adding a can of salmon and a roughly chopped bell pepper and onion. Next comes a pile of mozzarella cheese, topped with "wild-foraged strawberries from the Spokane-Coeur d'Alene region," baked "Detroit-style with a crispy cheese crust," and topped with more fry sauce for good measure. "I see why the entire city of Spokane [...] really loves this pizza," Scherer said in between bites. 
The result certainly resembled a Detroit-style pizza, but the ingredients are unlike anything Twitter has ever seen. In response to a strong reaction from podcast host Rex Chapman, who wrote, "Someone call the cops," Padma Lakshmi echoed the wary sentiments of many Twitter users by posting the gritted-teeth emoji, which was met with comments like, "I'm happy to see that you thought it was as scary, as I did." One Spokane resident chimed in, writing, "This is not Spokane pizza. Spokane pizza is either the stuff everyone else orders on Friday night too, or Rocky Rococo's deep dish." Luckily for Lakshmi, who lives in NYC, a traditional slice is likely just around the corner.