Donatos Just Added The Perfect Party Dessert To Its Menu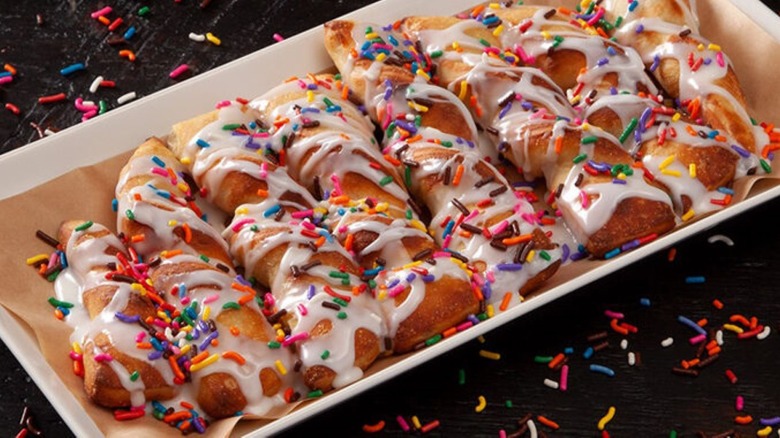 Donatos Pizza
Pizza chains have a long history of dishing out crowd-pleasing desserts. According to Delish, Domino's Pizza serves up a chocolate lava crunch cake that fans easily rank right next to the brand's pizza menu. Others have found ways to top traditional pizzas with sweet offerings like frosted brownies or chocolate pudding, per Taste of Home. While these items have found their way into the hearts of diners everywhere, that hasn't stopped some chains from continuing to push the boundaries of new sweet flavor creations.
Donato's Pizza has experimented with new takes on sweet dough twists, according to Globe Newswire. The brand found success with their Oreo-filled Cookies n' Cream Twists and Valentine's Twists over the past few months. After enough positive support from the public, the restaurant decided to expand its dessert menu to include a new offering called a Party Twist and its image truly lives up to its name.
A new look for Donatos Pizza's menu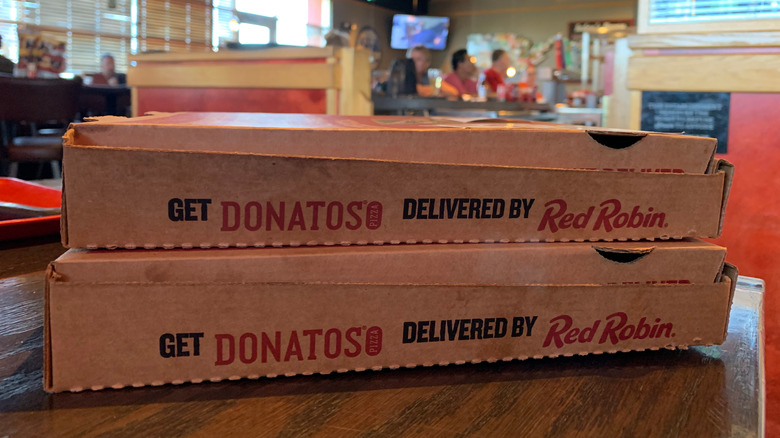 JJava Designs/Shutterstock
Chewboom reports that the Donatos Pizza has rolled out the limited-edition Party Twists. The item features braids of dough coated with vanilla icing and rainbow sprinkles, and one order should easily treat four diners to something sweet. The item has officially hit stores, but like the other twist desserts, only stays on menus for a limited period of time.
"Pizza is all about bringing people together and our new Party Twists are a delicious and fun way to cap off any meal," Carol Pasquariello, the senior vice president of Marketing at the company said (via Globe Newswire). "Our customers loved our Cookies 'N Cream Twists when we introduced them, and our Valentine's Twists led to our highest dessert sales week in more than a year as they were shared with loved ones." The brand anticipates that diners should love the latest party twists even more, and the rollout of the new item follows a larger menu expansion at the restaurant. This bright dessert brings a splash of color to the chain's menu, but the word's still out on how these items stack up against other Twist desserts.