Copycat Panda Express Orange Chicken Recipe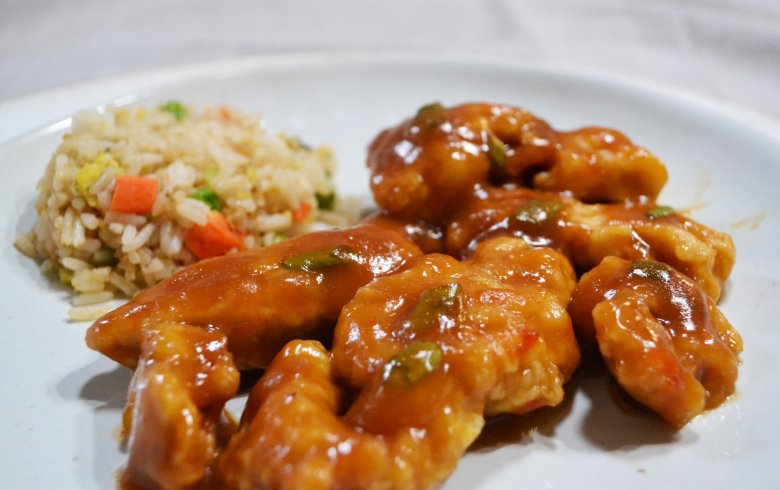 Panda Express opened its doors in 1983, and all these years later there's over 1900 locations worldwide. Fast casual American Chinese food is the game, and they serve it up quick, and with a few twists. One of the most popular dishes is orange chicken, which seems on the surface to be quite a challenge to construct. It's not especially difficult, but there are a few steps along the way to get the flavor right. We can do this, and it will open you up to many other Asian dishes.  
Gather your ingredients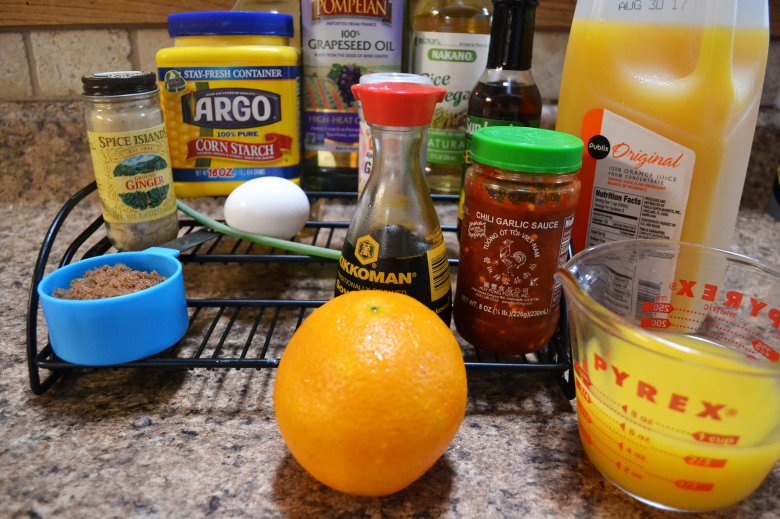 Here's what you need to make you own Panda Express orange chicken: Chicken breasts, an egg, cornstarch, flour, grapeseed oil, orange juice, an orange, chili garlic sauce, rice wine vinegar, safflower oil, sesame oil, brown sugar, ground ginger, garlic powder, soy sauce, and green onion. The full ingredients list is at the end of this article, along with a step-by-step recipe.
Let's look at their orange chicken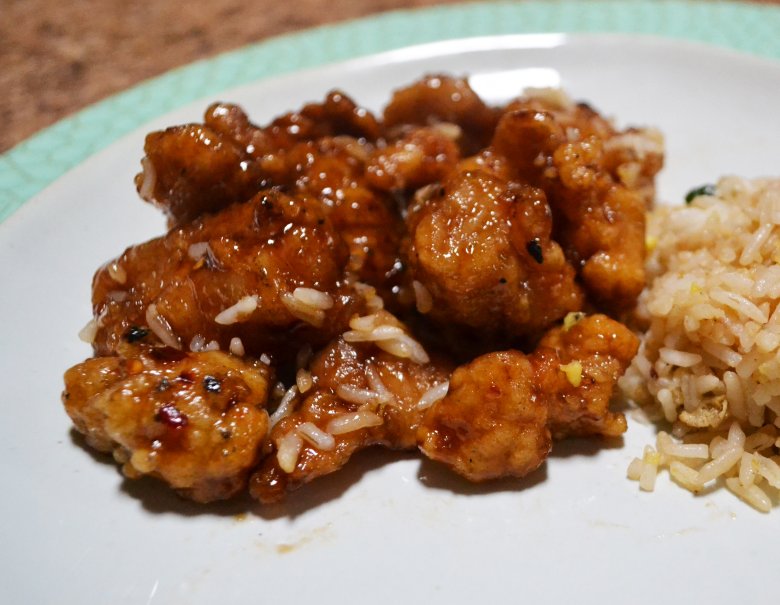 Well, it's orange. That's a start. The flavor isn't overwhelmingly hot — with orange (duh) and some hints of ginger. There clearly are red chili flakes in there, but there's next to zero heat to the dish at first bite. Green onions are present as well. The overall flavor of the chicken is the coating — cornstarch, with the orange sauce present as very mild with some heat on the back end. Let's start with the hard part and break down the orange sauce.
Rice wine vinegar or rice wine?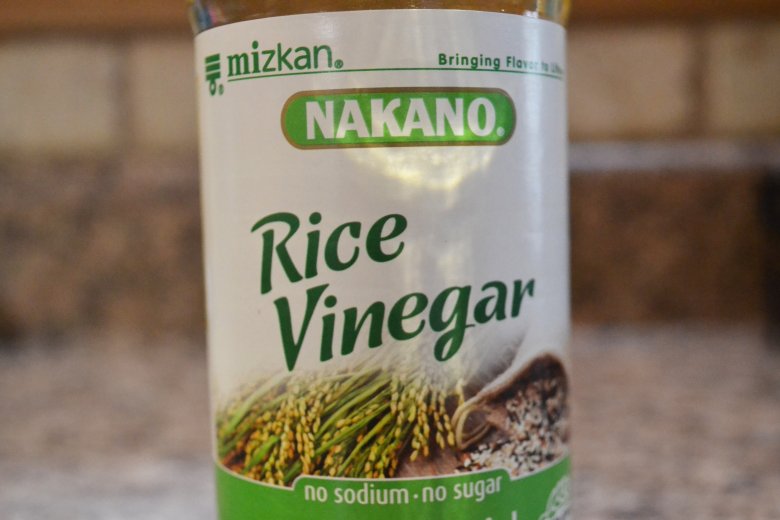 Do we need rice wine vinegar or just plain ole rice wine? Turns out it doesn't matter. The only difference between the two is the name, they're the same thing. We need a quarter cup of the stuff.
Orange juice and an orange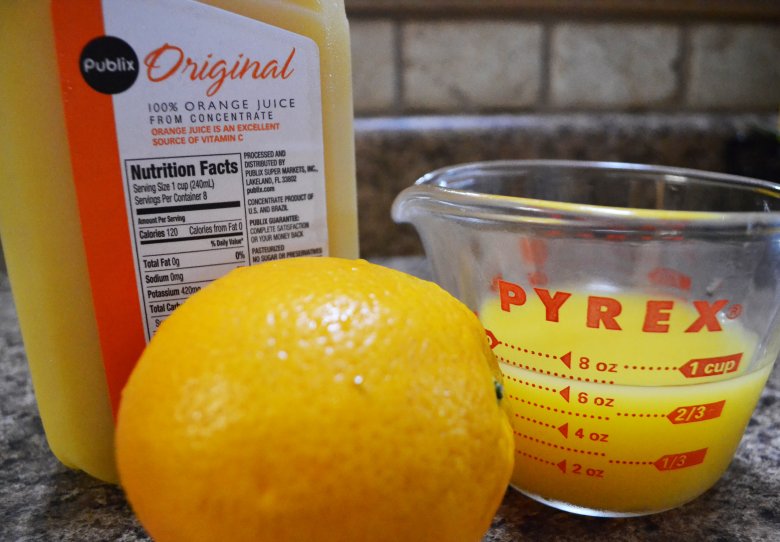 You'd think if you need orange juice and the zest of an orange, you could just kill two birds with one stone and juice the orange after you scrape away those essential oils in the skin. Unfortunately, there's a difference between bottled OJ and the stuff from trees. OJ is sweeter, and that additional sweetness will cut some of the spice and heat from the dish. You don't need a fancy orange juice, just the least expensive one will suffice. Three-quarters of a cup of OJ and the zest of an orange is the order here.  
Safflower oil and grapeseed oil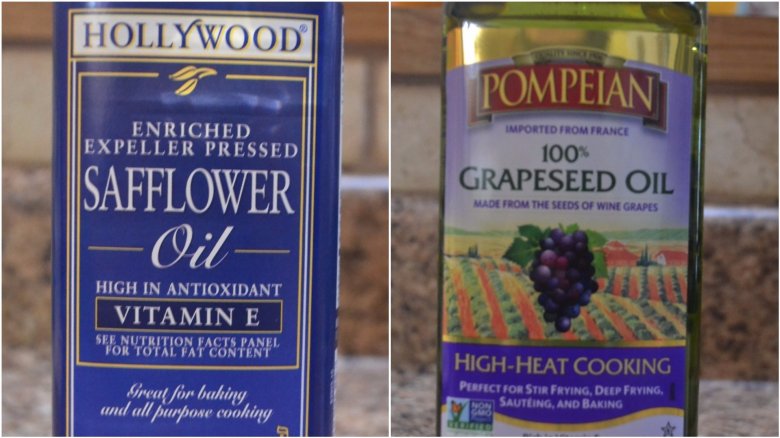 Different oils do different things. Grapeseed oil is perfect for fairly high heat dishes — which most Asian dishes are. Grapeseed oil also provides a nice, light taste to a fried dish. In the broadest sense, grapeseed oil is healthier but what it comes down to is usage — the grapeseed will be for the chicken and the safflower (which is flavorless) for the orange sauce.  
Ground ginger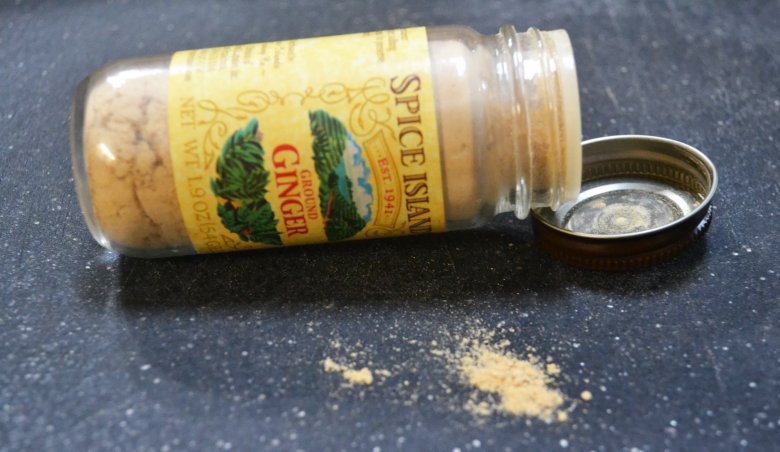 If we were making a homemade orange sauce, we'd use a nice piece of fresh ginger. We're not. There is a ginger flavor here, but fresh ginger will make this more of a ginger chicken than an orange, so instead go with ground ginger — the kind you find in a jar. You'll need two tablespoons, quite a bit, but that'll bring just the right touch to the sauce.
Garlic powder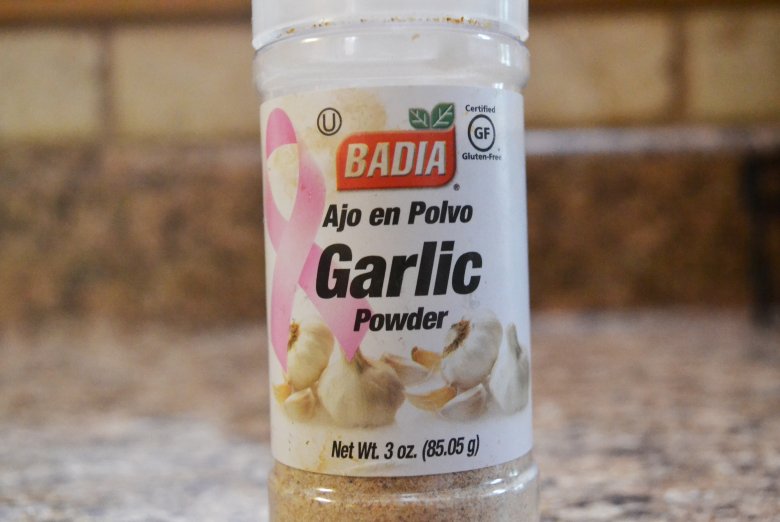 Most traditional orange sauces also use fresh garlic, minced. But the garlic flavor is very subtle, and more in that popular "enhancer" role that we've all discovered is present in many a dish. We're going to want a teaspoon of garlic powder, just enough to bind everything up nicely.  
Chili garlic sauce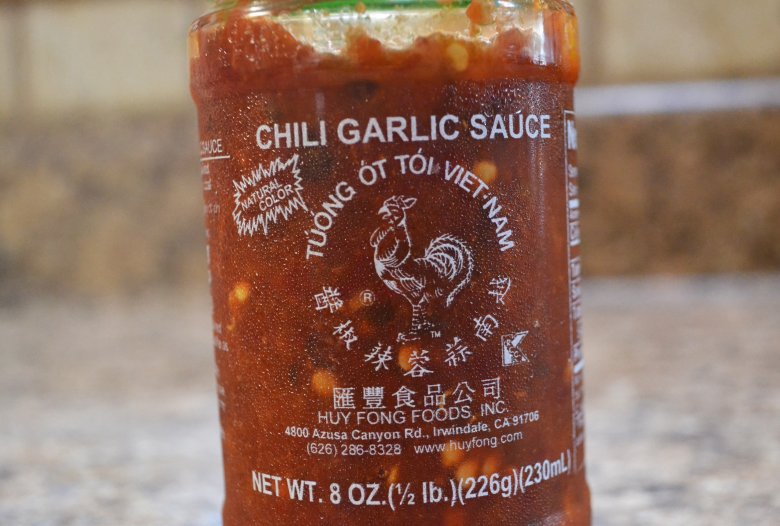 On first taste, you might think the red chili flakes are just decorative, but there is some heat on the back end of the orange chicken. There's a bit more red chili in this than you might imagine, so go with a tablespoon of the stuff. The kind you want is chili garlic sauce; the advantage of the chili garlic is the garlic, which will make up for any flavor lacking from our dry garlic powder.  
If you're the type to order your dishes from a traditional Chinese restaurant as "Asian hot" this is the place where you can really amp it up. So if you want to add more heat, have at it.   
Brown sugar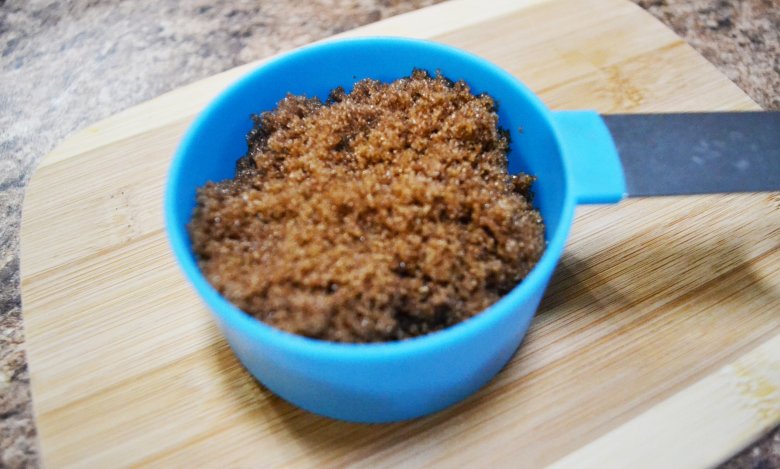 There's a reason the red chilis don't taste very hot, and that's compliments of our old friend, sugar. You can use light or dark brown sugar, and we'll need a lot: a half of a cup. That will neutralize the scorching spice from the chili garlic.  
Green onion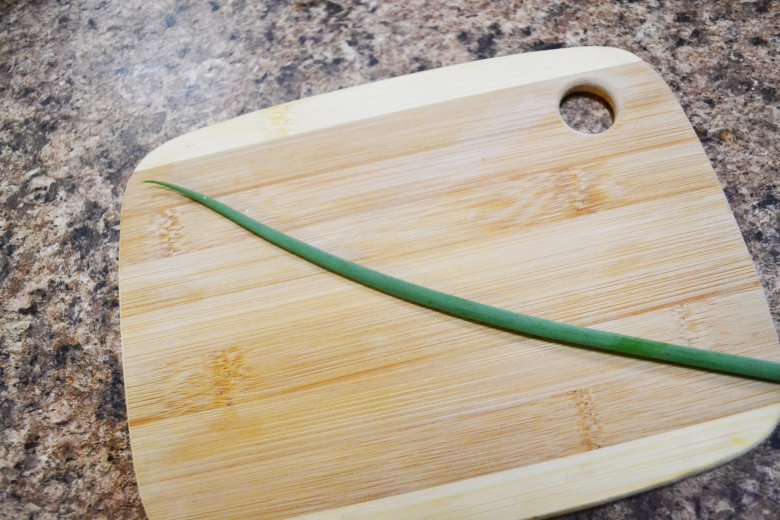 I already told you that you should be growing your own green onions.  I'm just going to assume you listened, so go pick one of those off your green onion stash. If you're new here, welcome! Go buy a green onion, plant it, and you'll never buy another one again. This needs to be finely cut — you're free to use your fancy knives, but scissors is the easiest bet here.
Soy Sauce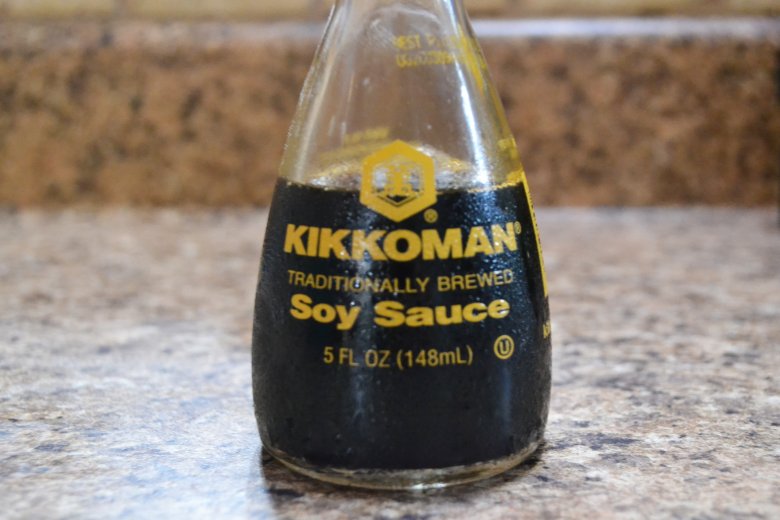 You knew there'd be soy sauce right? Just making sure... three tablespoons.
Corn starch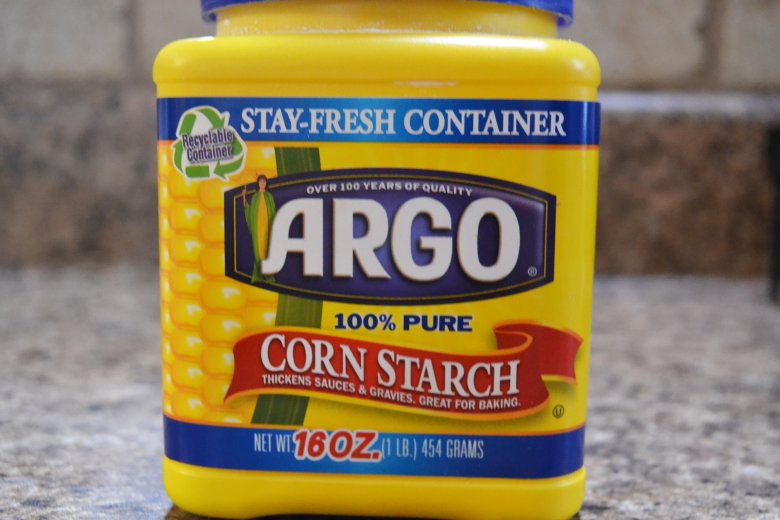 A common ingredient in Chinese cuisine, corn starch is the "batter" that puts that crispy coating on the outside of the chicken. There's flour going on too, but the main thing is the corn starch.
Sesame oil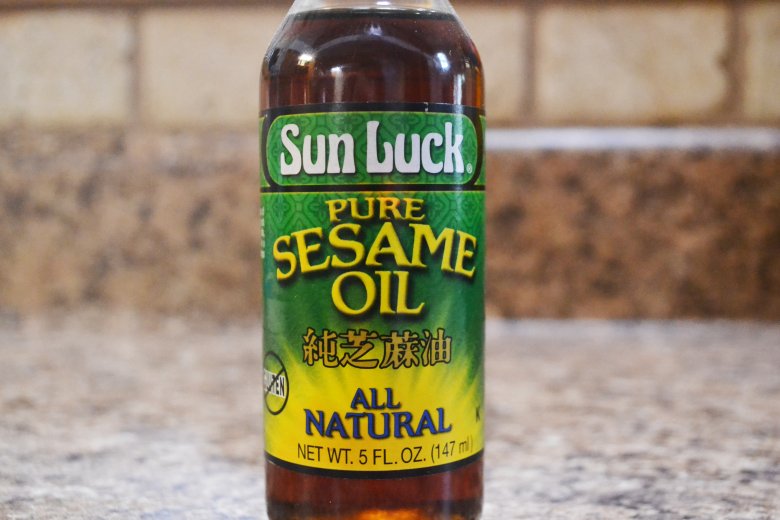 There's a magical oil that shouldn't be used like regular oil. Sesame oil brings a nutty flavor that you'll recognize as Asian in a very broad description. Adding a tablespoon to the dish at the last second will really bring the flavors together.
Chicken time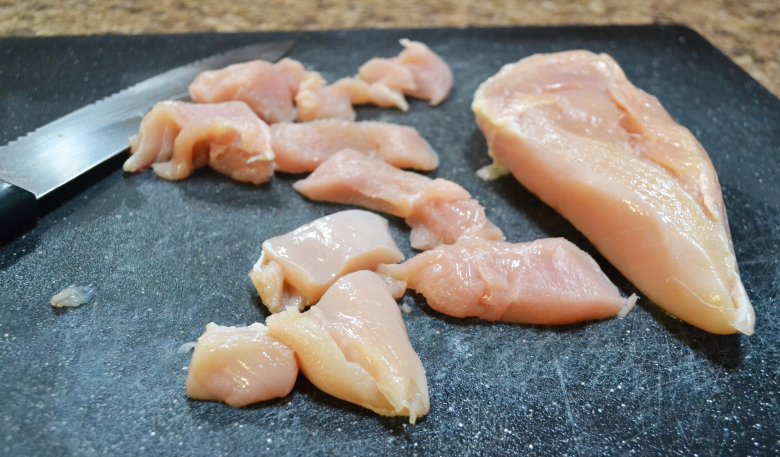 Now that we have our sauce ingredients, let's start preparing the chicken. Cut up a chicken breast into small chunks. Your best bet is to butterfly the chicken, and from there cut it into smaller pieces. Panda Express does a very good job of giving you a variety of chicken shapes — it really presents as freshly cut, even if it's not.  
Batter up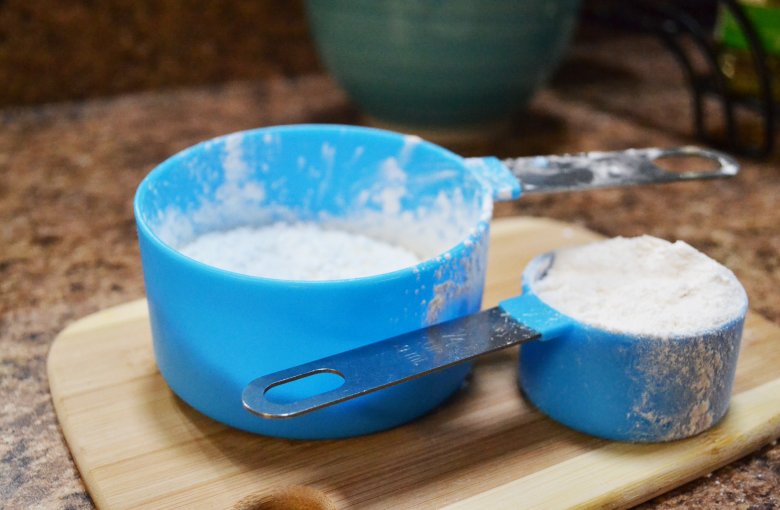 Combine ½ cup cornstarch and ¼ cup flower. It's a bit cornstarch-heavy but the overwhelming taste on the Panda Express chicken is the cornstarch coating.
Egg cycle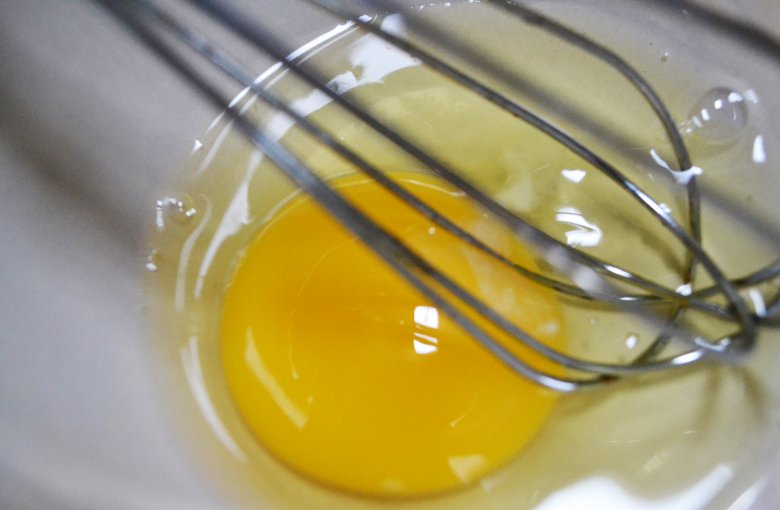 Beat an egg and drop in a splash of water.  The water will give just a little more fluff to the dip — not anything crazy but it'll help. It will also help stretch your batter a bit; one egg should be plenty to batter up two chicken breasts, but if you need a bit more just repeat the egg and splash of water addition.
Wet-to-dry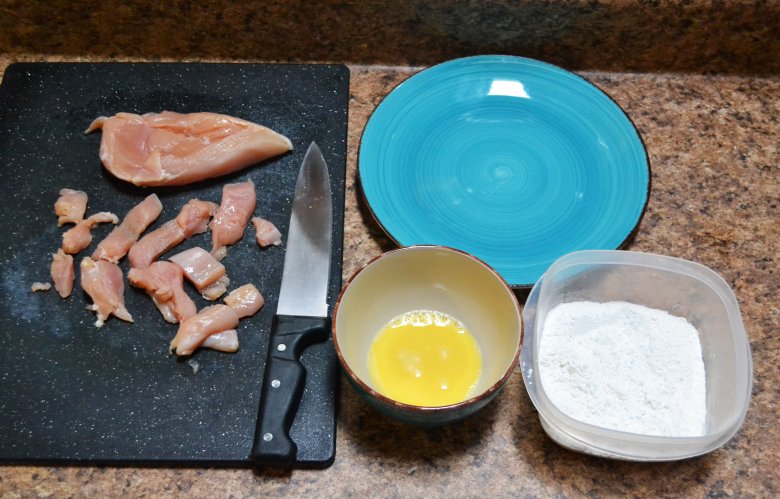 This is a basic wet to dry batter — no need to double dip anything. Take the chicken, and dip it into the egg, and then into the corn starch/flour mix, and shake it all about. Exit that to a resting area, like a plate. You're looking for full coverage of the batter, but it doesn't have to be thick, just a nice even coating.  
Fry time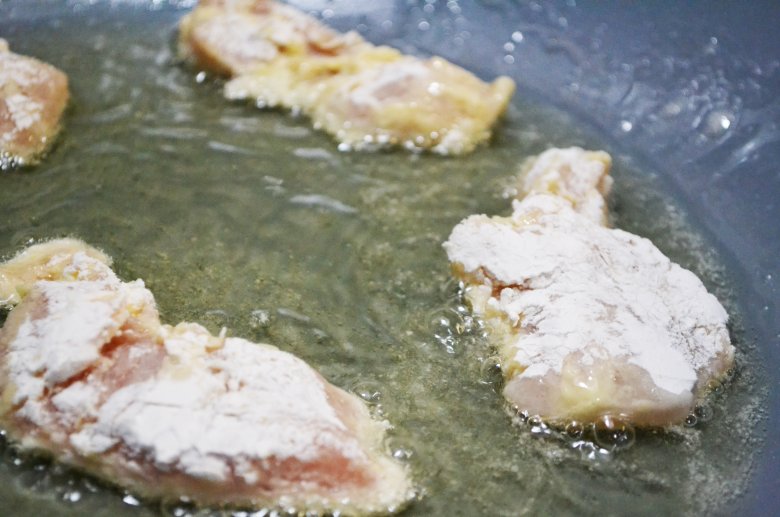 Add enough grapeseed oil to cover half a piece of chicken in the wok — depending on the size of your wok that will probably be about a half cup. Bring that to 375 degrees Fahrenheit, and fry the chicken for four minutes on each side. The important thing is to not overcrowd the wok. Don't be afraid to work in quite a few stages — about half a chicken breast will fit comfortably into the wok. Once the first batch is cooked through, exit to a plate with a paper towel (or an elevated drying rack) and repeat until the chicken is done.
You want it even closer?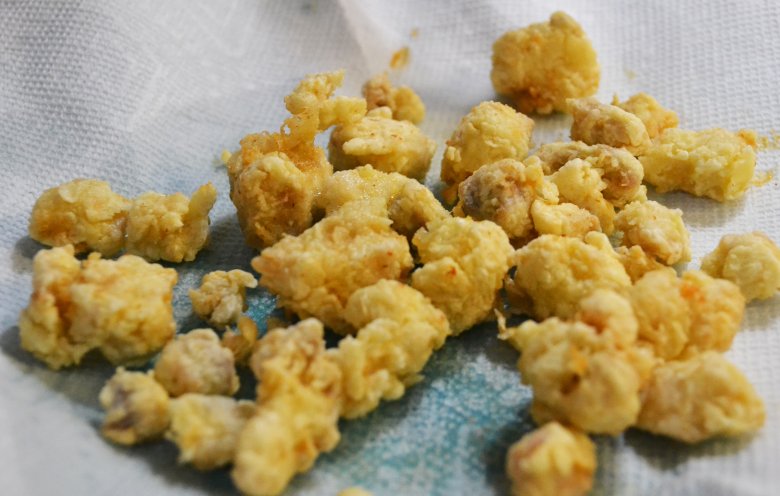 If you really really want this to taste exactly like Panda Express, use frozen chicken. Batter it up the same way, and fry that. You'll get a closer taste, and a little closer in texture but really the feel of it will be close enough with fresh chicken.
Building the sauce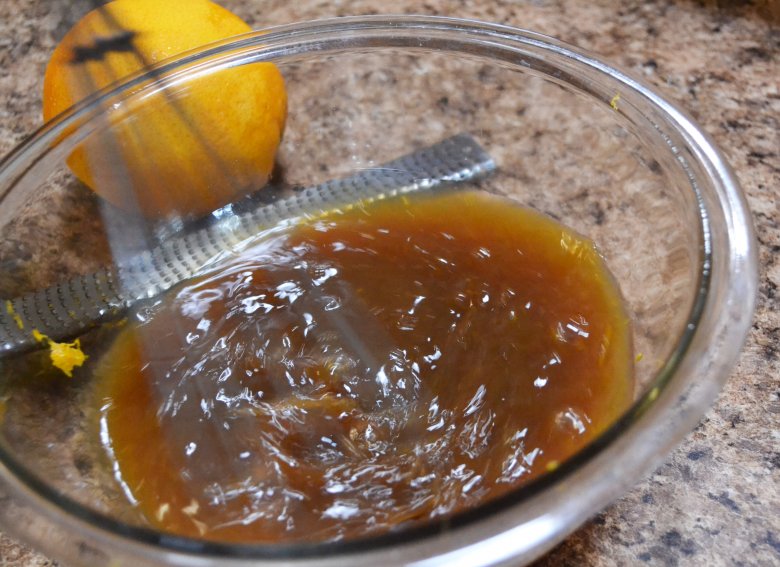 Before we get too far ahead of ourselves in the sauce department, we need to get the wet in concert. Combine three-quarters of a cup of orange juice with three tablespoons of soy sauce and the zest of an orange. Drop in that half cup of brown sugar and give that a whisk to incorporate the brown sugar. It'll look like a hot mess and have you searching for your orange food coloring, but be patient! It'll turn, I assure you.
Cook the sauce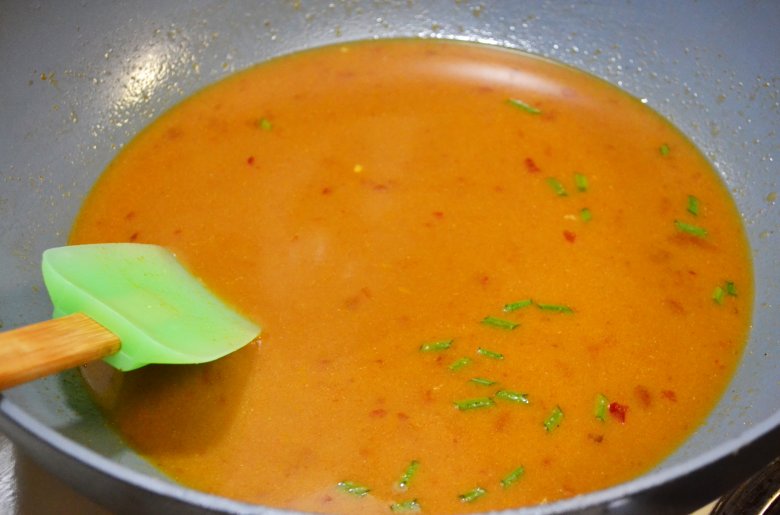 Working in a wok (and you can use the same one you cooked the chicken in providing you remove the oil) put down a tablespoon of safflower oil and get the heat to medium low. We're going to need to work kind of quickly here, so don't be afraid to just start piling everything in. Add two tablespoons of ground ginger and a teaspoon of garlic powder to the oil, and follow that up with a tablespoon of the red garlic chili sauce. Start stirring that around until it becomes fragrant and it looks like mud. Pour in the OJ concoction and give it a thorough mixing, then add two tablespoons of rice wine vinegar, and give it one more stir. Add in the green onion, finely cut. Let that cook together for about two minutes and add the slurry of cornstarch. Give that a mix and let it cook for about a minute. Add the cooked chicken back to the sauce, and crank that heat up to a medium high. Keep stirring and bring it to a boil — it'll thicken, and once it hits a bubbling cauldron take the heat to low.  
Now comes the magic: Add a tablespoon of sesame oil and stir to combine. That little touch will take this sauce over the top.
How close are we?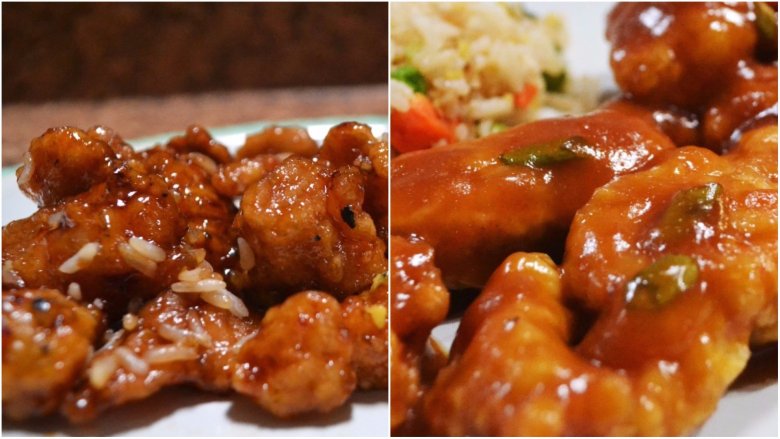 This is the Panda Express orange chicken sauce, exactly. It hits the tang, the spice, and finishes with the same heat that the Panda has on their dish. The chicken? Well, that's not an exact copy. You see, your homemade chicken is much better than theirs. Even the batch cooked from frozen tasted better. The Panda Express chicken carries too much batter — ours does not. If you have an interest in cooking some Asian dishes at home, this is a simple one that will wow your family and fiends.  
The best part about this is that the sauce build is the base for pretty much every Chinese dish out there, it's just a matter of removing the OJ and putting in whatever you're making... General Tso, Kung Pao, whatever. You now have the basics, so go get cooking!
Copycat Panda Express Orange Chicken Recipe
One of the most popular dishes at Panda Express is orange chicken, and now you can make it yourself. It might even be better than the real thing!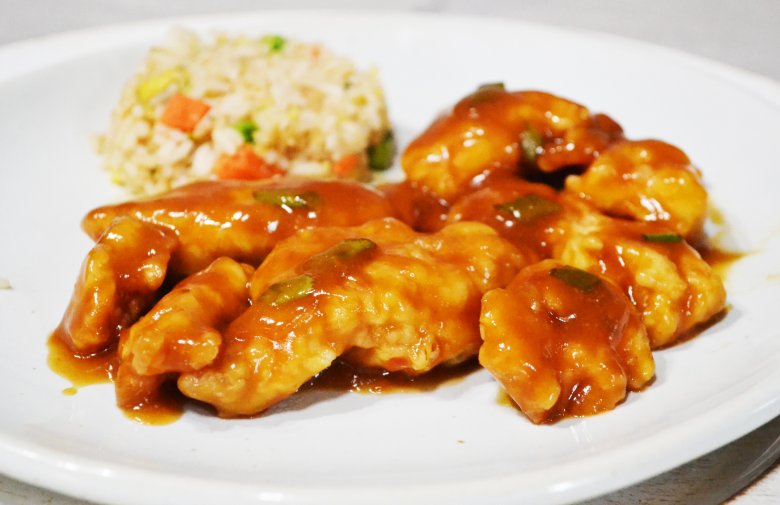 Ingredients
2 chicken breasts
½ cup cornstarch
¼ cup flour
1 egg
Grapeseed oil
¾ cup orange juice
Zest of 1 orange
3 tablespoons soy sauce
½ cup brown sugar
1 tablespoon safflower oil
2 tablespoons ground ginger
1 teaspoon garlic powder
1 tablespoon garlic chili sauce
2 tablespoons rice wine vinegar
1 green onion, finely diced
½ cup water
2 tablespoons cornstarch
1 tablespoon sesame oil
Directions
Butterfly and roughly cut up two chicken breasts.
Make the dry chicken coating by combining flour and cornstarch.
Beat an egg with a splash of water.
Dip chicken into egg, and then to the dry mix, and set aside.
Cook in grapeseed oil at 375 degrees Fahrenheit, 4 minutes per side or until crisp, and set aside.
Combine orange juice, zest of 1 orange, soy sauce and brown sugar, and stir to combine. Set aside.
In a wok, heat 1 tablespoon of safflower oil on medium heat, then add the ground ginger, garlic powder, and garlic chili sauce. Cook until aromatic (less than a minute).
Add the orange juice mixture.
Add two tablespoons rice wine vinegar.
Add the green onion, finely chopped or cut with scissors.
Cook for two minutes, stirring frequently.
Make a cornstarch slurry by mixing 2 tablespoons of cornstarch ½ cup of water, then add to sauce. Let it cook for about a minute.
Incorporate cooked chicken back into the sauce, stir for 2 minutes to coat.
Bring to a boil, and lower to simmer.
Add a teaspoon of sesame oil and stir to combine.
Serve, eat, and enjoy!
Nutrition
| | |
| --- | --- |
| Calories per Serving | 330 |
| Total Fat | 13.5 g |
| Saturated Fat | 2.6 g |
| Trans Fat | 0.1 g |
| Cholesterol | 63.8 mg |
| | |
| --- | --- |
| Total Carbohydrates | 36.6 g |
| Dietary Fiber | 1.4 g |
| Total Sugars | 16.9 g |
| Sodium | 531.3 mg |
| Protein | 15.0 g |