A UK Restaurant Wants You To Lock Your Phone Away For A Discount
It's true that some chefs wish that you'd turn off your phone when eating. More concretely, some restaurants have not given up the struggle against cellphones. Yesterday, Kent Online talked with a restaurant in the London suburb Rainham about its recently instituted attempt to get its patrons to put their phones away. "A couple of years ago we had a large group come in for lunch and I noticed something was different," Rajeev Gupte, the manager of Spice Fusion, explained. "As I watched them I realised they were all engaged talking to each other, none of them had their phones in their hands."
This led to the idea that the restaurant announced via Facebook on April 4. Tables of four or more can receive a 20% discount on their meal if they stow their cellphones in a locked box. The box and key for the lock will remain at the table, and this deal occurs every Monday. This isn't the only institution to try to appeal to humanity's desire for deals. In 2018, the BBC reported that a pub in the Welsh town of Wrexham would give diners a 25% discount for all food on Mondays if they put their phones away.
Not all chefs agree that cell phones are a problem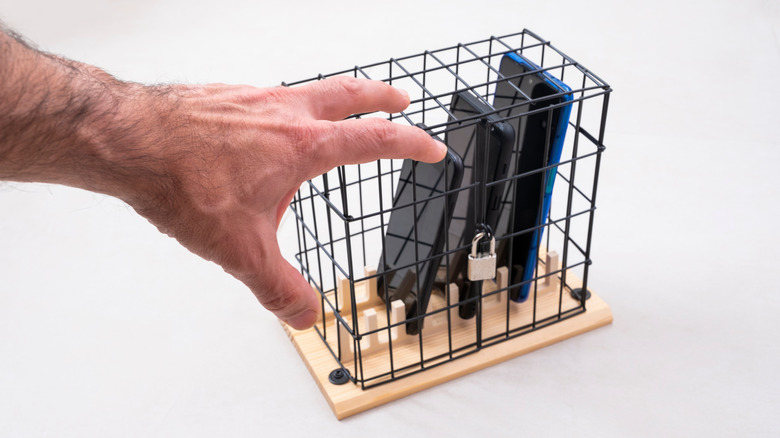 Javier Ruiz/Shutterstock
Of course, the very fact that Spice Fusion would decide to offer such a deal speaks to how many need a monetary prod to put their cell phones down, not just the promise of good company. In 2016, Bloomberg announced that cell phones had won the battle against fine dining. At one point, restaurants had attempted to make cell phone bans the norm. However, some chefs have reached a point of indifference towards the presence of cell phones, as long as people were not talking during the meal or disturbing other customers. "I'd say 80% or more of guests take pictures of the food. If it makes people happy, why not?" said Jonny Lake, the head chef of the restaurant Fat Duck from Heston Blumenthal.
And that's the thing – HuffPost reported that 69% of millennials admitted to taking pictures of food before they eat. Photography had become an integral part of how we experience food. After that, having your phone for other reasons followed, and having your phone out at the restaurant appears to be the norm.