Trader Joe's Shoppers Are Comparing Its New Snack To Cheetos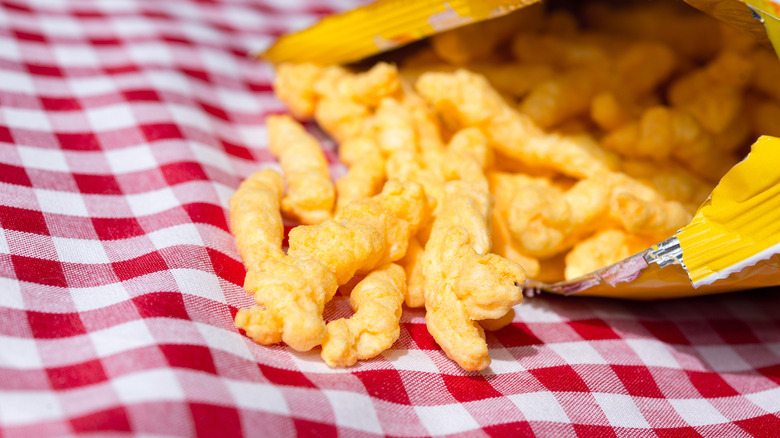 red mango/Shutterstock
Cheetos have had a long history. According to Insider, the snack first popped up in 1948 and came from the same inventor of Fritos. No one knows exactly where Cheetos got its name from, but some guess the creator put together the words cheese and Frito together to describe the taste and texture of the new snack. Over the years, the product grew in popularity and other copycat snacks hit the scene. Trader Joe's now ranks as one of these competitors and has stepped into the snack ring with an item that fans have started comparing to this iconic snack.
Instagrammer @traderjoeslist stumbled upon the grocery chain's Fancy Cheese Crunchies and took a photo of the find for their followers. They captioned the post with text reading, "NEW FANCY CHEESE CRUNCHIES $3.49 Check my reels for my full review! Okay crunchy snack lovers imagine this ... a Cheeto wore a new outfit and it's made of savory parmesan, umami, salt and a light cardigan made of truffle! I find these delish as I love all the flavors this corn snack is wearing! I regret only buying 1 bag!" Fans mirrored the sentiment and couldn't wait to share their thoughts on the snack.
Shoppers shower love on the Trader Joe's snack
Fellow Instagram users couldn't get enough of the post. Comments poured in and included gems like, "Yummmm! Love your description!" and, "All the more reason to make a trip to TJ's!" Others chimed in, "I got them today but haven't tried them yet, bought 3 bags as I already know I will love them," and, "These are soooo good, got them yesterday and have eaten half the bag." Another user even said, "Might just walk over to Trader Joe's right now. Lucky me — It's 500 feet from my house! These look yummy!"
A few other users simply replied with, "This description is everything," and, "Omggggggg." The only gripe that anyone had with the product came down to availability. One follower asked, "Are these in New York yet? Someone tell me if I should schlep in the rain right now to get them or not bother for a few weeks." For the lucky shoppers that have gotten a chance to taste this product, one description sums up how much they seemed to like it — "Yes times 1,000! And I can't shake the image of the Cheeto wearing a cardi!"