How Redditors Take Their Ramen To The Next Level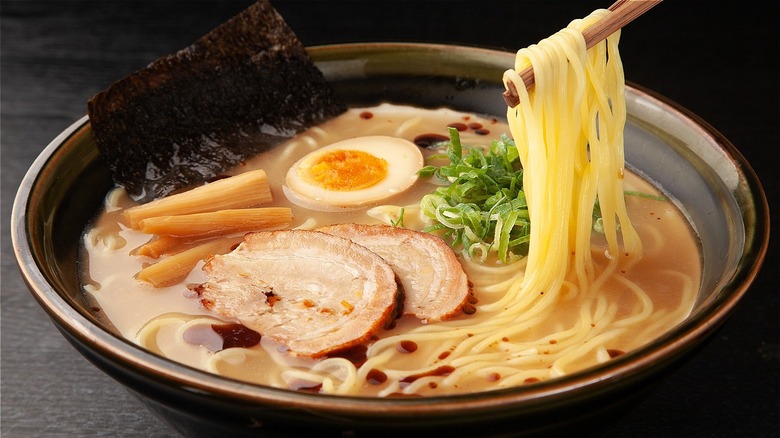 sasazawa/Shutterstock
Who doesn't love a bowl of instant ramen? Whether it's a parcel of Maruchan, Sapporo Ichiban, or the equally recognizable Nissin Top Ramen, the cheap and dependable food is known to be simple, satisfying, easy to find, and ready in minutes. Created in 1958 by Momofuku Ando, a native of Japanese Taiwan who went on to found Cup Noodles in 1971 (via Cup Noodles Museum), instant ramen might have created its own competition in the form of flavor-packed seasoning packets, which came chock-full of spices and bouillon-grade saltiness.
 Some people can't get enough of the pre-mixed flavor bombs (one Redditor even inquired about where to buy the seasoning packets in bulk, sans noodles), but others prefer to up the ante of the standard instant ramen rig with their own add-ons. The possibilities are endless, but a Reddit post with over 500 upvotes and nearly as many comments lends tons of ideas to those who need a little inspiration. 
Many Redditors think sesame oil is a must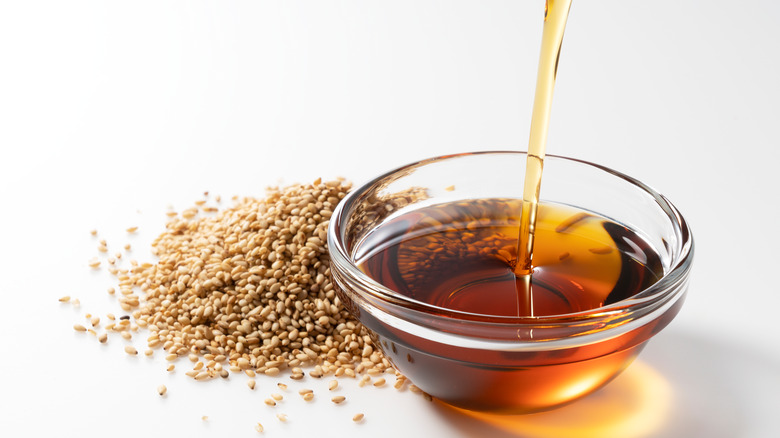 masa44/Shutterstock
Commenters came to the rescue when Reddit user StarryChocobo sought advice on how to give their bowl of instant ramen "a little pizzaz." Pizzazz goes by many names for these Reddit commenters, and one of them is sesame — be it a paste, an oil, or a toasted seed. "Mix together sesame paste (chef's kiss), soy sauce, rice wine vinegar, brown sugar, oyster sauce and chili oil and baby you got some cheap and quick imitation Dan Dan noodles," read the first comment.
Green onion made several appearances, and other commenters swore by adding a protein element like a poached egg or broth-enriching nut butter. For a quick spin on shin ramen (spicy Korean-style instant noodles), one user says to add shredded carrot and cabbage or undressed coleslaw, to which someone replied, "Holy crap this is gonna save me so much time on recipes." For depth of flavor, several users suggested cooking the noodles in broth as opposed to water, and others said they took the idea to the next level by sautéing celery, carrots, zucchini, onions, or other veggies in butter before adding the liquid. 
At the end of the day, there's no wrong to eat a bowl of instant noodles — even if all you use is the seasoning packet.