The Cooking Show Ronnie Woo From Is It Cake? Once Hosted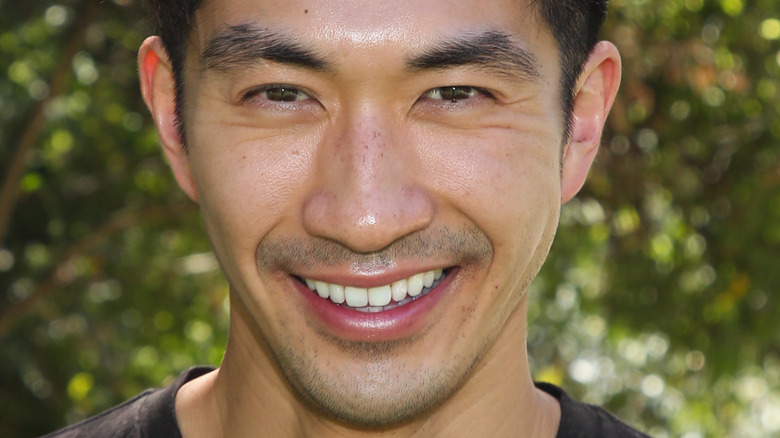 Paul Archuleta/Getty Images
The Logo TV promo photo shows a buff, inked-up, bare-chested dude with an apron draped over his shoulder. He's holding a red bell pepper and he looks familiar. Oh! It's Ronnie Woo, one of the judges on the Netflix baking competition series "Is It Cake?"
Woo has a friendly, approachable persona that's tailor-made for "Is It Cake" and other food TV shows. He also has some serious cooking chops. He attended the Northwest Culinary Academy in Vancouver for its culinary program. Later, he got a taste of how famous faces eat as a personal chef (per Swagger Magazine).
Woo had a full resume of jobs before his judging role on Episode 1 of the oddball series that has captivated Netflix viewers. He worked as a model at one point (the camera seems to love him) and quietly toiled as a private chef for a roster of celebrities, including Jessica Alba and Gwyneth Paltrow. He showed up on Food Network shows like "Beat Bobby Flay" and "The Kitchen." And he hosted a short-lived (one season) reality cooking show on the cable channel Logo called "Food to Get You Laid." 
The kitchen meets the bedroom: Food to Get You Laid
Can you say provocative? Each episode of "Food to Get You Laid" featured a couple desiring to heat up their love life – with help from Ronnie Woo and some ingredients in their kitchen (via Logo). While showing couples (and viewers) how to spatchcock a chicken or sear a steak, you could say Woo steamed up the screen. The show allowed him to explore the connection between a delicious meal made with amorous ingredients and a memorable night in the boudoir.
In one episode of "Food to Get You Laid," Woo wears a torso-hugging red shirt unbuttoned to the navel, talks up steak, one of his favorite "sexy foods," and encourages viewers to master the art of perfectly cooked red meat. "Red meat gets the body juices flowing and gives you a really good reason to drink red wine," he says (per YouTube).
In another segment, Woo talks up the health benefits and sex appeal of avocados. Avocados contain vitamins and minerals that have a positive effect on the libido in both men and women. Win-win. It takes two to tango. "This gets the blood flowing and stimulates sexual response," Woo says with a smile. "So cut open an avocado and enjoy."