This Actor Rolled Up His Sleeves To Prepare Food For Ukrainian Refugees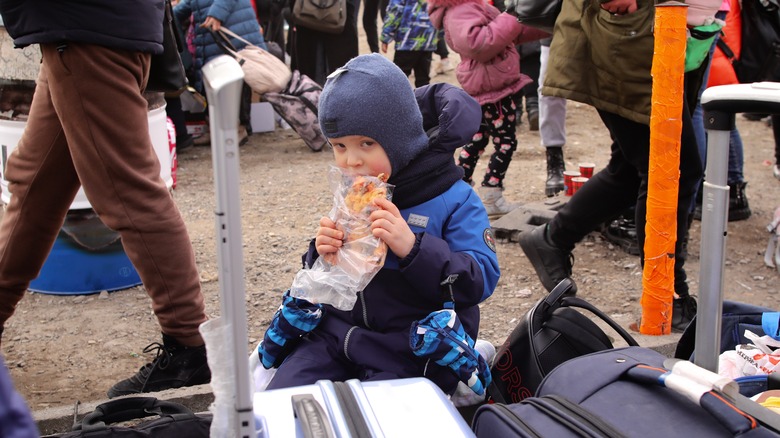 Vic Hinterlang/Shutterstock
Feeding hungry refugees, particularly at the fringes of a war zone, is no small thing – but actor Liev Schreiber showed everyone he was more than up to the task, as he took to social media to extend an invitation to Ukrainian refugees who crossed over into Prezmsyl, "located less than 10 miles from" Poland's border with the embattled country, per The New York Times. The city has become ground zero for many refugees fleeing Russia's attacks on Ukraine.
In the Instagram video where he was seen wearing a black apron, Schreiber announced, "In honor of Passover, we're going to be cooking 900 kilos of brisket." He further revealed that he was working with chef Marc Murphy as well as with music producer and Ideal Management President Ace Lichtenstein. "To everyone who donated, thank you so much, have an amazing Easter, have an amazing Passover, Chag Sameasch, and please donate if you can." But the actor also set the stage for what he was about to say in his post's caption, saying: "Let all who are hungry come and eat." Jews recite this ancient phrase during #Passover, which begins Friday. Doing our part with @wckitchen here in #Poland, where we're preparing a traditional Passover feast for Ukrainian #refugees."
Liev Schreiber is in Poland volunteering with World Central Kitchen
Liev Schreiber appears to have settled down in Poland about a week ago to work with chef José Andrés' World Central Kitchen. Fans on Instagram caught a glimpse of what the actor was doing when an image of him standing over a rather huge pot of soup with the caption: "Borscht for 1500! Day one in Prezmsyl Poland just beyond the Ukrainian border. World Central Kitchen continues to be the rockstar NGO serving and feeding those who have lost nearly everything."
World Central Kitchen set up its facility at the border almost as soon as fighting broke out, per Today. But it should come as no surprise that Schreiber is on the border doing his part for the war effort. Per The Washington Post, Schreiber's grandfather is Ukrainian and played an active role in his childhood after his parents broke up. He has also used social media to express his support for the country's war effort.