What You Need To Know About Baskin-Robbins' New Ube Coconut Swirl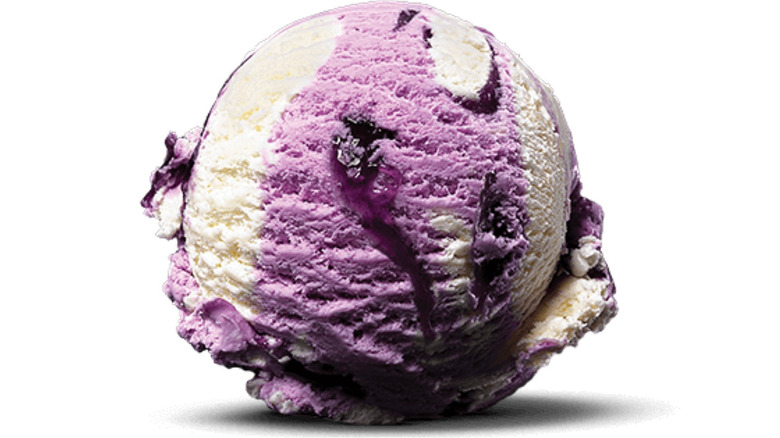 Baskin-Robbins
If you're grocery shopping in the U.S., it's unlikely that you'll come across an ube sitting in your average supermarket's produce section. In fact, some Americans may not even know what ube is, since this root vegetable isn't native to North America. However, ube has been making an international name for itself in recent years, thanks to its sweet, nutty flavor and vibrant, purple appearance. Ube is a type of purple yam that is indigenous to the Philippines and has long been a staple of many Filipino desserts, according to Real Simple.
Over the past few years, the bright, versatile, and flavorful sweet potato has been becoming more popular in America, as more and more restaurants and pastry shops have come to appreciate its tasty, not to mention visually appealing, potential. Now, this colorful vegetable will be making an appearance in an extremely cool place: a scoop of ice cream. In fact, ube is the star ingredient in the newest Baskin-Robbins' flavor, the Ube Coconut Swirl.
The Ube Coconut Swirl will be available this spring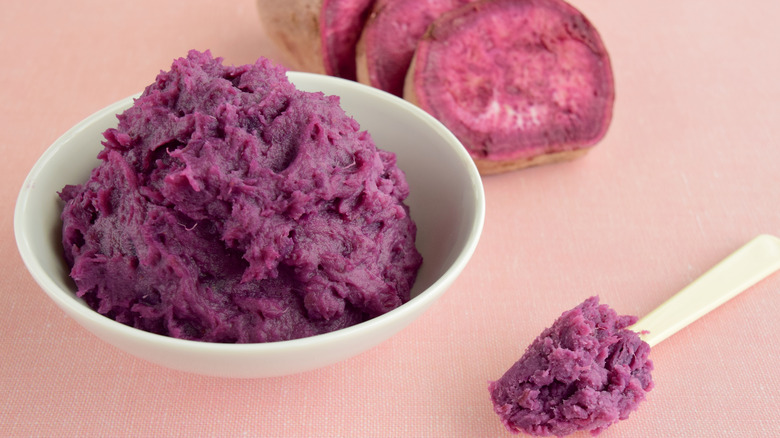 false/Shutterstock
The popular ice cream chain has just announced that they'll be adding the Ube Coconut Swirl to their menu for a limited time this spring. This creamy new treat features the yam's signature sweet, nutty, faintly vanilla taste in two forms — an ube ice cream and a caramel-like ube swirl — mixed with a heady coconut ice cream and sprinkled throughout with bits of real shredded coconut, according to Baskin-Robbins. And while its flavor is sure to delight fans of unique ice creams, its blasts of bright purple are also certainly Instagram-worthy. In fact, Baskin-Robbins is inviting their fans to share their colorful snaps on their socials like Instagram, TikTok, Twitter, and Facebook.
The new Ube Coconut Swirl will now be available for purchase in-store at participating Baskin-Robbins' locations nationwide, as well as in take-home Fresh Pack kits. Carryout or pickup orders can also be placed through the Baskin-Robbins mobile app, and the new flavor can be delivered straight to your door via DoorDash, Uber Eats, and Postmates — so even housebound eaters who are intrigued by this new ube-flavored ice cream can give it a try.