The Van Halen Album That Was Fueled By In-N-Out Burgers
If the 1980s feels more like your spirit animal than a bygone decade, there's a chance that the first (and possibly only) fast food burger that you associate with Van Halen appeared in the 1985 movie "Better Off Dead." In it, John Cusack plays a lovelorn teen pining away for the ex-girlfriend who dumped him for someone new. If the film had a scene-stealer or breakout star, some might argue it's the Van Halen song "Everybody Wants Some," which didn't even show up on the movie soundtrack (per Ultimate Classic Rock). 
For context, Cusack's dejected teen character escapes into the monotony of his work at a McDonald's-like fast-food restaurant called Pig Burger, and in one memorable over-the-top kitchen scene brings a hamburger to life (thanks to the wonders of claymation) - a guitar-wielding burger that sings and dances as "Everybody Wants Some" blares in the background. 
One might be tempted to guess or even wishfully think that In-N-Out Burger fueled the 1980 Van Halen album that featured the track: "Women and Children First." But it turns out that the chain has been discussed in connection with a different album that might remind you of a very different 1985 breakup.
Why order pizza when you can have In-N-Out burgers?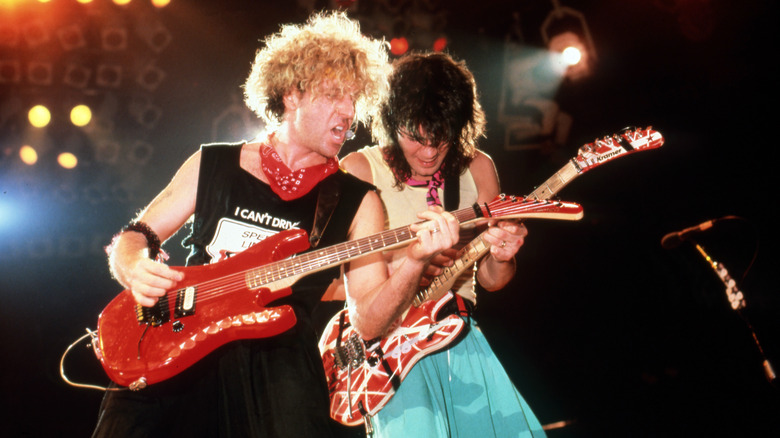 Icon And Image/Getty Images
The band who has a song associated with bringing a burger to life in a movie also got life from burgers – specifically In-N-Out burgers – at one pivotal point.
Guitarist and vocalist Sammy Hagar had big shoes to fill when he joined Van Halen in 1985. The first priority for Hagar, a solo artist best known for the anthem "I Can't Drive 55," was to make a memorable mark on the band's first studio album minus mega-watt personality David Lee Roth (per Classic Rock). The album, "5150," took its name from Eddie Van Halen's home recording studio (and the California police code used to describe someone with a mental illness).
Hagar recalls the studio as being full of creative energy, wild guitar-playing, beer, and a steady diet of burgers from In-N-Out Burger, the popular, California-based fast-food chain. The album took three months to record, produced blockbuster hits like "Dreams" and "Why Can't This Be Love," and soared to the top of the music charts.
"When I first joined the band, we must have eaten there at least three days a week," Hagar told Stacy Perman, the author of "In-N-Out Burger: A Behind-the-Counter Look at the Fast-Food Chain That Breaks All the Rules" (per Mental Floss). "We were in the studio recording '5150', and we'd send someone to go get food, and we'd talk about sushi or pizza and always end up with In-N-Out."