Instagram Is Drooling Over Bobby Flay's 'Perfect' Pizza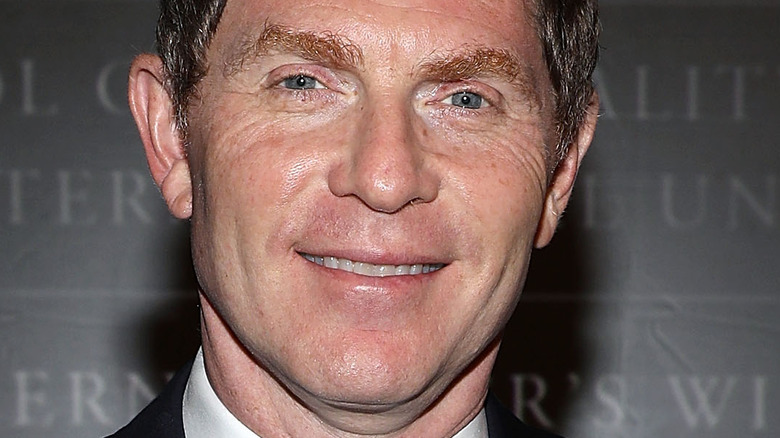 Aaron Davidson/Getty Images
Bobby Flay proudly declares on his website, "Food is the center of my universe." Curiously, we can't help but wonder: What food is it, specifically, that the chef's world orbits around? Your guess is as good as ours, but if we had to give an answer, we think burgers would definitely fall into his top three. The celebrated grill master began his love affair with the handheld delight when he was just a boy and has kept it up throughout adulthood with recipes, TV episodes, and even his restaurant chain, Bobby's Burger Palace. But despite the self-proclaimed "burger purist's" clear affinity for a succulent beef patty topped with potato chips for crunch (which he once said he would choose as his last meal), Flay can't avoid the allure of a few other foods. This week, it was pizza that the chef had on his brain.
"Sometimes I just want the perfect food #pizza," he captioned an Instagram post on Wednesday, April 20, and honestly, don't we all? "This 1 has tomato, fresh mozzarella and Porto Bello mushrooms," he explained along with a photo of his ideal pie that has been making his Instagram followers drool.
Fans are calling Flay's pie the "best looking pizza ever"
Mouthwatering food photos are the norm on Bobby Flay's Instagram page, but his most recent snap may be getting fans a little hungrier than usual. The chef has his followers chomping at the bit after sharing a magazine-worthy snap of the tomato, mozzarella, and "Porto Bello" mushroom pizza he ate to cure his 'za craving this week. Several friends and fans of the Iron Chef took to the comments section to fawn over his "perfect" pie, including user @christiejohnson759, who dubbed it the "best looking pizza ever."
Many praised Flay's topping choices, which one fan called the "best combo ever," while others took note of the pie's particularly crispy-looking crust. "That crust looks like I might eat it off the street if I found it there," Instagram user @kthairlady quipped, which is certainly a compliment if we've ever heard one. And while a majority of the comments were geared toward the 'za, some of Flay's chef friends couldn't help but get in a crack about the peculiar spelling of one of his pizza toppings. "Have I been constructing the word portobello wrong all these years?!" Brooke Williamson asked, which elicited a response from "The Kitchen" host Sunny Anderson. "No, Bobby just likes to set himself apart and be special," she said. We're not sure about you, but if Flay is whipping up pies like this, we'll gladly overlook the spelling error.